'Brooklyn Nine-Nine' Season 6: Andy Samberg Previews What's to Come On the Show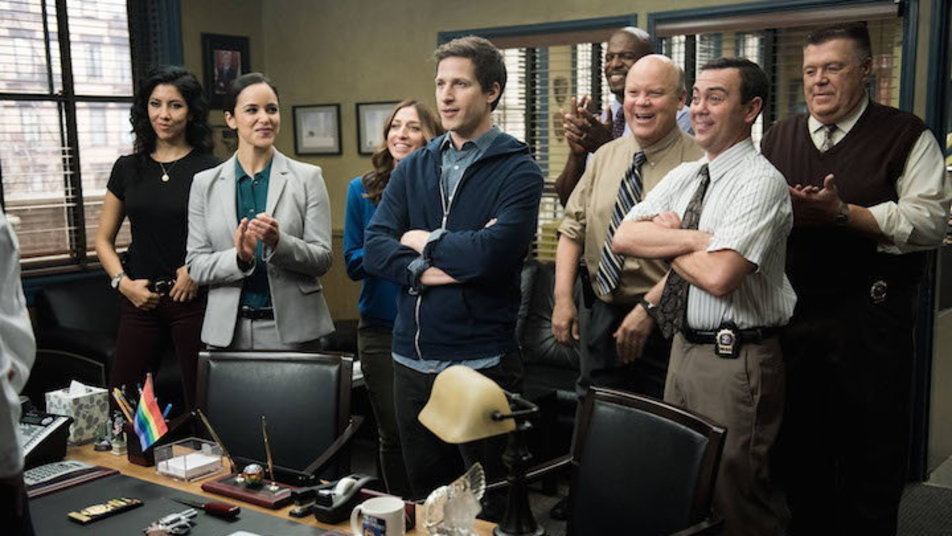 The delightful workplace comedy that's different from every other police procedural out there has finally returned for its sixth season. After five beloved seasons, it seemed like we weren't going to be getting any more of the New York precinct's best, but, luckily, when Fox canceled Brooklyn Nine-Nine, NBC swooped in and picked it up.
Now, fans of Jake, Gina, Captain Holt, and the rest of the gang can pick up where they left off with Season 6, airing Thursday nights on NBC. If you're wondering what to expect from the series, here's some insider information from producer and star Andy Samberg.
What is Captain Holt's future at the precinct?
Fans of the series will recall that the Season 5 finale of Brooklyn Nine-Nine involved a major cliffhanger. Captain Holt had just received an email telling him whether or not he had gotten the job as Police Commissioner and would be leaving the 99th Precinct. Fortunately, this was answered almost immediately.
In the Season 6 premiere, Holt misreads the email and at first, thinks that he is the new commissioner. However, that turns out not to be the case, and he goes through a bit of a depression. But the first couple of episodes have seen the old Raymond return with a vengeance, determined to show that the man who was chosen was wrong for the job. So he'll be sticking around the Nine-Nine at least a little longer.
Gina and Jake's high school reunion episode
Fans were treated to a super '90s extravaganza complete with all-denim everything and scrunchies galore during the recent episode "The Tattler," in which Jake and Gina go to their 20th high school reunion.
"A big part of the fun of that episode is that there's a lot of throwback to retro stuff," Samberg told Parade. "It harkens to when Chelsea and I actually were in high school, that era." (Samberg and Chelsea Peretti, who plays Gina, actually grew up together, which was how the idea that their characters were old friends came to be).
'Brooklyn Nine-Nine's network change was for the best
Though it was only canceled for a short time, there was a lot of panic amongst fans and the cast itself when Brooklyn Nine-Nine was canceled. But the change to NBC has only brought about good things for the show.
"It feels like we're back on season one in that it feels exciting," producer Dan Goor told Parade. "There's a nice momentum and the support of NBC has been insane. It's like being a first-year show. The amount of publicity and promo that they've given us is out of this world."
Jake and Amy are married
The relationship between Jake Peralta and Amy Santiago has been the classic on-and-off, will-they-won't-they kind of thing that most series depend on. However, now that they're married, don't expect things to change that much.
"It's honestly not that different," Samberg said. "It's a nice testament to how great of friends they are so far on the show and they stay competitive, which is one of the comedy games we really like for them. But they're also deepening their relationship while still working together, so there's a lot of case stories with them together still, and then we're also delving into their home life."
Gina is leaving 'Brooklyn Nine-Nine' soon
In the high school reunion episode, Gina realizes it's time for her to leave the precinct. This probably comes as no surprise to most, as Peretti announced she's leaving Brooklyn Nine-Nine this season. But fortunately, she's not gone just yet.
In the upcoming episode "Four Movements," airing on Jan. 31, the description includes Gina playing "a high-stakes game of chess" with Holt, as well as going out to brunch with the other women on the squad, Amy and Rosa Diaz. This sounds like it could be a send-off, but we won't know for sure until the episode airs.
There's a lot more to come this season: With a total of 18 episodes, Brooklyn Nine-Nine Season 6 is going to be entertaining us for months to come.