Bruce Springsteen: Ranking His Albums From Worst to Best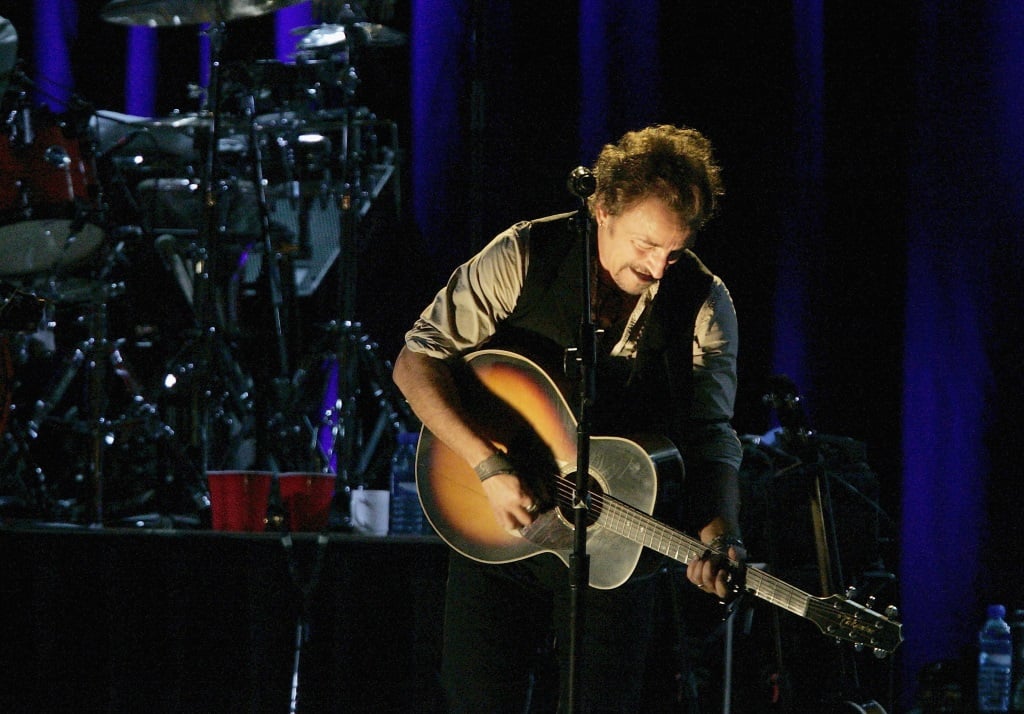 Bruce Springsteen has always been immune to the usual trappings of your average career in rock music. His discography doesn't always follow a logical development, but takes left turn after left turn to continually subvert standard expectations due to Springsteen's willingness to follow his artistic whims without a thought to mainstream appeal. Funnily enough, that's exactly the key to his longevity and continual success in American music, but it also makes his albums uniquely hard to compare. How, after all, can you judge the anthems of Born in the USA against the acoustic tales of Nebraska, which came out only two years before? We tried to compare his most disparate recordings anyway for our list of the best (and worst) of Springsteen's 17 studio albums.
17. Lucky Town
Unlike so many other rock musicians, Bruce Springsteen escaped the '80s with his discography mostly unscathed by that decade's worst pop music trends, but he started the '90s on a sour note with Lucky Town, an album of just passable melodies sung dispassionately and produced with a thick veneer of impersonal touch. Without even the E Street Band's riotous chemistry to boost the lackluster tracks, this is surely one of Springsteen's least essential releases.
16. Human Touch
Released at the same time as Lucky Town but recorded a year earlier, Human Touch is more or less interchangeable with its companion piece, featuring the same kind of slick adult contemporary gleam that suits Springsteen so very poorly. Even Bruce's normally stellar lyrics fail on this outing.
15. High Hopes
The best Springsteen albums work as a whole, featuring the same musical styles and songwriting themes explored in interesting new ways across every track. High Hopes is the opposite of that — a fractured album made from old E Street recordings, updates of live staples, and entirely new songs that don't seem to fit together in any meaningful way — except for the fact that most of the tracks have Rage Against the Machine's guitarist Tom Morello dubbed lazily over them.
14. Working on a Dream
Springsteen was once a lyricist who could do no wrong, but Working on a Dream is full of songwriting misfires that make me wonder what the Boss was thinking when he recorded this one, including, "We met down in the valley where the wine of love and destruction flowed/There in that curve of darkness where the flowers of temptation grow." The songs are straightforward pop-rockers that aren't necessarily bad (but for the lyrics) — they just don't compare to the melodic brilliance the Boss achieved in his heyday.
13. Devils & Dust
Devils & Dust is the weakest of Springsteen's three hauntingly spare acoustic efforts, but it's still far from bad. With so little instrumentation to surround him, it's a good thing he has plenty of stories to tell in his lyrics, even if many of the songs are a bit too spare for their own good. Even when the lyrics shine, fingerpicking two chords back and forth while whispering into a mike with no compelling melody to speak of doesn't make for the most thrilling songs.
12. Magic
Springsteen's later works tend to be best when he has something to say. The latter days of the Bush administration gave him no shortage of things to be peeved about, resulting in this foreboding and melancholy late-career highlight. The melodies are mostly great and they all convey a palpable sense of passion and emotion.
11. Wrecking Ball
Finally, a late-career Springsteen album that seems to live up to the Boss's well-deserved reputation. Wrecking Ball is an album of angry but nonetheless uplifting heartland rock, combining rock bombast with folksy storytelling and just enough unexpected touches to make every song its own experience. Best of all, Bruce has a lot to say even when his songs might seem like straightforward anthems at first listen.
10. Greetings from Asbury Park, N.J.
Springsteen's first album feels like a first album — bursting with manic, almost overwhelming creative energy that's exhilarating even when it sounds a little undisciplined. Springsteen wears his Dylan influences on his sleeve with his rapidly rhyming stream-of-consciousness lyrics and wall-of-sound accompaniment from the E Street Band. None of the songs are bad, but a few fade from memory without a strong sense of melody to hold them together.
9. Tunnel of Love
Never one to do what's expected, Springsteen ditched the E Street Band following the rapturous success of Born in the USA for an album of slick synth ballads about the joys and struggles of falling in love. Despite some dated '80s productions, Tunnel of Love holds together remarkably well for how personal and cohesive it is, tackling mature themes in mature ways with songs that are catchy and well-written, even if they aren't as anthemic as some of his other efforts.
8. The Ghost of Tom Joad
The Boss knows how to make career left-turn like no other. After the boring adult pop of Lucky Town and Human Touch, he returned with a belated acoustic followup to Nebraska that comes damn close to the same heights of haunting brilliance. The Ghost of Tom Joad is its own beast, however, thanks to both its poignant lyrical themes of economic hardship and the quiet keyboards giving the songs the perfect bit of added texture.
7. The Rising
It's no easy task making a work of art about a recent tragedy without it sounding dated in a decade's time. In the wake of 9/11, Springsteen proved himself capable of intelligently processing his own and the nation's grief and fear the way a dozen hacky patriotic country artists could not. His reunion with the E Street Band is a triumphant one, but still respectful and measured, mourning the lost ("You're Missing") and looking for peace and resolution rather than war going forward ("Worlds Apart," "Let's Be Friends").
6. The River
The River has some of Springsteen's greatest songs and highlights his ability to create both life-affirming rockers and soul-shattering ballads without missing a beat. The ballads have a higher rate of success in general, making a few of the rockers ("I'm a Rocker," "Cadillac Ranch") sound slight by comparison. Despite all-timers like the title track, "The Ties That Bind" or "Point Blank," The River is a double album with a few too many throwaway tracks to make his top five albums.
5. Darkness on the Edge of Town
Man, all of the albums are great from here on out. Darkness on the Edge of Town is a triumph that builds wonderfully upon Bruce's previous album Born to Run by focusing on what happens to starry-eyed kids when they settle down and give up on their dreams. The wall-of-sound isn't as assured, but it fits the album's downbeat realizations that mar the Boss's previous youthful romance.
4. Nebraska
This is the album that took Springsteen's perspective from the working class communities of coastal New Jersey to the American heartland. Springsteen imagines the dreary landscape as a land of broken dreams and good folks unable to confront their demons or follow their dreams due to external factors, a thematic pessimism matched by his lo-fi acoustic arrangements and haunting howls. His mastery of heart-wrenching storytelling has never been more assured than it is on tracks like "Atlantic City" and "Highway Patrolman."
3. The Wild, the Innocent & the E Street Shuffle
Like Greetings from Asbury Park, this album features the Boss and his band at their most raucous and youthful, giving every track an energy that might be the closest they ever got to capturing their live chemistry on a studio album. The energy unites an album of seven epic rock and roll tracks brimming with adolescent fear and desire.
2. Born in the USA
Springsteen sacrificed just enough of his established sound to fit into the '80s pop landscape without selling his soul. Born in the USA is poppier than any of his previous recordings, with synth riffs often replacing the usual lead guitar parts, but Springsteen infuses every song with intelligent ideas underpinning irresistible hooks. Look no further than the title track, a patriotic fist-bumper that's actually about the horrors of America through the eyes of a Vietnam vet, for a clear look at how the Boss can combine pop rock goodness with politically and emotionally trenchant lyricism.
1. Born to Run
It might not have as many instant classic melodies as Born in the USA, but Born to Run is a true masterpiece when taken as a whole. The production is intricate and assured all the way through, achieving the perfect wall-of-sound Springsteen sought for a cohesive look at teenage yearning and grimy city life brought to life with a sense of bohemian poetry. How can an album that features both "Jungleland" and "Born to Run" not top this list?
Check out Entertainment Cheat Sheet on Facebook!