BTS Wins Every American Music Award They're Nominated For, Leaving Fans Even More Angry with the Grammy Nominations
Oh my, my, my! The boys are back from their summer "period of rest and relaxation" and they're better than ever. Recently, the group sweeped at the American Music Awards, taking home awards in every category they were nominated in. Here's what fans are saying about this K-pop group and their lack of Grammy nominations.
BTS earned nominations in three categories at the 2019 American Music Awards
Although the BTS boys were not present at this year's American Music Awards, they were certainly represented well. The group won the awards for all three categories they were nominated in. That includes Favorite Social Artist and Tour of the Year. They even won the award for Favorite Duo or Group Pop/Rock over the Jonas Brothers and Panic! at the Disco.
"BTS has been a group for six and a half years and, throughout those years, we've had so many of our dreams somehow manifest into reality and Army, you guys are the ones who make all this possible and we really couldn't have done it without your love and support from all over the world," RM said during a video message to fans. "We will try our best to live up to it, to strive high and work hard and return your love back to you."
In 2018, BTS earned American Music Awards in the "Favorite Social Artist" over other nominees, including Shawn Mendes and Ariana Grande. In 2017, BTS became the first K-pop group to perform at this award show, doing a live rendition of their song "DNA."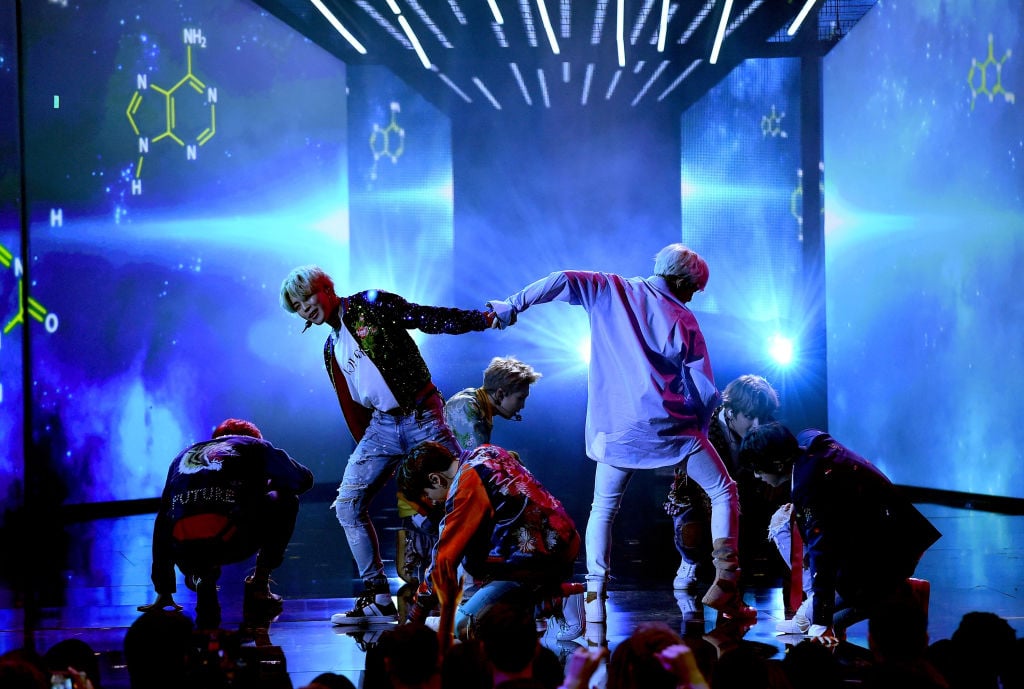 BTS did not earn any Grammy nominations for next year's award show
Although BTS put their album, Map of the Soul: Persona, and some singles for Grammy consideration, they did not earn any nominations for next year's award show. For some fans, this does not come as a surprise, as many boy bands in the past failed to earn Grammy Awards. For others, however, their wins at this year's American Music Awards points to the success of this K-pop group.
They may not be nominated for the 2020 Grammy's, however, BTS could tell make an appearance. Last year, they became the first K-pop group to present an award at the ceremony.
Even Halsey criticized other award shows for how winners are selected
Another artist snubbed from Grammy nominations is the New Jersey native, Halsey. Her single, "Without Me," which was absent from the Grammy's 2020 nominations, was what earned her the American Music Award for Favorite Pop/Rock Song. During her acceptance speech, she seemed to reference other award shows for how they choose the nominees and the winners.
"I believed these awards. When I was a kid, I used to believe that this award was the ultimate validating and that I'd come up here and laugh and cry and my fans at home would rejoice because we accomplished this thing together," Halsey said during her acceptance speech. "But the truth is I am older now and I'm also an artist and apparently I'm doing okay. But most of these awards really aren't what they seem at all."
Halsey previously worked with BTS for their song "Boy with Luv." The singer even performed with them during last year's Billboard Music Awards. Music by BTS, including their most recently released album, Map of the Soul: Persona, is available on Spotify, Apple Music, and most major streaming platforms.