BTS And ARMY Ignored The MTV VMA's And It Was Hilarious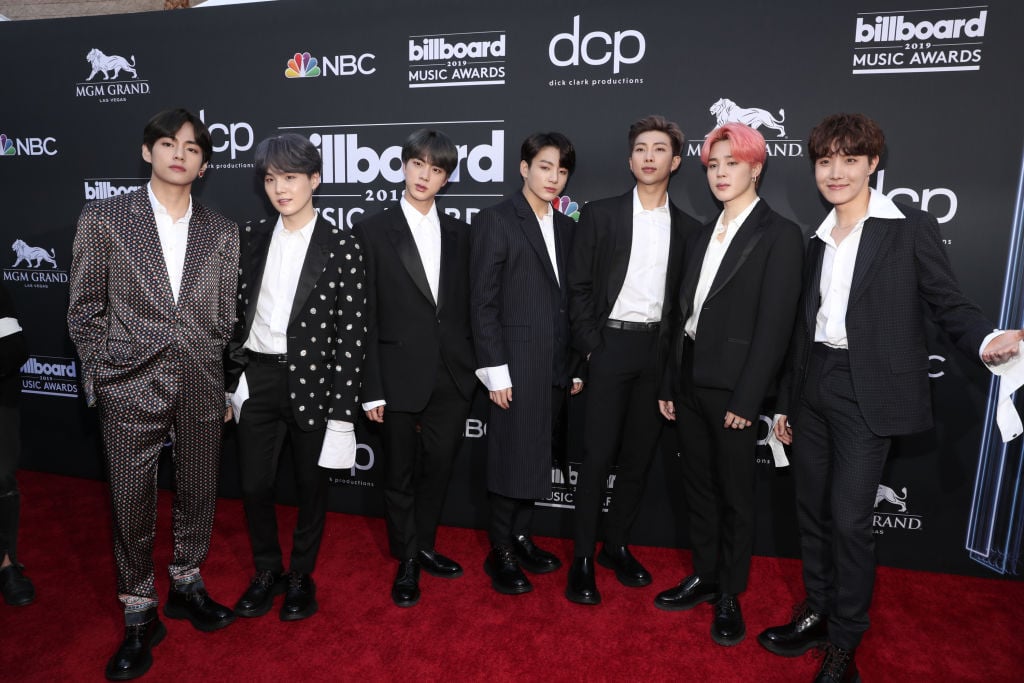 BTS took home two awards at the 2019 MTV VMA's. However, the group did not attend the awards show. After BTS was snubbed from the major categories, BTS ARMY collectively decided to vote for BTS wherever possible but not watch the broadcast. Even after winning, BTS and Big Hit Entertainment stayed silent on social media.
Fans suspect MTV created the Best K-pop category to attract viewers
It's no secret BTS and other K-pop groups draw in viewers. BTS's "Boy With Luv" music video has over 523 million views on YouTube and broke three Guinness World Records. Blackpink's music video for "Kill This Love" has over 556 million views.
A VLIVE hosted by J-Hope from BTS drew in over 9.6 million live viewers. In comparison, the 2018 MTV VMA's only had 4.87 million viewers. After MTV created the Best K-pop category, fans suspected it was done to entice K-pop fans to watch while still keeping K-pop idols separate from Western artists.
"If your numbers are just as good as any mainstream western artist, you should be able to compete against them in major categories no matter what. BTS has been pulling those numbers. The fact that the VMAs don't even give them a nomination for Best Music Video is scandalous," wrote a fan on Twitter.
After MTV announced the category, #VMAsRacist trended on Twitter. In what looked like an attempt to correct the snubs, MTV added a last minute category called Best Group and nominated BTS and Blackpink. Even with the additional nomination, neither group showed up to the VMA's. In fact, no K-pop group nominated in the Best K-pop category attended the show.
"#VMAs is the only award show I've seen that has a Kpop category and NO Kpop idols showed up to even care to receive it…," wrote a Twitter user.
BTS did not acknowledge the nominations or awards
Both of Big Hit Entertainment's K-pop groups, BTS and TXT, were nominated for the Best K-pop category. BTS was also nominated for Best Group, Best Choreography, Best Collaboration, and Best Art Direction. Even with multiple nominations, BTS and Big Hit Entertainment never acknowledged the MTV VMA's.
BTS has two Twitter accounts, one connected to the seven members and one connected to Big Hit Entertainment. When BTS won Best K-pop, MTV tagged the BTS Twitter account associated with Big Hit Entertainment and congratulated BTS. Members of ARMY noticed MTV's mistake.
"VMAs in panic mode! couldn't even tag the right account," a fan tweeted.
Even though the Twitter account associated with Big Hit Entertainment was tagged, BTS did not acknowledge the award. Instead, Big Hit Entertainment's account retweeted a tweet from Weverse announcing the premiere of BTS's new docu-series, Bring the Soul. The series conveniently premiered during the middle of the MTV VMA's.
"BIGHIT RETWEETED THE WEVERSE THING BUT NOT VMA'S TWEET OF BTS WINNING SHSKJSKS THE PETTINESS I LOVE THEM #PurpleCarpet," wrote a fan on Twitter.
BTS ARMY created their own hashtags and awards show during the MTV VMA's
Determined to not give the MTV VMA's any attention, BTS ARMY created an entirely different awards show called the BTS Music Video Awards. The fan-created awards show used the hashtag #BTSMVAs. Members of ARMY created a website and Twitter account for voting and posting the results. Fans then nominated BTS's music videos for categories like "Favorite Music Video," "Best Social Message," "Bop That Deserved a MV," and more.
ARMY also created the hashtag #PurpleCarpet to go along with the #BTSMVAs hashtag. Purple is the official color of BTS and ARMY and someone created an edited photo of a purple carpet with a BTS-themed backdrop. Fans then edited photos of BTS members, other celebrities, BT21 characters, and inside jokes within the fandom onto the photo of the purple carpet.
Both the #PurpleCarpet and #BTSMVAs hashtags trended worldwide on Twitter alongside the #VMAs hashtag. After the fan-created awards show ended, fans posted a message for BTS on Weverse. The creators of the awards show also thanked other fans for participating.
"We want to thank you all for participating in this project! It started as a way to speak out against gatekeepers in the industry, but become a beautiful ARMY x BTS memory! Let's always fight for @BTS_twt and speak up when we know something isn't right," wrote the Twitter account.
BTS took home the awards for Best K-pop and Best Group. As hilarious as the #PurpleCarpet edits were, it was a bittersweet night for BTS ARMY. BTS clearly deserved to compete in the top categories. BTS and ARMY sent a clear message by ignoring the MTV VMA's. If the group is not treated equally and fairly, the awards show is not worth their time.