BTS and Billie Eilish Finally Met and Collab Rumors Have Resurfaced
Well, it finally happened. On Dec. 7, BTS and Billie Eilish met at Variety's Hitmakers Brunch. While the meeting was brief, it has fans wondering if the artists will ever collaborate.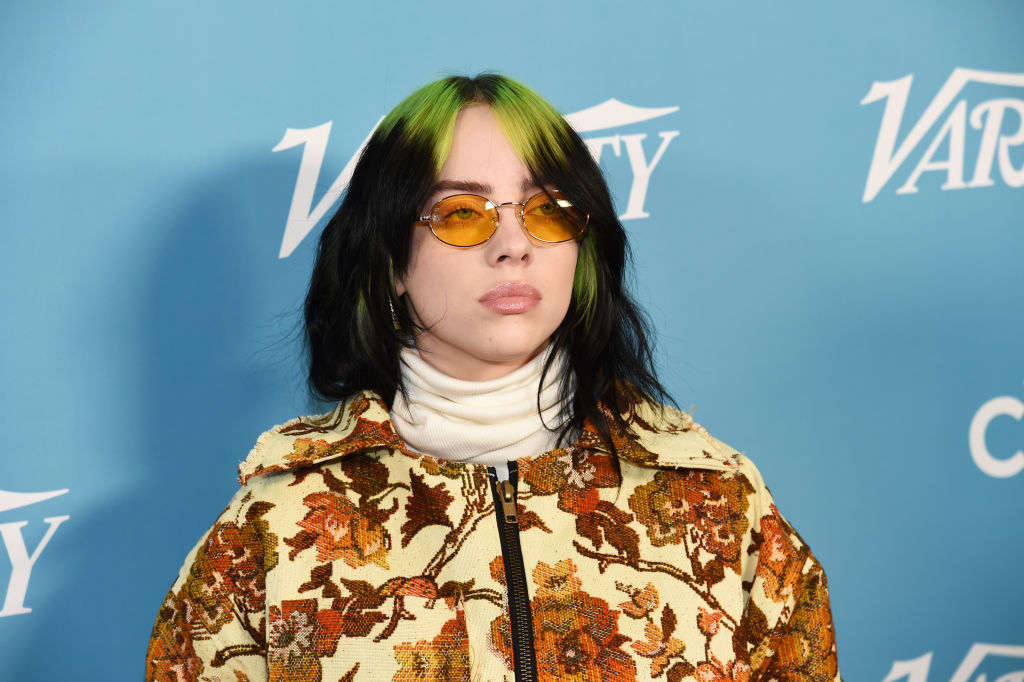 BTS and Billie Eilish both attended Variety's Hitmakers brunch
On Dec. 6, both BTS and Eilish performed at iHeartRadio's KIIS Jingle Ball in Los Angeles. The next day on Dec. 7, BTS and Eilish attended Variety's Hitmaker's brunch. At the event, BTS accepted an award for Variety's Group of the Year and Eilish accepted the Hitmaker of the Year award.
While it was brief, Eilish and BTS met at the brunch. The artists also took a photo together. Variety shared the photo on Twitter and wrote, "Now this is a collab we can get behind." BTS proceeded to retweet Variety's tweet, further spreading collaboration rumors.
The members of BTS have been fans of Billie Eilish for awhile
BTS meeting Eilish has been a long time coming as the members of BTS are fans of the singer, especially Jungkook. The BTS singer has brought Eilish up in several interviews and cited her as someone he would like to collaborate with as she is currently one of his favorite artists.
In June 2019, Jungkook posted a Triller video of him dancing to Eilish's "Bad Guy." The video went viral on social media and received over 2 million likes on Twitter. After BTS met Eilish at the Hitmakers brunch, fans posted how happy they were Jungkook got to meet one of his favorite artists.
"BTS meet Billie eilish i just know jungkook is screaming right now #HITmakers," a fan tweeted.
"#BTS_Hitmakers Jungkook's reacting to meeting Billie Eilish … he smiled and bounced in tiny … :(," one fan wrote on Twitter.
"Billie Eilish and Jungkook greeting each other. I am really happy she heard his tiny 'hi' #[email protected]_twt," tweeted a fan.
Fans have asked the artists to collaborate before
This is not the first time fans have wanted BTS and Eilish to collaborate. In October 2019, Eilish took part in an "All Things Considered" segment for NPR before performing at the Austin City Limits Music Festival. During the segment, Eilish was told by a fan she should collaborate with BTS.
Eilish asked, "Should I?"
The reaction to Eilish's question was mixed, and some audience members said she should while others said "No." Eilish seemed shocked by the backlash, and assured the audience she would listen to BTS's music.
"Stop, oh my God. So mean," she said. "I'm gonna listen to them. They're very nice. They said some very nice things about me."
Eilish's response prompted collaboration rumors. Now that BTS and Eilish have officially met, collaboration rumors have started circulating again.
"BTS RETWEETED VARIETY'S TWEET ABOUT A BILLIE EILISH COLLAB," wrote a Twitter user.
A fan tweeted, "IF BTS COLLABS WITH BILLIE, ARE YOU HERE FOR IT???"
"a collab with @billieeilish and @BTS_twt is on my Christmas wish list #ARMY#BTS#BillieEilish#BTSJingleBall," wrote a fan on Twitter.
"I ASK ONLY FOR THE COLLAB PLEATH," tweeted a fan.