Will BTS' Military Service Force the K-Pop Group to Disband?
Previous reports stated BTS would not be exempt from military service in South Korea. That meant the oldest BTS member, Jin, would've had to enlist in 2021. However, a recent revision to South Korean law allows certain entertainers to apply to defer their enlistment. So, when must BTS members join the military, and will the K-pop group disband because of it? Here's what we know.
In South Korea, able-bodied men of a certain age are required to join the military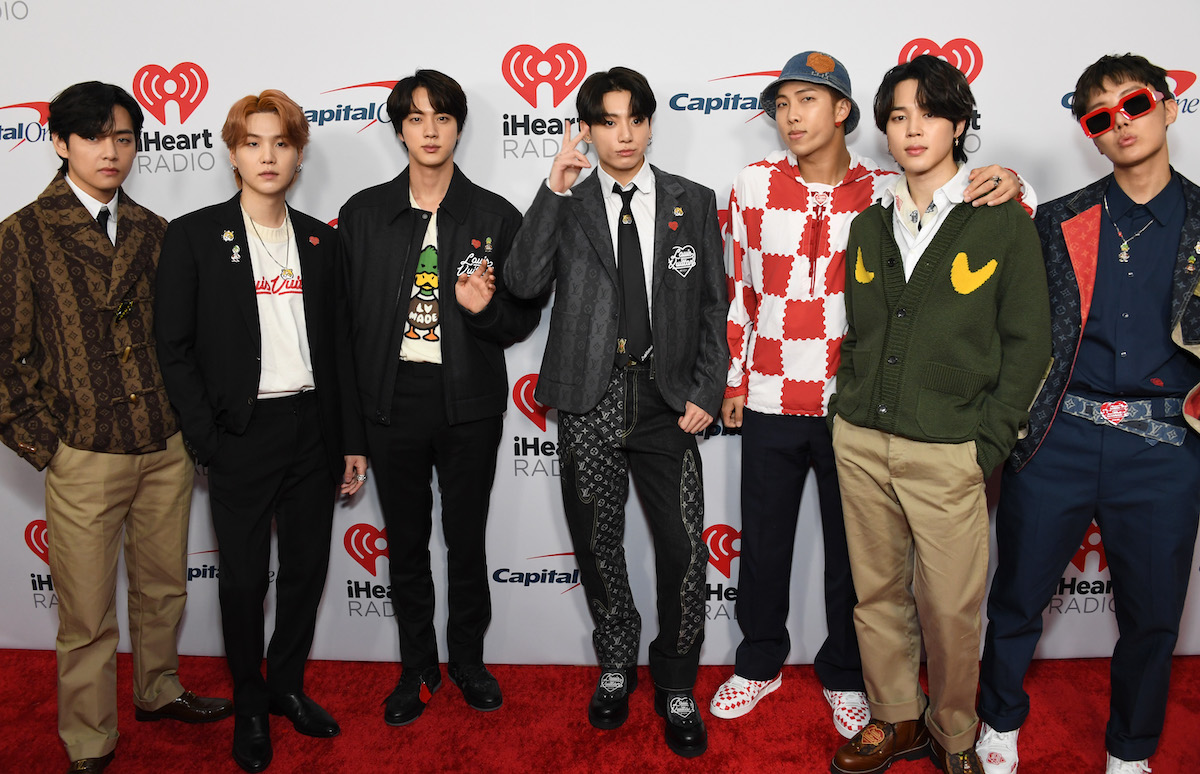 For several decades, South Korea's conscription has required able men between 18 and 28 to enlist. However, there are some exceptions. Before December 2020, the exception applied to "only Olympic medalists and first place winners at the Asian games, classical musicians who win certain awards, as well as ballet dancers," Refinery29 reported.
Therefore, BTS wasn't eligible for the exemption. That meant the oldest BTS member, Jin, would have been required to enlist before his 29th birthday on Dec. 4, 2021. The ticking clock prompted fans to push for group conscription for BTS' military service.
Only days before Jin turned 28 in 2020, South Korea changed the country's Military Service Act. The revised rule, nicknamed the "BTS law," allows K-pop artists who have earned government medals for cultural contributions to apply for a deferment from military service. Every BTS member received the Order of Cultural Merit in 2018, making them eligible for deferment, Billboard reported.
The 11th-hour change allows BTS to remain together — for now. So, when will BTS' military service happen, and will the group break up?
Will BTS' military service force the K-pop group to disband?
All BTS members have applied for a military deferment until age 30, Republic World reported. As of this writing, Jungkook is 24 and the youngest BTS member. V and Jimin are 26, RM is 27, and J-Hope and Suga are 28. Jin will turn 30 at the end of 2022, so the clock remains ticking.
It's still unclear when each member will enlist, but they have said they intend to fulfill their military duties. If the bandmates don't join the service together, some fans wonder whether BTS would continue to make music without Jin. 
During an interview with CBS, Jin commented on his impending military service.
"As a Korean, it's natural," he said. "And someday, when duty calls, we'll be ready to respond and do our best."
Well, there's good news and bad news. According to the group's contract renewal, BTS will remain under its record label, Hybe, through 2026. That means if all the members enlisted before Jin's 30th birthday in December 2022, they would be back on stage and performing under Hybe by 2025.
So, will BTS' military service force the group to break up? If so, when will BTS disband? Those answers remain unknown. However, most of the bandmates will be in their 30s in the next few years, so it's unclear whether they would continue to perform as a boy band anyway.
Can the BTS members join the military at the same time?
They're not just bandmates. Since BTS debuted in 2013, the group has spent months, if not years, on tour. Together, they became one of the world's biggest boy bands, racking up tens of billions of streams on Spotify and YouTube. 
Some fans believe that forcing the BTS members to perform military service would be a step backward in their careers. But because the seven still must serve, fans shifted focus. ARMY members started a petition to have BTS enlist together so that the septet could reunite as a boy band as soon as possible.
"In the case all the members will be enlisted together and return in two years, it will save their time and career," one Change.org petition read. "On the other hand, if BTS members will go separately, they are going to lose too much time and popularity that will probably have a very bad impact on the country's economy, culture, and tourism." 
The petition gathered over 84,000 signatures.
Theoretically, because all seven members are between the ages of 18 and 30, BTS' military service could happen simultaneously if the bandmates enlisted at the same time. Whether that happens remains to be seen.