BTS Fans Trend 'Tannie' Worldwide After V's Dog Makes His First Airport Appearance
On Nov. 21, BTS arrived at the Gimpo International Airport to leave for a fan meeting in Japan. The 5th Muster will be held in Chiba Prefecture's Zozo Marine Stadium on Nov. 23 and 24. When BTS arrived at the airport, V brought his dog, Yeontan. The dog's first airport appearance was so iconic that BTS fans trended "Tannie" worldwide.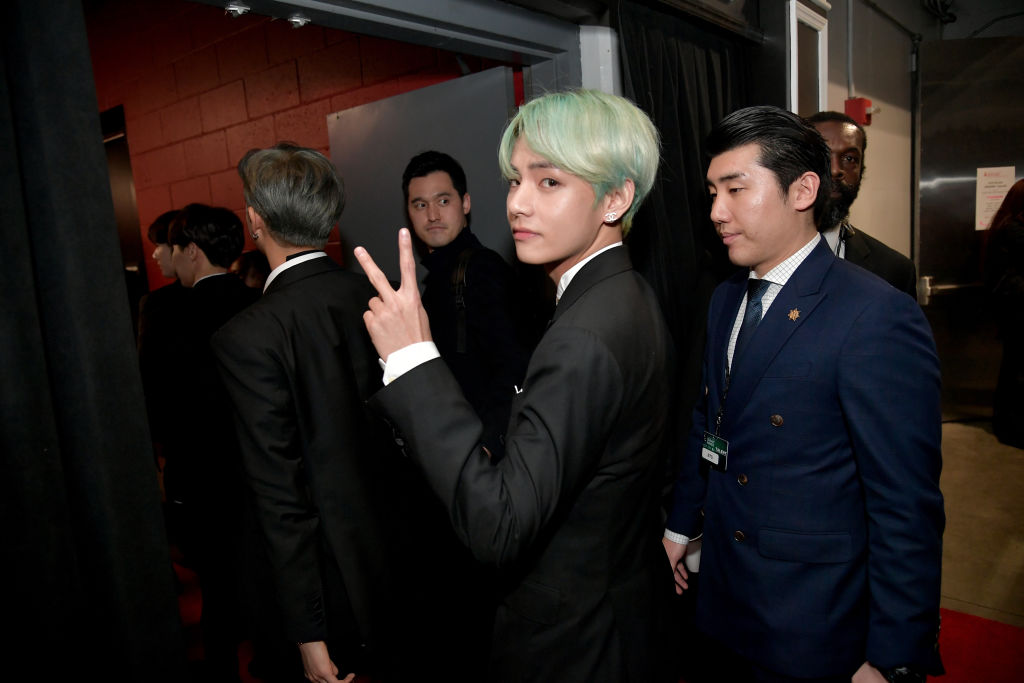 BTS fans trended 'Tannie' on Twitter after V brought Yeontan to the airport
Media filmed and photographed BTS's arrival at the Gimpo International Airport. When V arrived at the airport, he carried Yeontan with him. This marked Yeontan's first airport arrival. While the footage of Yeontan at the airport is only a few seconds long, BTS fans still trended "Tannie" worldwide on Twitter.
"BREAKING NEWS ROCKSTAR TANNIE MAKING HIS FIRST AIRPORT APPARENCE WITH HIS ONE AND ONLY MANAGER KIM TAEHYUNG," a fan wrote on Twitter.
"THE WAY TANNIE THE RICH AND FAMOUS ROCKSTAR IS TRENDING WORLDWIDE AFTER MAKING HIS FIRST AIRPORT APPEARANCE… @BTS_twt," tweeted a fan.
"191121 TAEHYUNG WILL GO DOWN IN HISTORY. HE NOT ONLY WRECKED HAVOC ON US WITH HIS CURLY HAIR BUT ALSO SHOWED HOW HE IS THE BEST DAD TO OUR TANNIE AND RESPECTFUL AND POLITE TO THE CAMERAMEN. HE'S THE ONLY MAN EVER," wrote a Twitter user.
"Taehyung brought Yeontan with him, this is officially Tannie first appearance at the airport! He said goodbye to his dad who is going to Japan, this is so adorable. Such a lucky puppy," one fan tweeted.
A fan tweeted, "Tannie unintentionally trending WW at #1 after a 29 sec clip.. tbh this fandom is so huge..I haven't seen anything like this..It's Amazing!!"
BTS fans noticed Jungkook's airport look as well
In addition to trending "Tannie," BTS fans also noticed Jungkook's airport look. The singer wore a hooded jacket to the airport, but ARMY noticed his hair sticking out from underneath the hood. The singer's hair appears to still be blonde, and ARMY posted their excitement to see Jungkook perform at the upcoming 5th Muster.
"SO WE GONNA SEE JUNGKOOK'S BLONDE FULL HAIR SOON…. im—," a fan wrote on Twitter.
"JUNGKOOK'S HAIR OK OK OKDKD," one fan tweeted.
Another fan tweeted, "okay but are we ready to see jungkook performing pied piper with his blonde hair ???? OMGG ??"
The group wowed ARMY with their airport looks
While Tannie stole the spotlight at the airport, ARMY also loved BTS's airport looks. Fans speculated what the members' different hair colors mean.
"bts' comeback is close. i can smell the hair dye," one fan joked on Twitter.
"Jungkook has blond hair Jimin with grey hair Namjoon with blond hair Taehyung mullet is back Yoongi hiding his hair Jin Black soft hair And Jhope light brown hair WE ARE NOT SAFE FOR COMEBACK!!!!!! @BTS_twt," wrote a Twitter user.
ARMY also noticed a funny moment when RM counted the BTS members outside the airport.
"Namjoon counting the members and nearly going in to panic when he only counted 6 ksjksj we love our leader," wrote a Twitter user.
"That clip of Joonie counting all the members at the airport, is the cutest thing ever. It reminded me of mama 2018, when he did the same thing on stage and Jungkook was missing. He truly is the worlds best leader," a fan tweeted.