BTS Is Back: ARMY Reacts to BTS's First Concert Since Their Vacation
BTS performed a concert in the King Fahd International Stadium in Saudi Arabia on Oct. 11. The concert marked BTS's first concert since the group took an extended vacation in August. Fans who were not able to attend the concert were able to watch a livestream of it on VLIVE.
Based on how the concert went, the members of BTS clearly missed the stage. ARMY also missed watching BTS perform. During the concert, BTS fans shared their thoughts on the performance on social media.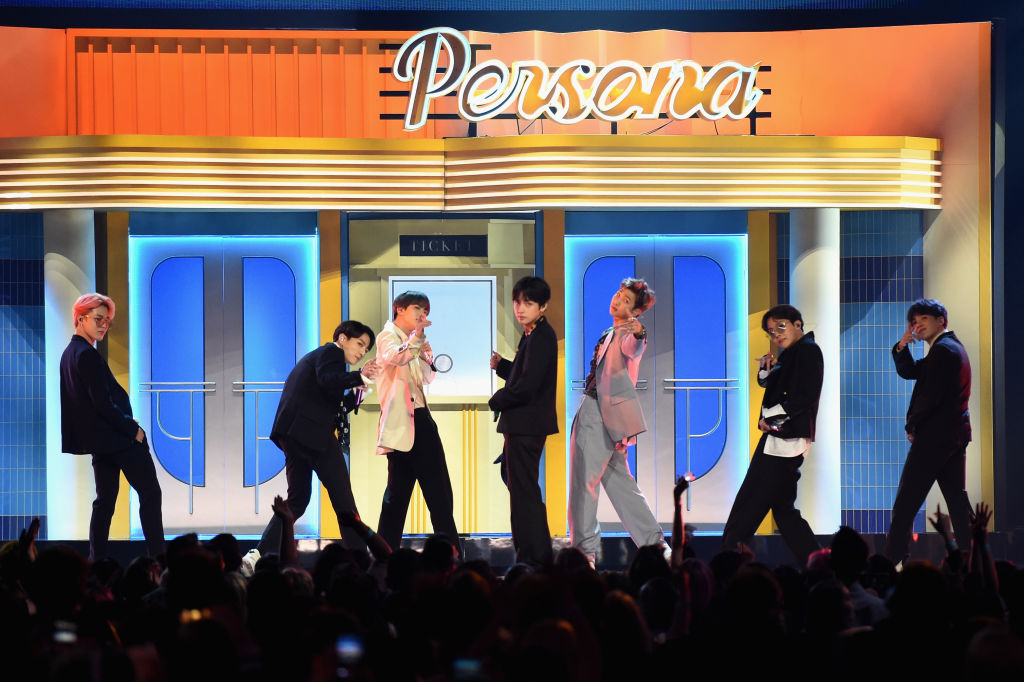 BTS continued their respect for their fans
Before the concert, Big Hit Entertainment educated staff and the members of BTS on local customs. The group altered the choreography to be more modest. BTS also sang and spoke in Arabic during certain parts of the performance.
"they sang happy birthday in Arabic they spoke in Arabic they excluded some stuff for the culture they consider every LITTLE detail they know it will make us feel RELEVANT in a way i love them," one fan tweeted.
At the end of the concert, BTS did not bow to the audience and waved instead.
A Twitter user wrote, "In Islam, you can only bow down to God. Which is why the members didn't bow at the end as they didn't want to seem disrespectful. I love that. I'm actually really touched about how much thought went into their actions tonight!"
Jin called out the translator at the concert
During the encore of BTS concerts, the members of BTS spend a large amount of time speaking with fans in the audience. At the Riyadh concert, the translator did not put a full effort into translating everything BTS said. Dissatisfied, Jin called the translator out after his speech.
"'Mr. Translator, I'm sorry but can you please deliver our words with more emotions? Thank you,'" Jin said to the translator.
"I will forever remember this as the day Seokjin called out the translator for not emoting hard enough. I'm telling you, that boy has the makings of a CEO in him. Just give him the title and watch what happens…," a fan wrote on Twitter.
Jungkook also commented about the translator during BTS's concert.
"JUNGKOOK JUST SAID 'I GUESS HE WENT TO EAT' WHEN HE ASKED FOR THE TRANSLATOR TO TRANSLATE AND HE DIDNT RESPONDHDHDHDH," a fan tweeted.
Fans think Jungkook has a sleeve tattoo
Jungkook's hand tattoo was visible throughout the entire show. After a now-deleted photo made it seem like Jungkook had more tattoos on his arm, ARMY investigated during the concert. Fans realized that it seems like Jungkook might truly be hiding more tattoos on his arm.
"THIS IS SUS AF FIRST JUNGKOOK WITH A TAPE AND THEN WITH /THAT/ SLEEVE BUTTONED YOU AINT FOOLING ME KID," a fan tweeted.
"NOW WHY WOULD HE HAVE TAPE ON IF HE AINT TATTED UP 2+2=JUNGKOOK SLEEVE TATTOO," one fan wrote on Twitter.
BTS celebrated Jimin's birthday onstage
Jimin's birthday is Oct.13. To celebrate, concert goers held up yellow flowers and balloons during his solo song, "Serendipity." The members of BTS also celebrated Jimin's birthday at the concert and sang "Happy Birthday" in Arabic.
"the boys learned how to sing happy birthday in another language and jimin looks so surprised THIS IS SO PRECIOUS HE LOOKS EXCITED," a fan tweeted.
"Bless him. He tried to sing along and then realised it was his happy birthday song…," another fan tweeted.