BTS: J-Hope and RM Pose With Matching Jackets and Essentially, They Owned Airport Fashion
In all honesty, it's hard to keep up with BTS' schedule. Within the past few weeks, the South Korean band has been making multiple public appearances — including their final Japan fan meetings for 2019, the Melon Music Awards, the Mnet Asian Music Awards, and Jingle Ball in Los Angeles. Nevertheless, the septet — RM, Jin, Suga, J-Hope, Jimin, V, and Jungkook — continues to grace BTS fans with their stunning airport fashion looks. Then upon their Gimpo International Airport arrival on Dec. 15, RM and J-Hope decided to pose for the cameras in matching jackets. And basically, the 10-second moment is the sweetest you'll see all day.
J-Hope and RM wear matching jackets to the airport on Dec. 15
On Dec. 15, BTS arrived in Korea from Japan, according to a video published by Newsen. The South Korean publication filmed the group as they exited Gimpo International Airport, alongside other members of the press at a respectable distance.
In the 102-second clip, BTS emerged in slow-motion, allowing ARMY a chance to admire the band's airport fashion outfits. Jimin and Suga both opted for all-black attire, featuring leather jackets. V wore a denim jacket and flowy grey pants. Jungkook showcased an oversized black coat and combat boots. And Jin donned a pop of color in a teal hoodie.
Then just as the last of their BTS brothers walked past the media, J-Hope and RM came out, and the duo posed together in their matching grey jackets. Both music artists crossed their arms and tried to maintain their composure. But after a split second, the '94 liners cracked smiles.
J-Hope quickly broke out of his pose and waved to the paparazzi as he continued walking. Meanwhile, RM hunched over laughing, as if embarrassed by his own actions. He then followed J-Hope out of the airport with a smile spread across his face.
BTS fans react to J-Hope and RM's matching airport fashion outfits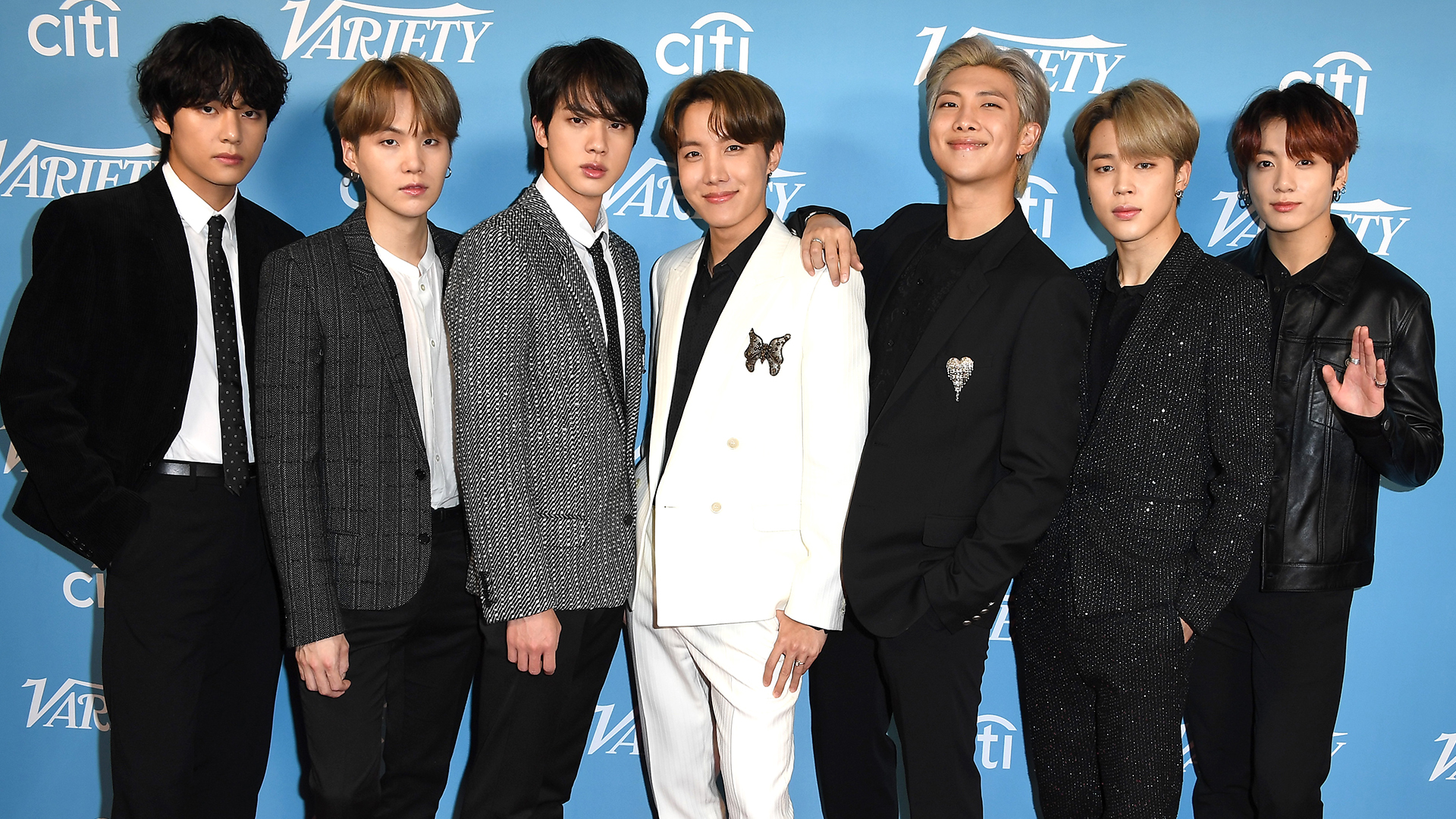 After BTS returned to Korea, ARMY rushed to social media to discuss RM and J-Hope's twinning moment at the airport.
"Joon and Hobi at the end hahah," one fan wrote on Reddit. "They were wearing the same jackets but somehow they made an interesting contrast, with Joon all handsome and sharp and Hobi being the epitome of fluffiness with that hair."
"Oh my god, Namjoon and Hobi are killing me with their marching jackets and posing," another fan wrote. "And Namjoon's last look back and wave at the cameras? The perfect way to start my day."
And of course, some fans couldn't help but comment on RM's expression after posing with J-Hope.
"namjoon shy after pose for the cameras with jhope," a fan wrote on Twitter.
But regardless, most members of ARMY were simply in awe of RM and J-Hope's playful friendship.
"the way hobi is so delighted to collab w namjoon at all times, whether it be on a rap verse or a dumb airport pose, is truly heart-wrenching," a fan wrote.
ARMY notices a difference in BTS at the airport upon their arrival
A few fans also noticed a big difference in BTS's arrival, considering the septet wasn't surrounded by an overwhelming crowd of fans and paparazzi.
"Okay, i think I am a fan of setups like this," a Reddit user wrote. "Short moment with photographers and enough distance they can choose to ham it up (lookin at you Namseok) or be ridiculous (Namjin on the way to Japan the other day) or just scurry away (peepin' at you, Yoongi). Either way, it's a smaller window where they are overly scrutinized, and I like that."
Meanwhile, other fans pointed out that BTS media clips from Gimpo International Airport typically don't involve as much chaos in comparison to those from Incheon International Airport.
"Gimpo is always so so so SO much better than Incheon," a Redditor wrote. "It a shame Incheon is the major airport hub in Seoul because crowd control is always better at Gimpo. We always end up with better pics/interactions there and you can tell the boys have a better time."
"Ok officially they should use gimpo whenever they can," another fan wrote. "They look so much more relaxed and happy when reporters and fans are not mobbing 2 inches from their faces in Incheon."
Jin and V get real with BTS fans about airport safety
Now, it seems a discussion in regards to airport etiquette and safety among BTS fans has been spread throughout the internet in recent months. And some members of the group are starting to enter the conversation as well.
On Nov. 16, a user on Weverse commented on the behavior of some ARMY at airports, reminding fans to remain polite.
"Even in today's entry of BTS, there was an embarrassing thing," the fan wrote, per translation on Twitter. "As Tannies (BTS) are Superstars, I hope ARMY should be Superfans…. please keep order!"
Jin replied to the Weverse post. "Right, if you push it can hurt," he wrote.
Then on Dec. 14, V hosted a VLIVE broadcast, where the "Singularity" singer urged BTS fans to stop following the group on flights.
"We fly on a charter flight and we actually want to fly on a regular flight. But when we fly a long distance or a short distance, fans may know beforehand that we will be boarding, and sit next to us or in front of us," V said. "In those private spaces, we don't get to relax as much as we want to. So we were a bit uncomfortable. To be frank with you, we don't want you to do that."
He then added, "Yes, it's scary. Really."
Like any other person, the members of BTS want to ensure their safety as they travel. And whether it's within the airport or even aboard the aircraft, the group's private space deserves to be respected.
Read more: BTS: RM Says He's Growing His Long Hair and Basically, ARMY Needs to Prepare for a New Era of Lengthy Locks