BTS: J-Hope's 'Chicken Noodle Soup' Thank You Letter Proves We Don't Deserve Him
After an excruciating drought without new BTS music, J-Hope and Becky G dropped "Chicken Noodle Soup," a trilingual track inspired by Webstar and Young B's mid-2000s hit of the same name. Following the release, fans applauded the two artists for paying homage to the original song while simultaneously bringing multiple cultures together. The collab also inspired the viral "Chicken Noodle Soup" challenge. Then, just when fans didn't think they could love him more, J-Hope released a thank you letter on the BTS Twitter account. And of course, fans were quick to respond in kind.
BTS's J-Hope writes a thank you letter everyone involved in 'Chicken Noodle Soup'
On Sept. 30, the "Daydream" singer posted a few behind-the-scenes pictures from filming the music video, along with a line of purple hearts. J-Hope also included a thank you letter — written in Korean and English — to those involved with "Chicken Noodle Soup."
"This was such a good experience," he wrote. "We prepared long and hard, and the moment we released the result of our effort was that much more special and important to me! This project was really an opportunity for me to learn and grow."
J-Hope then took the time to thank everyone involved, including Becky G and the dancers in the video.
"I would like to thank all of our fans for your love, all the staff who did so much for this project, all the amazing dancers who made me remember again the passion I had when I was young, and of course Becky G who understood right away what this project was about and made it incredibly special," the BTS member shared. "Thank you so much!! I'll keep working hard to try to make great music! Thank you!!"
Fans react to J-Hope's thank you note on social media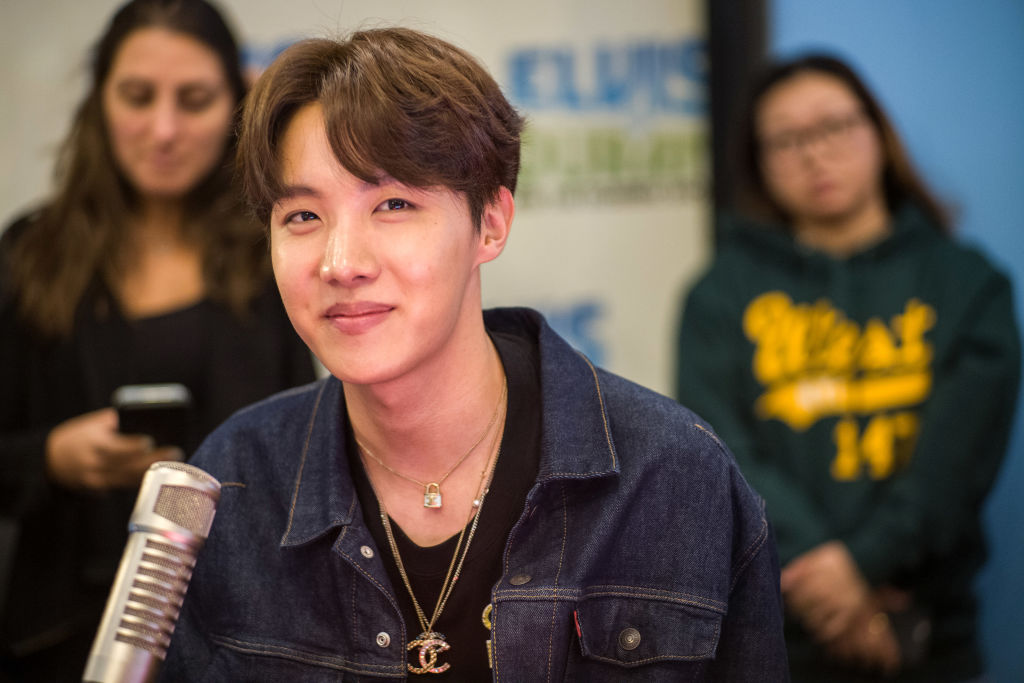 J-Hope's letter to those involved with "Chicken Noodle Soup" reminded fans of the artist's kindness. And not going to lie, it's making us a little emotional.
"Hoseok always goes above and beyond, especially in trying to communicate with us. His sincerity just bleeds through," a fan expressed on Reddit. "Such a sweetheart! After watching his vlive and the behind the scenes, it is all the more apparent how important this project was to him, an ode to his love for dance, and how worried he was. I'm so happy he's getting all the love and support he deserves."
Another Redditor joked, "Let it rain (tears on my face). And clear it out (with a tissue)."
Meanwhile, other fans responded to J-Hope's note with thank yous of their own. "We see your hardwork, dedication and the passion in everything that you do Hoseok," a Twitter user shared. "You're truly amazing and always give us your all. We appreciate YOU. We are right here with you, keep going!"
"Thank you for including a translation Hobi, you are so sweet and so considerate," another user tweeted. "I am immensely proud of you and feel lucky to be your fan. can't wait to see what else the future brings!"
How 'Chicken Noodle Soup' came together
It seems "Chicken Noodle Soup" was destined to be. On Sept. 27, J-Hope went on VLIVE to chat about his new song. And as it turns out, the bop was supposed to be released with Hope World.
"This track has been around for a while," J-Hope said, per the Korean publication Soompi. "I've been working on it for a long time. When I was working on Hope World, this song was going to be a b-side on it. Also, there was another artist I was going to do it with, but it didn't work out so I ended up releasing Hope World while feeling a bit sad about this song."
The "Airplane" singer also revealed he danced to the original "Chicken Noodle Soup" track when he was learning how to dance. He then explained why he wanted his version of the song on his first mixtape.
"I thought it was a track that can really express who I am. You know how Hope World contains a lot of my own color— I did what I wanted to do," he said. "And 'Chicken Noodle Soup' is the kind of music I wanted to do too."
Clearly, J-Hope poured his blood, sweat, and tears into making "Chicken Noodle Soup" happen. And while it might have taken a year, the singer was able to release the single with massive success. But quite frankly, we wouldn't have it any other way.
Check out Showbiz Cheat Sheet on Facebook!