BTS: Jimin Debuts New Piercing on VLIVE and ARMY Can't Handle the Heat
If there's one thing we've learned about this world, it's that Park Jimin keeps his promises. During the BTS member's birthday broadcast on Oct. 12 — a day prior to the big day — Jimin assured fans he would return to VLIVE. Sure enough, the "Promise" singer slid into the frame stage left a week later, on Oct. 20, where he had a lengthy chat with ARMY. Jimin also debuted a new ear piercing — something the singer-dancer hinted at in the previous stream. And basically, fans are falling head over heels for the reliable prince.
BTS' Jimin shows off his new piercing on his VLIVE broadcast on Oct. 20
In his birthday stream, Jimin expressed he wanted to get another piercing. And then during the BTS member's VLIVE broadcast on Oct. 20, Jimin delivered by revealing his new piercing.
Near the 6:05 mark of the stream, Jimin asked viewers if they remembered when he asked if he should pierce his ears in the future. The singer-dancer then let out a short chuckle as he fondly pointed to the stud in his left earlobe.
"I got my ear pierced here," he said. "The tiny earring."
Jimin then told ARMY how it all went down.
"I was done with work early and it was just me and my manager in the car. I asked, 'Should I get my ears pierced?' And we decided to go," he laughed. "I got it pierced right away."
"Fortunately, they're symmetrical now," Jimin added, referring to his left and right earlobes, which dawned two earrings each at the time of the broadcast.
ARMY reacts to Jimin's ear piercing reveal on VLIVE
After the VLIVE stream, BTS fans wondered how many piercings Jimin has now. And although the "Serendipity" singer appeared to be wearing four earrings in the broadcast, fans know Jimin has more piercings. Luckily, members of ARMY got to the bottom of the investigation.
"I just worked out that Jimin has a total of 6 ear piercings," a fan explained on Twitter. "He has 4 on his left ear now: 3 on his lobe (because of the new piercing) and 1 helix and then he has 2 piercings on his right ear which are both on his lobe."
That said, other fans pointed out Jimin hasn't worn a helix earring in some time. Regardless, it seems most fans are just happy Jimin is happy.
"Jimin looks so happy showing off his new piercing that he got on his left ear, please he's so cute," one ARMY wrote.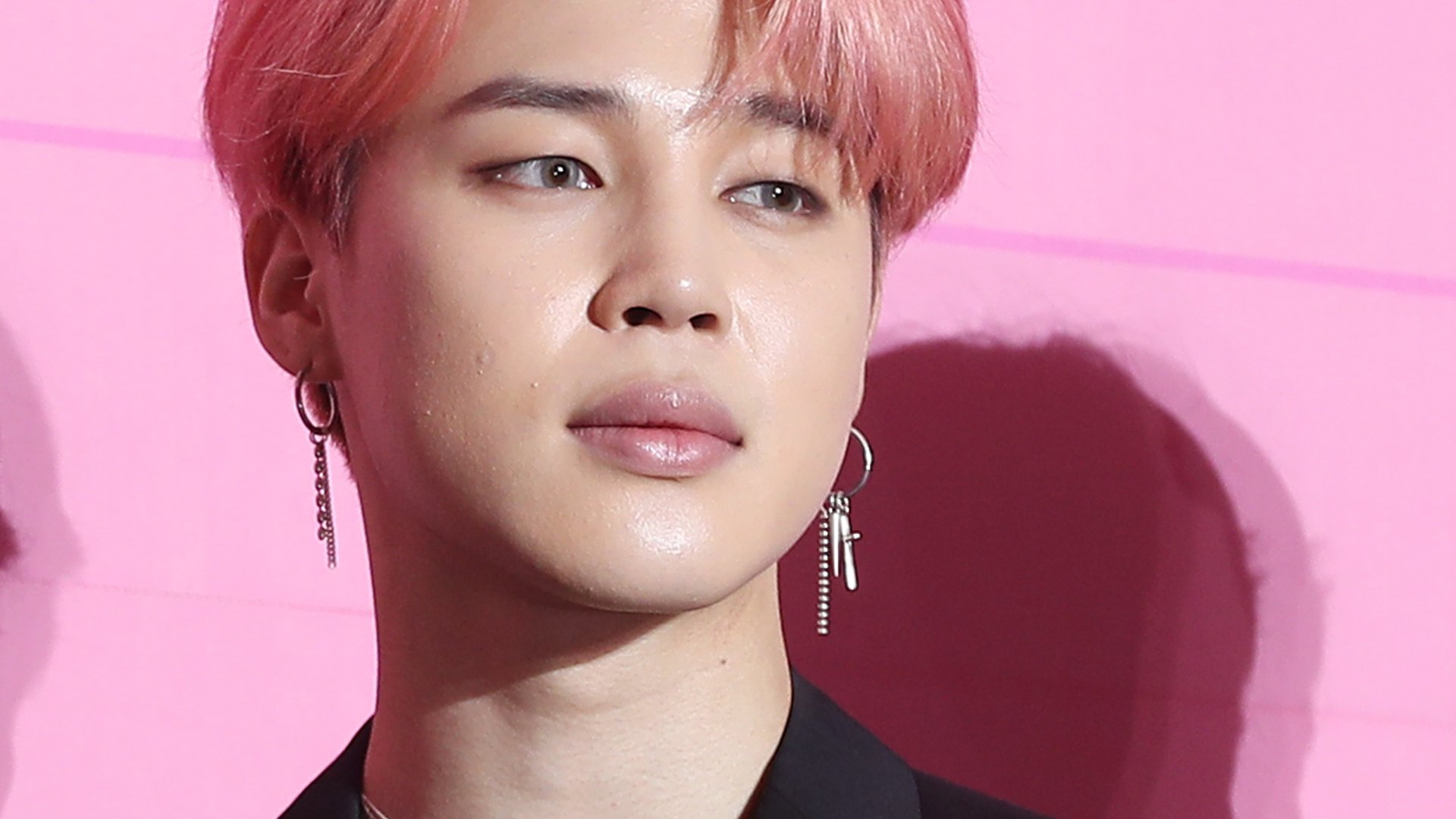 Then one fan remembered how some broadcast viewers didn't approve of Jimin's next piercing and clothing in his previous broadcast. However, the fan was proud to see the "Lie" crooner beaming with his new piercing and comfy green sweater.
"In Jimin's previous vlives, someone said his shirt was too revealing & another one told him to not get piercings," the fan shared. "Today, Jimin came on Vlive showing off his collarbones AND his new ear piercing. He is his own person & I respect him so much."
"Jimin getting a tattoo, wearing what he wants and getting another piercing without caring about what others think is my favorite f*cking song," another fan tweeted.
Jimin begs ARMY not to watch an old music video for 'Beautiful'
We're sorry, Jimin. But, ARMY has spoken.
One highlight from Jimin's VLIVE broadcast sent BTS fans into a frenzy of nostalgia. During the chat, Jimin reminisced on the old track, "Beautiful." However, he specifically told viewers not to watch the old music video.
"Don't go back and watch this again just because I mentioned it," Jimin chuckled. "I don't want to see it again." So naturally, everyone went online to watch the song released in 2013.
"He explicitly mentioned that we shouldn't watch it," a fan joked on Reddit. "Forgive us Jimin-shi for we have sinned."
"Jimin: don't watch it. ARMY: Can't stop, won't stop," another Reddit user wrote.
Jimin clearly felt a bit of cringe from his old rookie days. But, many longtime fans seemed to enjoy the trip down memory lane.
"I'm having really intense flashbacks to watching this when it was released oh my god! I'm a predebut army and this is so nostalgic for me," a fan shared. "Sorry Jimin but I'm gonna watch the old stuff a million times and remember how it felt when I first found BTS."
Quite frankly, Jimin looks happier than ever. From his recent VLIVE sessions to loving promises to ARMY, it just seems like the BTS member is always ready to give it his all — with all of the confidence in the world to back him up. It's wild to think the young boy from 2013 turned into the man fans know and love today. And honestly, we're so here for it.
Check out Showbiz Cheat Sheet on Facebook!