BTS: Jin, Jimin, RM, and V Wore Glasses at KBS Gayo Daechukje and It's So Powerful, Fans Will Be Feasting Like It's Christmas Until the New Year
Say what you want, but BTS always delivers. After an endearing Christmas performance at SBS Gayo Daejeon on Dec. 25, the South Korean band appeared at KBS Gayo Daechukje on Dec. 27, where the septet — including RM (Kim Nam-joon), Jin (Kim Seok-jin), Suga (Min Yoon-gi), J-Hope (Jung Ho-seok), Jimin (Park Ji-min), V (Kim Tae-hyung), and Jungkook (Jeon Jung-kook) — looked dapper as ever. But most notably, four of the BTS members — Jin, Jimin, RM, and V — popped up throughout the night with glasses. And of course, the accessory sent every fan in attendance into a frenzy.
BTS's Jin wears glasses to KBS Gayo Daechukje
Jin was the first of the BTS septet to appear with glasses at the KBS Gayo Daechukje 2019 red carpet. Towards the end of the live stream, the group walked out in clean black outfits. And then Worldwide Handsome lived up to his name, donning a pair of lenses with silver frames. Jin also wore his spectacles throughout the main event.
Naturally, ARMY had plenty of thoughts, even trending "Kim Seokjin Glasses" in Korean on Twitter within minutes of his red carpet debut.
"Jin with glasses.. and he's showcasing his forehead.. THIS IS THE [CONTENT] WE ASKED FOR," a fan tweeted.
"Glasses Jin is too powerful! It seems he passed his exams and is now 100% certified to be our teacher," another fan wrote on Reddit.
Then after the pre-recorded show aired on KBS, Jin added fuel to the fire and posted not one, but two selfies with his glasses on BTS's Twitter account.
"Love this look! The glasses are an interesting shape and paired with his forehead and black hair he's looking deadly," an ARMY wrote on Reddit. "Serving leading man vibes so much lately."
"Seokjin wearing glasses is a whole new level of powerful," another fan tweeted.
Jimin, RM, and V wear glasses during the BTS performance at KBS Gayo Daechukje
Meanwhile, Jimin, RM, and V joined Jin's KBS Gayo Daechukje glasses line during the 5-song BTS performance. Jimin first put on his round spectacles when the group opened with "Go Go," and wore them through "Home" and "Mikrokosmos." And RM opted for black frames and V donned dark grey glasses during "Dionysus."
Then to no one's surprise, BTS fans reacted to Jimin, RM, and V's new look with passion.
"Jimin with his pretty tousled blond hair and those round glasses are my absolute weakness, I have been completely destroyed," a fan wrote on Twitter.
"His hair, his glasses, his outfit, everything is perfect about namjoon," another fan wrote.
"Taehyung in black and red with his curly hair and glasses while performing dionysus," a fan tweeted. "We're all just a joke to him."
And for the most part, it seems ARMY was charmed by everyone at KBS Gayo Daechukje.
"We got Glasses Jin, Glasses Jimin, Glasses RM, and briefly Glasses Tae today," an ARMY wrote on Reddit. "It was a good day."
What does BTS have planned next?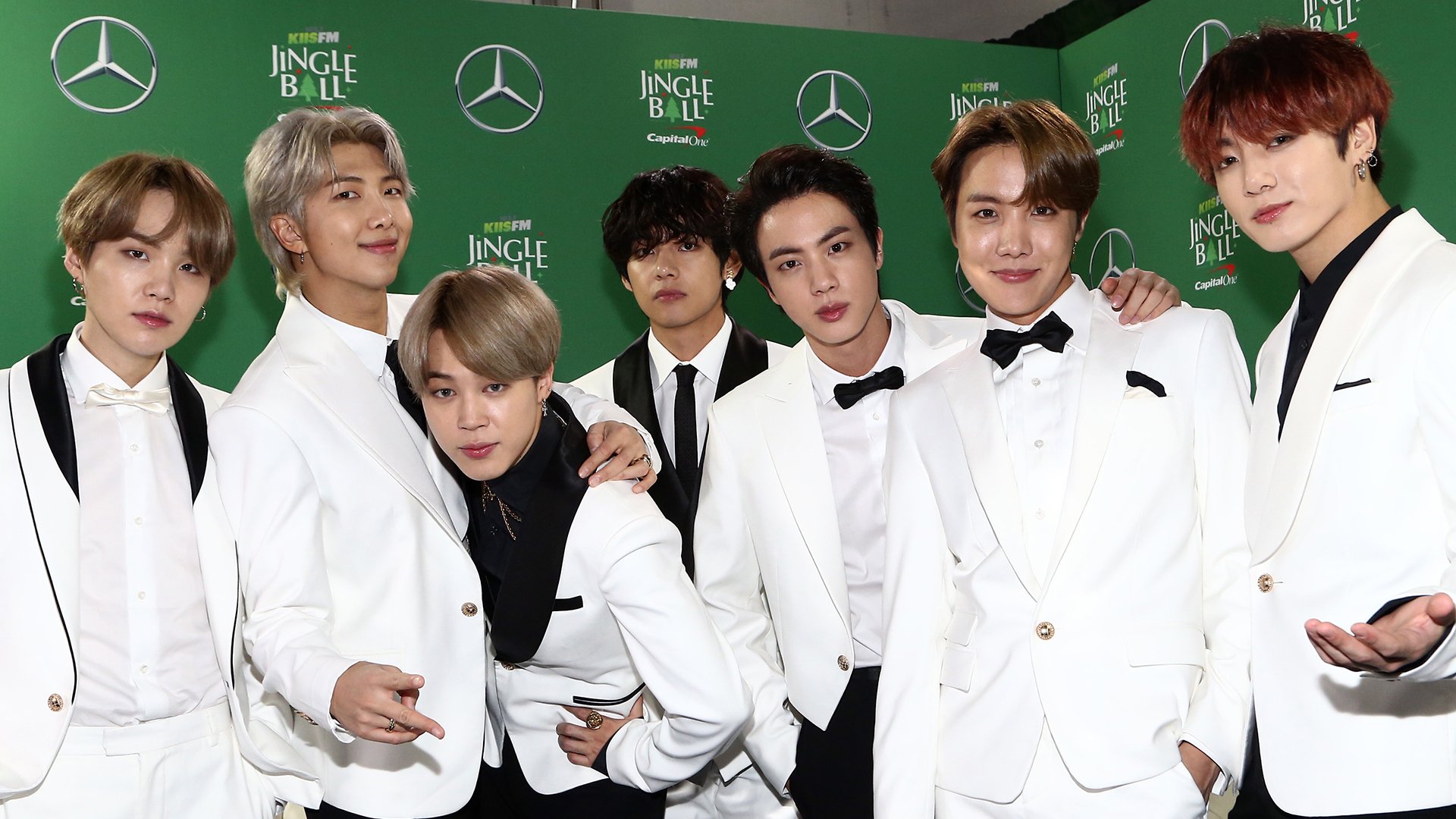 Now, the Korean music festival isn't the last event BTS will attend in 2019. On Dec. 31, BTS will ring in 2020 at Dick Clark's New Year's Rockin' Eve with Ryan Seacrest, which is televised on ABC. The group will perform live starting at 10:38 p.m. ET — with the main event kicking off at 8 p.m. ET.
Meanwhile, ARMY is mentally preparing themselves for the next BTS comeback album and future tour. For the past few months, the members have said they're working on new music. And at Variety's Hitmakers Brunch, RM hinted more content is coming "in the near future."
"I hope you guys are also excited to discover what BTS has got for 2020," the BTS leader said.
Then on Dec. 23, the Big Hit Entertainment Twitter account unveiled a 2020 tour teaser. The caption read, "April 2020. Stay tuned."
So basically, prepare yourselves — and your wallets, BTS fans. Everything is about to go down in the new year. And who knows? Maybe we'll even see BTS wearing glasses in a few promos moving forward.
Read more: BTS: Jimin Says the Next Comeback Album Will Exceed Expectations and ARMY Isn't Ready