BTS: Jin Says He'll Grow Out His Long Black Hair, So ARMY Needs to Brace for the Impact of Worldwide Handsome
As any BTS fan will tell you, Jin lives up to his nickname, Worldwide Handsome. In any given situation, you can find the 26-year-old serving looks that could easily make any living human blush. And now, in a recent VLIVE broadcast, Jin told BTS fans he is growing out his long black hair. So basically, it's time for ARMY to prepare for every public appearance in the near future.
Jin tells BTS fans he is growing out his long black hair in an 'Eat Jin' broadcast on VLIVE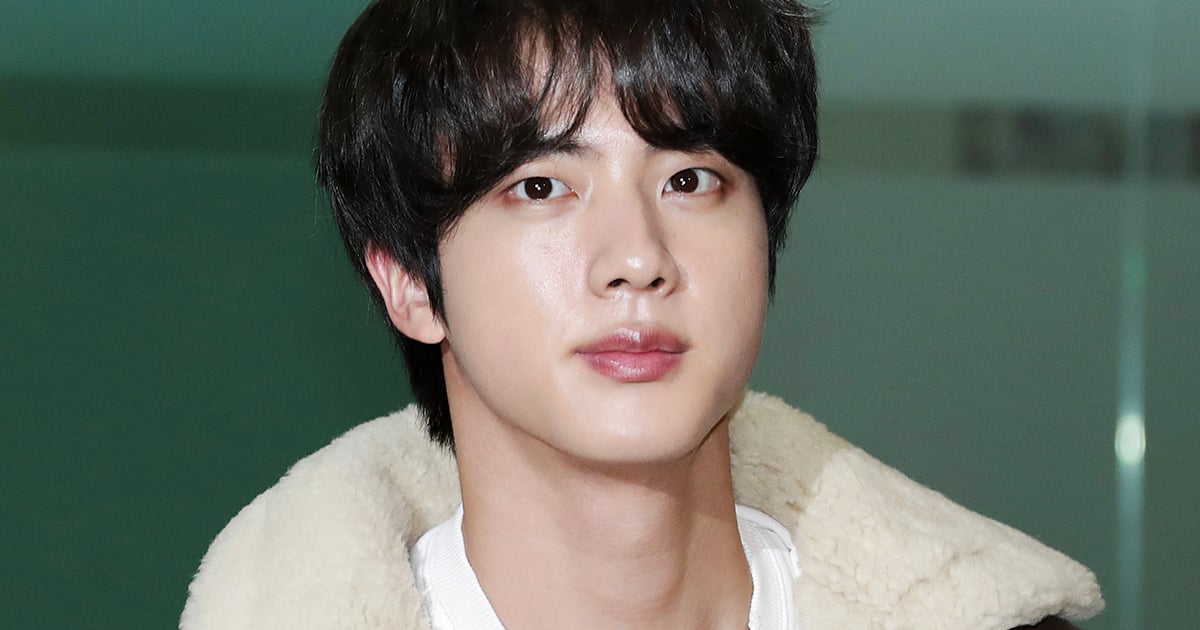 On Nov. 21, BTS arrived at the Gimpo Internation Airport. The members of the South Korean band — including RM, Jin, Suga, J-Hope, Jimin, V, and Jungkook — piqued everyone's interest as they headed to their 5th Muster Magic Shop Fanmeeting in Chiba, Japan. Naturally, everyone noticed the many hair changes sported by each BTS member, including Jin's curly dark hair.
Then, following the BTS fanmeeting on Nov. 23, the eldest member hosted an Eat Jin broadcast on VLIVE. And although Jin didn't exactly eat anything this time around — as he ate before streaming — he still interacted with ARMY, per usual.
When reading the comments during the VLIVE session, Jin revealed his curly hair at the airport wasn't permanent. "No, I didn't get a perm," Jin said. However, it seems Jin's is letting his hair grow out.
"I'm just growing it out. It's always the same," he said. "My hairstylist said that it would be nice to have a haircut. I always have the same hairstyle. I said I'll grow my hair this time."
Jin showed BTS fans just how long his hair has gotten in the past few weeks. "It's gotten really long now, look," Jin said. The "Epiphany" singer then pulled his bangs down, which reached below his eyes.
"It's really long like this. About 2 weeks ago, it kept on pricking my eyes," Jin continued. "It was annoying. But it has grown longer now."
The BTS member was also kind enough to explain why he has a "comma" curl in his hair. "I just put my hair this way, that's why I have this curl," Jin said, brushing his hair to the left side with his fingers.
That said, don't expect Jin's black hair to get too long in length. "Not too long, though," the visual said. "I just wanted to try a slightly different style. I'm growing it just a little."
BTS fans react to Jin's long hair
Following the VLIVE, many BTS fans expressed their excitement over Jin's long black hair on social media.
"seokjin said he's growing his hair out do u know what that means," a fan tweeted. "MULLET JIN MAY BE COMING BACK…"
Some fans also wondered if Jin will have long hair in the upcoming BTS comeback.
"Whew, seokjin's hair is growing out. long haired jin for comeback?" a Twitter user wrote.
Of course, it's been a few days since Jin made the announcement about his long hair during his Eat Jin broadcast. So BTS fans have seen the "Awake" singer a few times since then. Throughout BTS's fanmeeting in Chiba, fans fawned over Jin's exposed forehead on Nov. 24.
"Yesterday one ARMY asked to Jin like 'Please show your forehead' in Vlive," a fan wrote. "And today Jin is.. god of forehead."
"The way Army were asking for Jin's forehead yesterday on vlive and tonight he went full forehead exposure," another fan wrote. "HOW SWEET IS JIN??? HES THE SWEETEST MAN EVER."
Jin stuns BTS fans with his long hair at the airport when returning to Korea
On Nov. 25, BTS returned to Korea, according to a video posted by Newsen. The South Korean publication filmed a 77-second clip of the septet as they walked through the Gimpo International Airport. And BTS fans couldn't help but notice Jin's "comma" hairstyle and Worldwide Handsome good looks.
"Im about to forget comma hair was my fav seokjin's hairstyle," an ARMY wrote on Twitter. "THE POWER HE HOLD IN THIS LOOK!!!"
"THAT COMMA HAIR AND HIS VISUALS ALWAYS LEAVE ME SPEECHLESS!!!" another fan tweeted. "[Welcome] back, Worldwide Handsome!"
Nevertheless, BTS fans are simply grateful for all of Jin's show-stopping appearances — and ready for more in the future.
"Kim Seokjin, it's been a constant stream of attacks these past few days," a fan on Reddit wrote. "I don't know how much more I can take but keep 'em coming."
Check out Showbiz Cheat Sheet on Facebook!