BTS: Jin Sports a Mullet In the 2020 Season's Greetings Package and ARMY Can't Get Over His New Hair
There's a new BTS sub-unit in town. And it's safe to say, no one was expecting this one to emerge from the woodwork. In the previews for BTS' 2020 Season's Greetings package, Jin rocked a mullet haircut. Thus, our Worldwide Handsome is now placed in the ranks of RM and V to form the unofficial mullet line. But given the visual king's sudden hair growth, some fans are wondering if Jin's new hairstyle is real or fake for the end-of-the-year promotion.
Jin shows off his mullet haircut in BTS' 2020 Season's Greetings spot
On Nov. 3, BTS unveiled their first preview video for the 2020 Season's Greetings package. The 42-second promo opened with a few behind-the-scenes shots of the members — RM, Jin, Suga, J-hope, Jimin, V, and Jungkook — in bright-colored outfits as they illustrated what fans can look forward to when the package becomes available to purchase.
As "Boy With Love" played in the background, viewers watched as the septet underwent numerous photoshoots, wrote heartfelt messages, and of course, emersed themselves in their annual Season's Greetings game. ARMY also noticed the boys seemed to break off into pairs — Jin and RM, Suga and V, and Jimin, J-hope, and Jungkook.
Following the release of the video, BTS fans were excited about the end-of-year treat. But, it was Jin's mullet that stole the show. Throughout the preview, Jin would seemingly go from his staple short hairstyle to suddenly sporting a wispy mullet.
Then just when ARMY accepted Jin's new cut was just an optical illusion, BTS dropped a notice about the 2020 Season's Greetings package on Weverse. And voilà, Jin's new hairdo was prominently featured in a few spectacular shots. So it looks like Jin's mullet is real and we're getting a totally '80s look from Worldwide Handsome this year.
BTS fans react to Jin's new hair mullet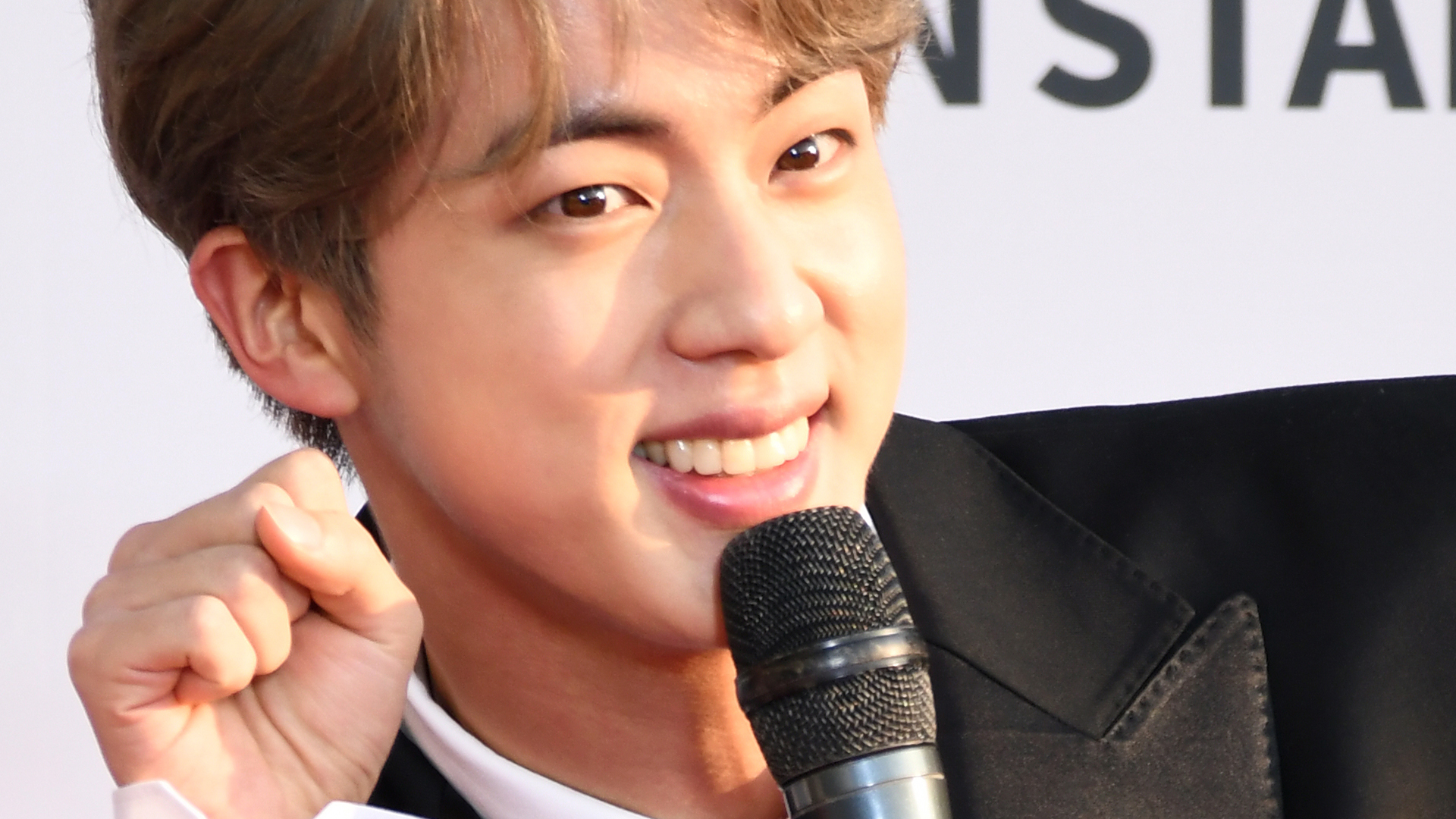 For the most part, BTS fans were shocked by Jin's mullet in all the 2020 Season's Greetings previews.
"JIN HAS A MULLET I REPEAT KIM SEOKJIN HAS A MULLET IN SEASON'S GREETINGS," one Twitter user wrote.
"Omg so it is real. Jin has a gigantic mullet," another user tweeted. "It is not an optical illusion. He is looking like a hottie from 80s with his mullet and helix piercings. my wallet is empty….someone give me seasons greetings 2020 for free."
Though, some fans were definitely not feeling Jin's new look. "How did the [Big Hit Entertainment] stylists think of putting tinsel and glitter in hoseok and jimin's hair but big *ss chicken feathers for jin," a fan explained.
But, of course, others were excited about Jin's mullet. "Spread legs, *ss poppin, mullet in the wind," an ARMY shared. "This is what you call a power move, folks."
Meanwhile, members of ARMY tried to determine if Jin will bring back his new mullet hairstyle for BTS' upcoming comeback.
"Yall can laugh as much as you want," a fan noted. "But when the dark [comeback] pictures are dropped of jin w mullet and double helix piercings yall finished FINISHED."
"WAIT WHAT THE F*CK I SWEAR IF JIN HAS A MULLET ON THEIR NEXT COMEBACK I WILL CUT MY HAIR SHORTER KDJDKD," another fan tweeted.
Regardless, everyone seems to accept Jin and his fashion choices. And even if they don't, one fan perfectly described how others will undoubtedly come around to the singer's new look.
"Awake and epiphany are actually named after the two stages of seokjin mullet acceptance," an ARMY wrote on Twitter. "Awake when you wake up to the mullet pictures. epiphany when you realize you'd love seokjin even if he braided the mullet and added a bow to the end for effect."
What is BTS' 2020 Season's Greetings Package?
For those of you who don't know, BTS releases their Season's Greetings package annually. And according to Big Hit's announcement on Weverse and Facebook, the 2020 contents will include an out sleeve case, a desk calendar, a 6-ring diary, the behind-the-scenes DVD, an ID photo set, a mini-poster set, a lenticular photo, a greeting message card set, and a selfie sticker set.
Meanwhile, pre-orders for BTS' 2020 Season's Greetings will begin on Nov. 5. The package will then be released on Dec. 19. You can also purchase it on Weply.
Truth be told, it feels like Jin dawned a mullet for one occasion only. It's likely BTS filmed the 2020 Season's Greetings prior to the Love Yourself: Speak Yourself [The Final] concert, in which Jin displayed short hair. But hopefully, the new package will be filled with enough content to last ARMY a lifetime.
Check out Showbiz Cheat Sheet on Facebook!