BTS: Jin Unveils V's Vintage Curly Hair From Their 5th Muster in Japan and ARMY Can't Stop Thinking About It
Attention BTS fans, it's officially V's (Kim Tae-hyung) birthday in Korea. On Dec. 30, the "Winter Bear" singer turned 24-years-old — or 25-years-old in Korean age. As always, V's BTS brothers — RM (Kim Nam-joon), Jin (Kim Seok-jin), Suga (Min Yoon-gi), J-Hope (Jung Ho-seok), Jimin (Park Ji-min), and Jungkook (Jeon Jung-kook) — knew exactly how to celebrate. Most members shared loving posts on Twitter. Meanwhile, Jin added a photo featuring V with his vintage curly hair from BTS's 5th Muster in Osaka, Japan, on Dec. 15. And once again, the eldest member couldn't help but compare V to Goo Joon Pyo (Lee Min-ho) from Boys Over Flowers.
V debuts vintage waves at BTS's 5th Muster in Japan on Dec. 15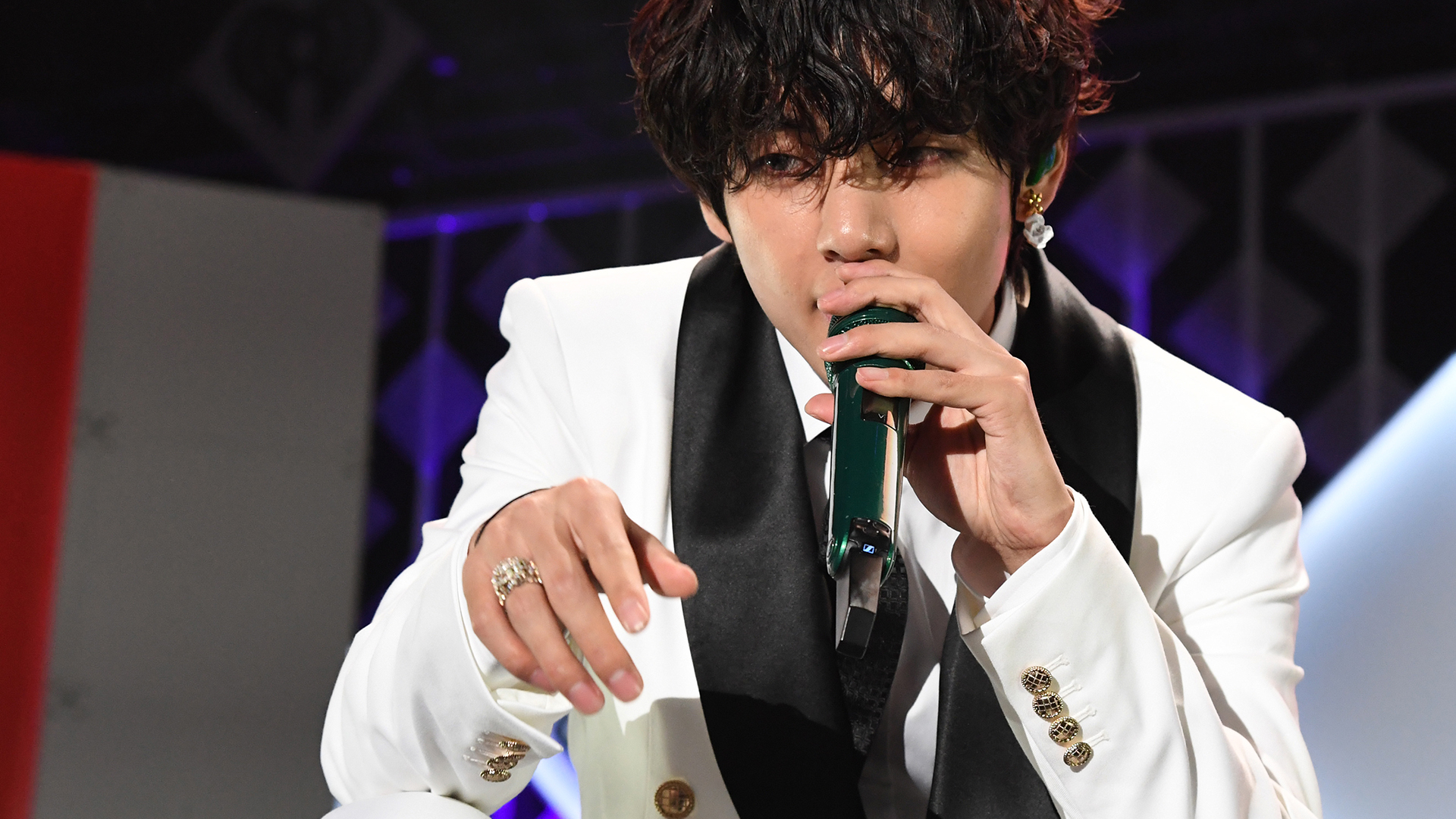 During the BTS fan meeting, fan cams of V with his vintage-style curly hair emerged on social media. And of course, ARMY expressed their excitement about the "Singularity" crooner's new hair.
"WHAT THE ACTUAL- LOOK AT HIS HAIR, THOSE CURLS," one fan wrote on Twitter. "OH MY GOD TAEHYUNG NATION YALL SEE THAT WOW WE'RE BLESSED."
And while many fans gushed over V's wavy curls, everyone seemed to have their own opinions on the inspiration behind the hairstyle, comparing the singer-dancer's new locks with looks spanning from the 1920s to ancient Greece.
"So is it a coincidence that taehyung's hair looks exactly like one of the greek mythology's important god which is Apollo??" a fan tweeted.
"DID TAEHYUNG'S HAIR INSPIRED BY MARILYN MONROE?" a Twitter user wrote. "I REMEMBER HE PUT MARILYN MONROE AS HIS WALLPAPER."
"Taehyung with his retro vintage gatsby hairstyle I'm ascending," another fan wrote.
Meanwhile, most members of ARMY hoped V would post a photo on social media.
"Prayer circle: taehyung selca w his finger waved hair," a fan wrote. Sadly, the picture never came and V got rid of his curls partway through the concert. And then it seemed like the vintage look would be lost in the sea of BTS fan cams. Nevertheless, Jin later went on Weverse and addressed V's hair.
On the social media app, one member of ARMY commented on V's curly hair, posting a photo from the concert.
"In my days, you see, there was a character named [Goo Joon Pyo] that was quite popular," Jin said, per a fan's translation. "At that time, if you didn't know [Goo Joon Pyo], someone would've reported you as a secret spy."
BTS's Jin shares a photo of V with his curly hair on his birthday
It certainly seems like Jin loves to remind V of his Boys Over Flowers doppelganger. And Dec. 30, Jin posted a photo of V's curly hair for the "Stigma" singer's birthday.
"Our Tae Joonpyo, happy birthdayy al-la-byu Taehyungie birthday congrats congrats," Jin wrote, per a fan's translation on Twitter.
Meanwhile, Jin simultaneously delivered a gift BTS fans have been anticipating since mid-December. So naturally, everyone rushed to thank their Worldwide Handsome.
"We should all be thankful that we are looking at this raw photo of curly haired Taehyung for free," a fan on Twitter wrote.
"Everyone say thank you to jin for serving us with curly hair taehyung," a fan tweeted.
BTS celebrates V's birthday on Dec. 30
Now, Jin wasn't the only BTS member to wish V a happy birthday. Moments after Jin's present was successfully delivered on Twitter, Suga added his own message.
"Taehyung-ah, who's so funny these days, happy birthday," Suga wrote, adding the hashtags "HisSenseOfHumourHasSharpened" and "#TheLaughterChiefOfOurVillage."
"Happy birthday, winter bear," RM wrote alongside a few fun photos and bear emojis. He later signed the post with "Namjoonie hyung" in a separate tweet.
Then J-Hope shared a sweet post. "The best looking in the world, our Taehyung-ie, happy biiiiirthday," he wrote with purple heart emojis.
And a few hours later, Jimin added a series of selfies with V. "Happy birthday to you from my bottom of heart," Jimin tweeted along with the hilarious hashtag "YouAreTanniesDaddy."
Read more: What Time Will BTS Perform at Dick Clark's New Year's Rockin' Eve? ARMY Is Dying to Watch the NYE Show