Fans Predict the BTS Jingle Ball Setlist and It's Seriously Phenomenal
We're less than two months away from iHeartRadio's 2019 Jingle Ball on Dec. 6. There's plenty of buzz with this year's lineup, which includes Katy Perry, BTS, Billie Eilish, Sam Smith, Camila Cabello, Halsey, French Montana, Lizzo, and Normani. Of course, with the concert marking BTS's return to the U.S. following the Love Yourself: Speak Yourself world tour, you bet ARMY is ready to go. And they've got the empty wallets to prove it. But now, in celebration — and preparation — for the event, fans decided to have a bit of fun and predicted the BTS Jingle Ball setlist. So what did fans come up with? It's nothing short of phenomenal.
BTS fans dream up the perfect Jingle Ball 2019 setlist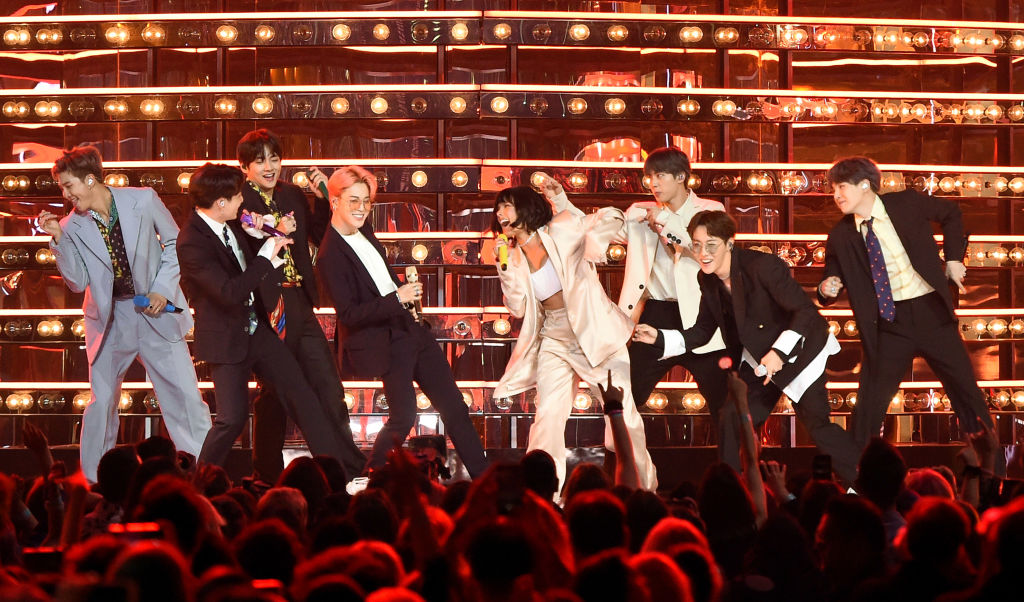 In a discussion on Reddit, many fans listed out their predictions for the BTS Jingle Ball setlist. And while popular titles like "DNA" didn't make the cut, it seems most fans think newer songs will be played at the concert.
One Reddit fan hypothesized "Mic Drop," "Fake Love," "Boy With Luv," and "Make It Right," could receive some love at the 2019 Jingle Ball concert at The Forum. "Artists at Jingle Ball tend to play their biggest hits, including throwbacks," the fan explained.
The Redditor also questioned if the boys would consider performing a Christmas song and possibly the "lead single or two" from the potential BTS comeback — that is if it drops within the next two months.
Meanwhile, another fan agreed with the Reddit user's predictions. However, they also included "IDOL" for safe measure. Then, in a separate comment, a user also added "Blood, Sweat, & Tears," "Anpanman," and "Best of Me" to the wish list. And many seemed interested in "HOME" making its U.S. debut.
That said, most fans were aware the BTS Jingle Ball setlist may not be as long as they hope. As mentioned, there are a number of artists who are also featured in the lineup. And at the 2018 Jingle Ball in Los Angeles, each act played between two and nine songs total.
'Boy With Luv' performance with Halsey
Sadly, BTS's performance at the Jingle Ball won't be quite as extensive as a full-blown solo arena concert. But, fans are still excited about other possibilities, such as the potential onstage reunion between Halsey and BTS now that both are confirmed to perform at the concert.
"I would bet my next paycheck that they're performing 'Boy With Luv,'" a fan noted on Reddit. "Especially since Halsey is on the performer's line up."
Meanwhile, other fans wondered if BTS will collaborate with other artists at the event. "With Lizzo also performing, it would be fun to do a mash-up of BWL (with Halsey) merging into 'Juice,'" a fan shared. "That viral video syncing 'Juice' with the [Saturday Night Live] footage was great."
BTS comeback stage at the 2019 Jingle Ball
The idea of BTS's comeback stage at the Jingle Ball has been thrown around. However, most fans seem to refute the idea, as the location doesn't exactly seem fitting given the limited audience.
"A Jingleball Comeback Stage. I would really, really, really surprise if they do that," a Redditor explained. "If you're going to do a comeback stage, you want it to reach a large audience like the [Billboard Awards] or SNL and Jingle Ball has nowhere near that reach. On top of that, they don't even air it live."
However, the fan didn't completely rule out a comeback stage. "The only reason, I can see them doing it, is hopefully get more traction on the radio when they do make a comeback," the fan wrote.
Regardless of what actually happens at the 2019 Jingle Ball, ARMY is going to have a spectacular time when BTS takes the stage. Now, all we have to do is hold out until Dec. 6. Let's get it.
Check out Showbiz Cheat Sheet on Facebook!