BTS: Suga Hosted the Most Wholesome VLIVE With ARMY
On Dec. 13, Suga of BTS held a VLIVE with fans to discuss his recent collaboration, "SUGA's Interlude." The song is part of Halsey's upcoming album, Manic. While the full album will not be out until Jan. 17, 2020, Halsey released "SUGA's Interlude" as a single on Dec. 6.
The song quickly rose through the charts, and reached the No. 2 spot on the U.S. iTunes chart. Suga hosted the VLIVE on Dec. 13 to talk about the song, and the livestream became super wholesome. Besides talking about the song, Suga also offered life advice to ARMY.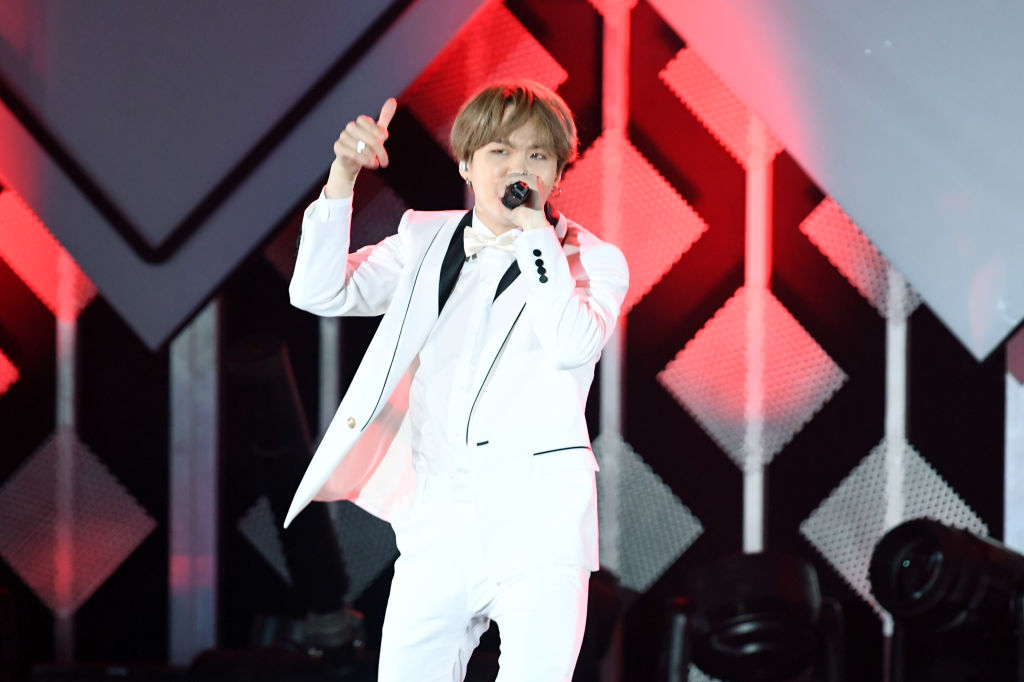 Halsey wanted Suga to rap in Korean for 'SUGA's Interlude'
During the VLIVE, Suga revealed how "SUGA's Interlude" came to be. Halsey asked him to be on the track, but he told her he could not rap in English. She told him it did not matter and she wanted him to rap in Korean.
"When Halsey contacted me about the collaboration, I was surprised. I told her I can't speak English. She said it's fine, do it in Korean. I wanted to thank her about it when I was in US, but I couldn't because I can't speak English," Suga said according to a fan translation.
After Suga revealed the behind-the-scenes story about "SUGA's Interlude," fans tweeted about their gratitude for both Halsey and Suga.
"yoongi saying he was all confused when halsey approached him for a collab bc he couldn't rap in english but halsey like the real one she is said she wants him to rap in korean THIS IS WHAT I LIVE FOR," a fan tweeted.
"would really like to thank halsey for making yoongi so comfortable and made him rap in korean rather than english :( she's so nice for doing that. music really has no boundaries :(," a Twitter user wrote.
Suga gave BTS fans advice on how to endure hard times
While answering fans' questions, Suga saw one fan asked him for advice on how to endure hard times.
"It's very simple and it may sound insincere, but that was the answer. When time passes, it all becomes fun memories, personally," Suga said according to a fan translation.
He continued, "For me personally, it's like that. A little more time has to pass. No matter how hard it is, some more time has to pass before it becomes clearly apparent how difficult it was. After time passes, it can be passed over with a laugh. I believe enduring is the answer."
With that answer, it's obvious why Halsey wanted Suga on her album.
He also talked about how BTS and ARMY transcend languages
In a particularly wholesome moment during the VLIVE, a fan told Suga that they loved him, but did not understand him because they did not speak Korean.
Suga replied, "It's okay not to understand, we transcend languages."
While it was a simple response, it spoke volumes. BTS has a large global fan base, and BTS has managed to break through language barriers and reach fans across the world.
"that warm smile yoongi had while saying 'it's okay not to understand. we're beyond language' …this is just so beautiful," a fan tweeted.
"Yoongi speaking comfort to those who can't speak Korean, saying the language barrier does not matter. He has such a lovely heart, there is no one quite like him or @BTS_twt," one fan wrote on Twitter.