BTS Will Reportedly Perform at iHeartRadio Jingle Ball 2019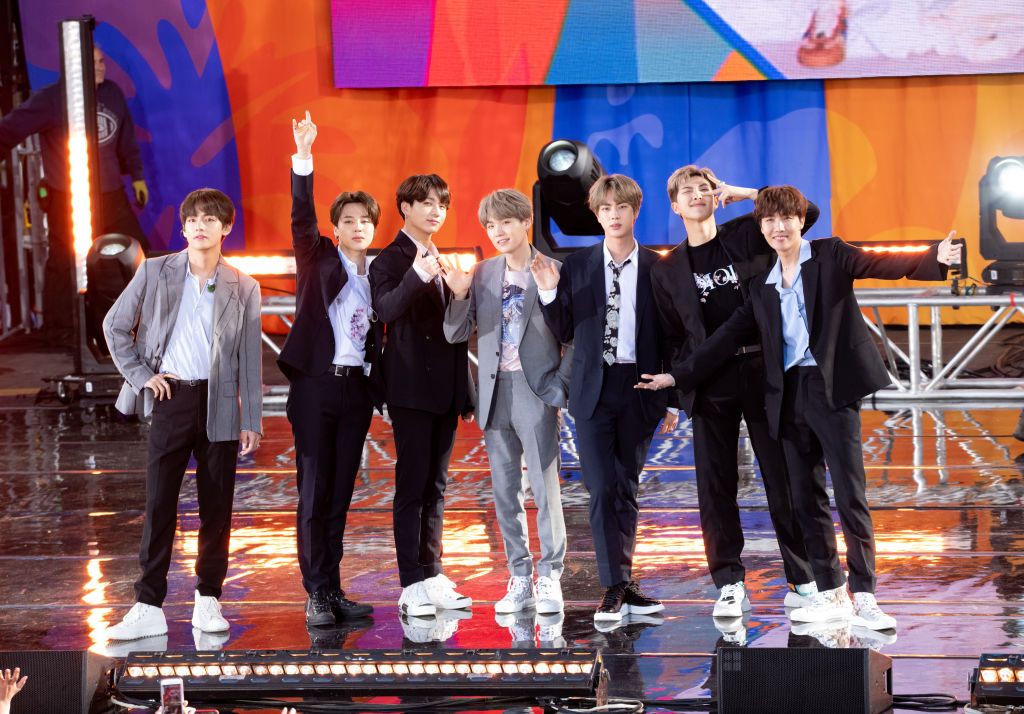 BTS's month-long vacation just ended, but the group is already back to making headlines. On Sept. 18, an unconfirmed report that BTS will perform at the 2019 iHeartRadio Jingle Ball concert was released online. On social media, BTS ARMY immediately began speculating what this meant for a BTS comeback.
Reports about BTS performing at Jingle Ball broke on Sept. 18
Ilgan Sports first reported that BTS will perform at iHeartRadio's Jingle Ball on Sept. 18. Jingle Ball is a series of concerts held across the U.S. According to the report, BTS will most likely perform at the concert in Los Angeles in November. The report also said that BTS was adjusting their schedule to make the performance work.
The report spread throughout Twitter. According to iHeartRadio, the official lineup for Jingle Ball will not be released until later in the fall. BTS fans will likely have to wait a few more weeks for anything to be confirmed.
Big Hit Entertainment responded to the report
After the report broke online, Bit Hit Entertainment released a statement. The company responded to the report saying, "We announce our artists' scheduled activities after they are confirmed." While Big Hit Entertainment did not confirm the report, the company also did not exactly deny the possibility of BTS performing at Jingle Ball.
BTS just returned to working after a month-long break. The group is currently filming an unconfirmed international project. They will return to performing on Oct. 11 for their Love Yourself: Speak Yourself concert at the King Fahd International Stadium in Saudi Arabia. BTS will conclude the tour in Seoul, South Korea with Love Yourself: Speak Yourself [The Final] on Oct. 26, 27, and 29.
Fans think this could mean BTS will have a comeback this fall
BTS ARMY has suspected a BTS comeback to happen in the latter half of 2019 for months. Fans have already theorized the album will be called Map of the Soul: Shadow and will drop in either October or November 2019. With the rumors of BTS performing at Jingle Ball in November, BTS fans suspect the concert would serve as BTS's comeback stage for their upcoming album.
"bts' comeback could be confirmed at legitimately any time now. concept photos can get released. album cover may be released. mv teasers too. new tour dates could be added. jingle ball may be their comeback stage. at. any. t i m e. you guys we-," wrote a fan on Twitter.
"SO BTS WILL PERFORM AT THE IHEARTRADIO JINGLE BALL THIS YEAR?? YALL WHAT IF THEY'LL DO A COMEBACK STAGE THERE OH MY GOD IM SCREAMING," another fan wrote.
BTS fans are excited about the possibility of BTS performing at Jingle Ball
When the reports were first announced, BTS fans could not contain their excitement at the possibility of BTS performing at Jingle Ball. In 2019, BTS performed on Saturday Night Live, Good Morning America Summer Concert Series, Britain's Got Talent, The Voice, and at the Billboard Music Awards.
"if bts is really performing at jingle ball the other artists shouldn't even bother to show up, that's a bts concert now," a fan tweeted.
"BTS are about to turn the jingle ball concert into their own concert just like every other event they attend," another tweeted.