BTS's Interview With Radio Disney Shows Them at Their Most Chaotic
ARMY loves how chaotic the members of BTS are. That's what makes their TV shows Run BTS! and BTS: Bon Voyage so enjoyable. The members of BTS also add humor to almost every interview they do. They make each other laugh, which makes their fans laugh.
BTS fans love piecing together video compilations of BTS being chaotic during interviews. Earlier in 2019, BTS was interviewed by Radio Disney. The full interview was uploaded in August 2019 while BTS was on hiatus. To fans' delight, BTS appeared as their most chaotic selves during the interview.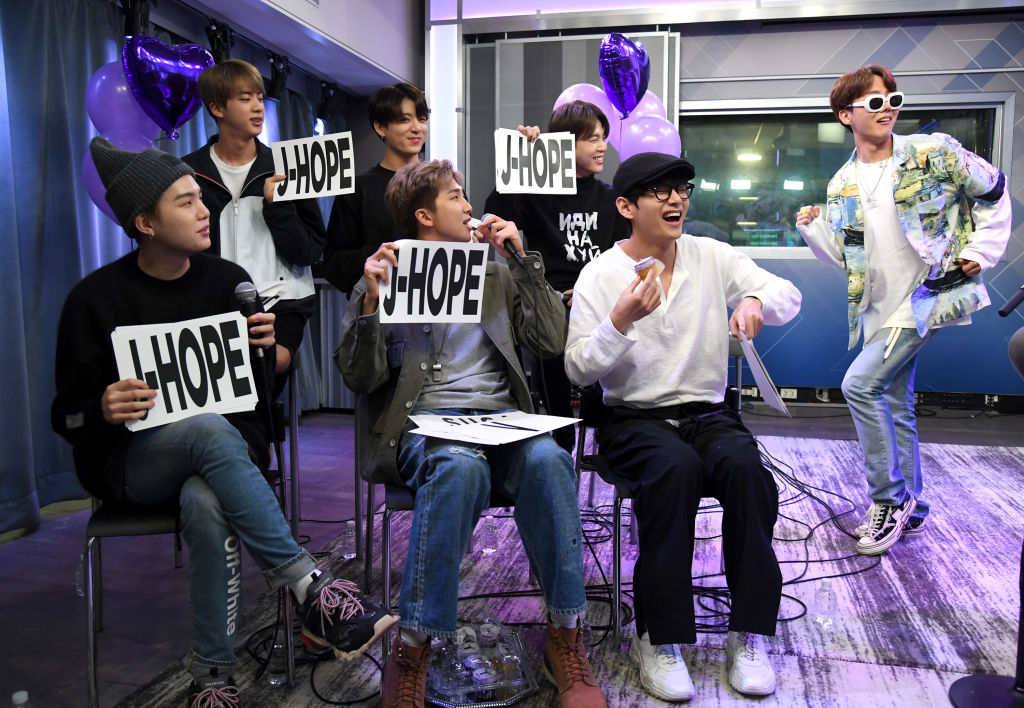 The interview provided fans with funny content during BTS's hiatus
In August 2019, Big Hit Entertainment announced BTS would take an extended vacation for the first time since their debut. Fans were happy BTS finally got a break from their busy schedules. When the full-length Radio Disney interview appeared online, ARMY was treated to hilarious content from the members.
"finally got around to watching bts' radio disney interview and my god these boys are so goofy my face hurts from smiling too much," one fan tweeted.
The members of BTS discussed their favorite foods in the interview
During interviews, BTS is often asked the same questions at different media outlets. Fans have memorized some of BTS's answers to well-known questions. ARMY knows that J-Hope mentions loving Sprite every time BTS is asked about their favorite foods, and the way the rapper says "and Sprite!" is a running joke in the fandom. In the Radio Disney interview, J-Hope said, "I love spaghetti and Sprite," causing all of the other members to burst out laughing.
"Hobi literally be giving @Sprite a shoutout during every interview they get, sponsor the man already," wrote a Twitter user.
"I knew it wasn't going to be an interview until hobi mentions sprite," a fan tweeted.
Jimin and Suga named In-N-Out and Shake Shack as their favorite burger restaurants, Jin and Jungkook said they liked steak the most, and V said he enjoyed roasted asparagus.
When asked who eats the most, all of the members agreed Jin eats the most, When asked why, he replied, "I'm pig. Oink oink." RM took the microphone back and said, "Okay, so we got a pig and six humans here."
BTS talked about what careers they wanted growing up
The members of BTS are often asked what careers they wanted when they were growing up. J-Hope usually answers he wanted to be a tennis player. In the Radio Disney interview, he pretended he was a tennis player. This again caused all of the members of BTS to laugh.
RM said he wanted to be a dad. When he said this, Suga quietly replied, "You can." RM looked at the camera and said, "Some day." This sweet interaction between RM and Suga quickly became a favorite moment among BTS fans.
"Remember when Joon said he wants to be a dad someday in that one interview and Yoongi said that he can? I really felt that. I still think about that every night," one fan tweeted.
Fans also noticed small moments in the background of the interview
While BTS's answers to the questions were funny, the interview was filled with funny moments in the background. At one point, Jin bit V's finger. J-Hope stuck his fingers in Jungkook's ears. Suga accidentally took the microphone from V, and Jimin wore his sunglasses the entire time. Fans joked on Twitter about how chaotic BTS appears whenever they are interviewed.
"bts just have nO interview training what so ever and it's so funny. they so used to run bts and being able to just say whatever in any situation so they just start making random noises and hope that the interviewer gETS it. im sick," one fan tweeted.