Buckingham Palace Is Trying To Prevent Meghan and Harry From Competing Against William And Kate
The royal family is doing everything in their power to prevent Meghan Markle and Prince Harry from competing with Prince William and Kate Middleton. Inside sources claim that royal staffers are avoiding conflicting schedules at all costs so that members of the royal family are never making public appearances on the same day. Amid the rumors of a growing feud between Harry and William, the royal family is being extra precautious about pitting the couples against each other.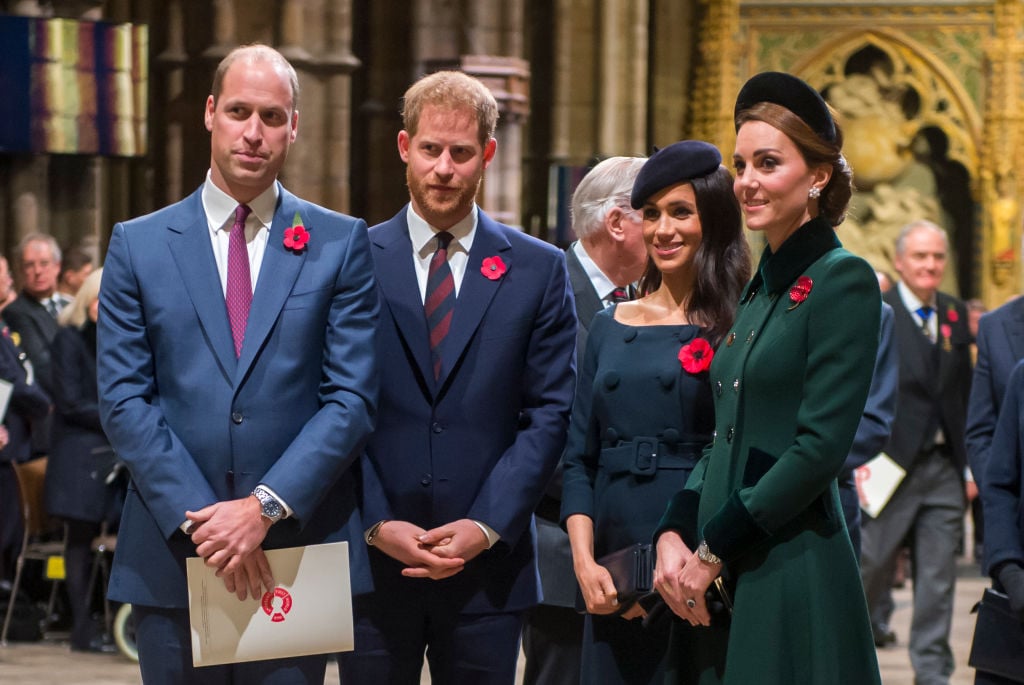 Prince Harry and Meghan Markle announce South Africa trip
Last week, Harry and Markle announced plans for a tour of South Africa this coming fall. The trip will mark the first royal engagement for the family of three as baby Archie is expected to join his parents abroad.
According to The Sun, Prince William and Kate Middleton are also planning a trip in the fall to Pakistan, though the exact dates of their respective trips are unknown. Inside sources, however, claim that Middleton has made it known that the dates will not intersect.
While royal staffers will do their best to keep public appearance separate, there is bound to be some overlap between the couples. After all, both households now have their own staff members and it will prove difficult avoiding each other throughout the whole year. They are also no longer working with the same charities, so appearances on the same day will be unavoidable at times.
Even still, it sounds like their respective households will do all they can to avoid the appearance of competition, especially in light of all the feud talk.
A royal competition on social media
Fans might not catch the couples out on the same day, but they have been competing against each other on social media – even if it is not intentional. Fans were quick to notice how the Cambridges and the Sussexes have seemingly been making posts after each other in a bid to garner more attention.
Back in May, for example, the Duke and Duchess of Sussex shared wedding photos on Instagram in honor of their first anniversary. That same night, Prince William and Kate Middleton posted images of their children from a garden party.
The competing posts led to speculation that the couples are intentionally going against each other online. The Cambridges, of course, have been on Instagram for a much longer time and have a larger following. The Sussexes, meanwhile, only recently started their own Instagram account but are quickly catching up to their royal counterparts.
Some experts believe that it will only be a matter of time before Harry and Markle surpass everyone in the social media department, including the future King and Queen of England.
Inside the royal rift
Rumors of a feud between the brothers started when Prince Harry and Meghan Markle decided to move out of Kensington Palace. Reports surfaced that Prince William had offended Harry by advising to take it slowly with Markle. Harry allegedly took offense to the advice and things between him and his brother have never been the same.
Meghan Markle's relationship with Kate Middleton did not help matters. The former Suits star reportedly got into a fight with Middleton while trying on dresses for her wedding, an encounter that left the Duchess in tears.
The couples have made several public appearances together following the feud rumors, but none of the engagements has quelled the reports. If anything, the royal events have only made things worse.
During Trooping the Colour, for instance, Kate Middleton and Meghan Markle put on a good face as they rode together to the parade. But they noticeably avoided taking any photos together. They even stood on opposite sides of the balcony as the royal family greeted parade goers throughout the event.
Experts believe these are clear signs that things are still frosty between the couples and their relationship has not improved.
Prince Harry and Meghan Markle have not commented on the rumors surrounding their status with Middleton and William. The couple welcomed their first child in May and recently had him christened. Prince William and Kate Middleton attended the christening, which was held inside a private chapel.