Camilla, Duchess of Cornwall and Kate Middleton Just Quietly Put Meghan Markle In Her Place
Royal fans are absolutely obsessed with Kate Middleton and Meghan Markle. These two young, glamorous women both married princes and now they're living the good life in London, making royal appearances, wearing fabulous clothes, and attracting all the attention. But not everything is as perfect as it seems.
We know this partially because the Duchess of Sussex recently went public with her true feelings about living in the spotlight as part of the royal family. Despite her massive popularity, Markle is lonely and isolated. She's also very affected by all the negative comments from the press.
There have been so many discussions about Remembrance Day, a formal Commonwealth holiday when citizens unite to honor members of the armed services who died in the line of duty. One thing so many royal followers noticed was the extreme difference between how the Duchess of Cornwall, the Duchess of Cambridge, and the Duchess of Sussex were treated at the event.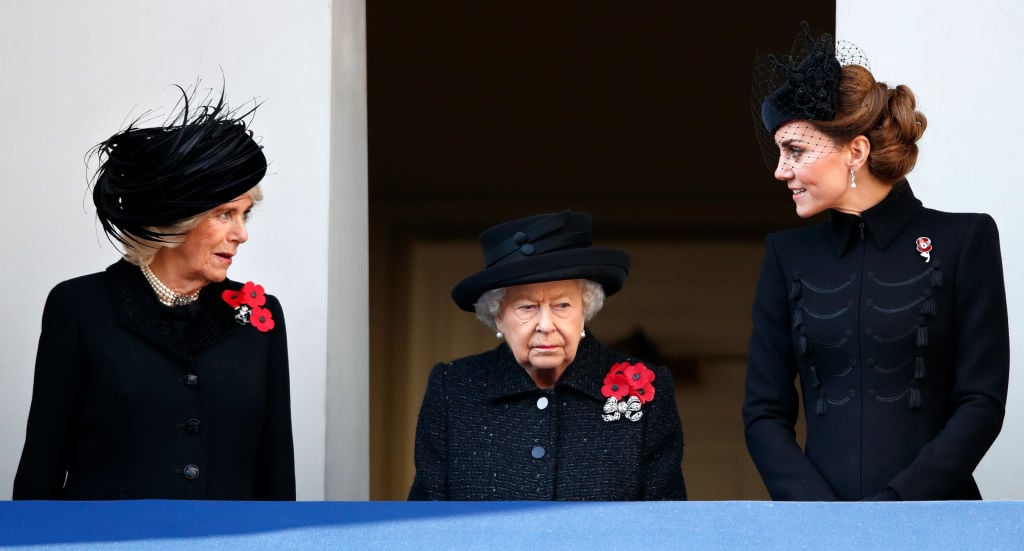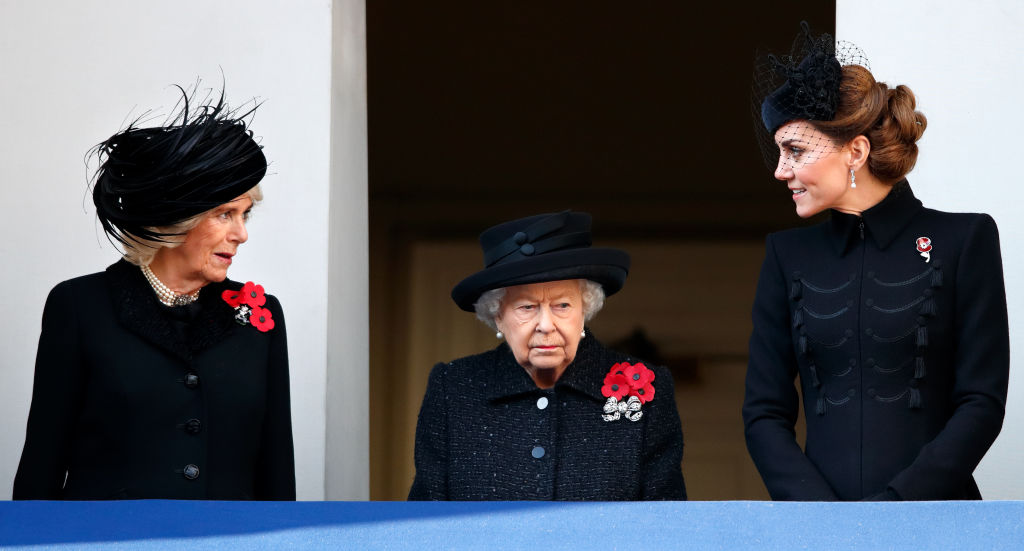 Meghan Markle didn't stand near Kate Middleton or Camilla Parker Bowles
Plenty of royal followers tuned in to watch coverage of Remembrance Day, a solemn and important holiday for the royal family. And they immediately noticed one important detail that left them a bit confused.
During the ceremony, Queen Elizabeth, Camilla, Duchess of Cornwall, and Kate Middleton all stood together on one balcony. Meanwhile, Meghan Markle stood on a separate balcony along with Sophie, Countess of Wessex and Sir Timothy Laurence, Princess Anne's husband.
Fans couldn't help but wonder — was Meghan Markle being punished for her recent comments, or was there some other reason she stood so far from the other women?
Royal family members stand in order of seniority
Anyone who's been following the royal family for a while probably noticed that they always stand or sit in a very specific order. Typically, the highest-ranking family member — in this case, Her Majesty Queen Elizabeth —stands front and center. Those positioned closest to her are always closest to the throne.
In the powerful images from Remembrance Day, we can see the two future queens flanking the current monarch. Meghan Markle may be important to the royal family. But since Prince Harry is seventh in line to the throne, she'll probably never be the queen.
"She [Markle] was not as prominent perhaps as some people might have expected, but there's a pecking order," Joe Little, managing editor of Majesty magazine, explained to People. "There was no slight intended, but William being the older, more senior brother would go out [first] with his wife."
There are no hard feelings between the royal women
While it may have looked like Meghan Markle was shunned to a separate balcony during Remembrance Day ceremonies, the reality is that each balcony of the Cenotaph war memorial in London only had space for two or three people. It didn't make logical sense to crowd Meghan Markle into the same area.
The Duchess of Sussex didn't stand with the queen and Kate Middleton last year, either. That alone is proof that her separateness is not a punishment or proof of a feud — instead, it's just how the royal family does things.