Camille Grammer from 'RHOBH' Calls out Lisa Rinna For Posting About Denise Richards' Surgery
Camille Grammer from The Real Housewives of Beverly Hills got involved in the drama surrounding Lisa Rinna's posts about Denise Richards' hernia surgery.
Grammer's Twitter feed heated up after she lashed out at Rinna, dropping some cryptic tweets along the way. "What kind of person or so called 'friend' discusses hiring a PI to taken down a HW last season? #rhobh So vindictive and cruel," Grammer tweeted. Fans begged Grammer to explain what she meant (or who she meant). But Grammer dropped the tweet and called it a day.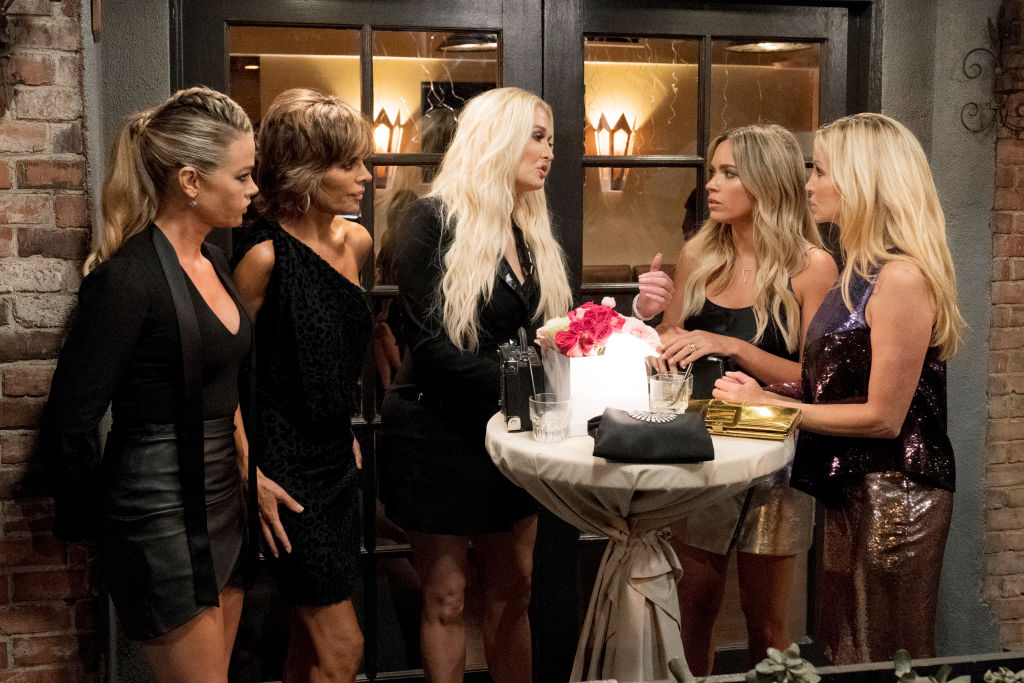 She did, however, respond to one question about the tweet. "Girl that is big and if you knew this last season, why are you bringing it up now?!" one fan asked. Grammer replied, "I didn't know this info last season." Adding, "I don't believe production knew about the possible hiring of a PI." While she let fans wonder about which cast member she was talking about, she did direct a tweet in Rinna's direction about Richards.
She urged Rinna to contact Richards privately
Gossip that Richards quit the show or was on the outs with the cast has dogged the unaired season of RHOBH. Grammer tweeted about the rumor, but also addressed Rinna directly. "Denise did not quit #rhobh and Rinna you throw your friend under a bus. How about calling her to see how she's Doing and stop tweeting about it," she wrote.
Although Rinna's comments were on Instagram, she responded to Grammer's tweet. "I did reach out to her privately. Thank you for your concern, Camille," Rinna wrote.
When Richards posted about her emergency hernia surgery Rinna commented on her Instagram share. She first wrote, "Is everything ok? Is everyone ok?" When Richards did not respond, Rinna added another comment to the thread. "Denise are you ok? You never showed up to Dorit's Sat night we were all so worried about you. What happened?! You said you were coming, you were meeting Garcelle, We never heard from you. What happened ?"
Is Grammer being shunned by the cast?
A production source told Hollywood Life that the cast wasn't happy about Grammer's return. "There was not a plan to bring back Camille Grammer to RHOBH until recently because things have been slow. All of the ladies are getting along, and they knew Camille would spice things up a bit, which the show needs right now. Plus, everyone is getting along," the anonymous source said.
"It's fair to say that the remaining ladies from last season are not looking forward to having to film with Camille," the source added. "None of them have spoken to her since the reunion filmed. Things got really bad after that between the cast and Camille. Nobody is friends with her, so they feel she doesn't really fit in naturally."
Fans wonder if the thread was designed to create drama. "She is stirring the pot to attract drama for the new season. Her diaper commercial was not renewed," one Twitter follower snarked. Another agreed. "Hmmm, so all these friends of Denise, like Brandi & Rinna are having issues with her? Sounds like the everyone is just trying to wet the viewers appetite. #Publicity."