Can 'American Horror Story' Move On Without Jessica Lange?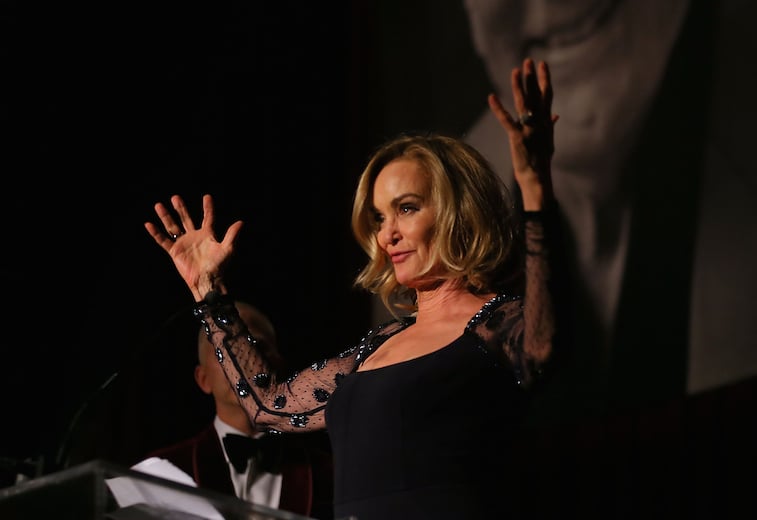 While the fifth season of American Horror Story has an exciting new star on board that will certainly draw viewers, the show's main attraction has confirmed she has no plans to return to the horror anthology series that's credited with reviving her career. Jessica Lange spoke at the PaleyFest and said "Yes, I'm done" with FX's fan favorite series created by Ryan Murphy and Brad Falchuk that she has arguably carried over the show's four seasons. Now the question is how the series will move on without its biggest star and one of its strongest actors.
"We've had a great run here. I mean, I absolutely love doing these four characters, and in all the madness, I love the writers and Ryan (Murphy) and the insanity of shooting it," Lange told the PaleyFest audience, according to Deadline. She has played a crazed ghost in Season 1, a nun running a mental hospital in Season 2, the head of a coven of witches in Season 3, and a German ringmaster of one of the final remaining freak shows in the most recent season. The role on the show has revitalized Lange's career and earned her a Golden Globe and two Emmys. It has also introduced her to a whole new generation of fans. Her involvement in the series helped the show nab fellow legendary actresses Angela Bassett and Kathy Bates, who joined partially due to being fans of Lange.
When those actresses joined the cast of Season 3 Coven, the show got its best reviews yet. "Seeing Bates and Lange in such Gothic surroundings will recall the days when Bette Davis, Joan Crawford, and Olivia de Havilland resorted to the likes of Whatever Happened to Baby Jane? and Hush, Hush, Sweet Charlotte to make a living when Hollywood roles dwindled," said The New York Post.
There's no denying that American Horror Story functions on a large ensemble cast, but Lange has been at the center of that cast since its inception. The show has announced some big cast additions for Season 5, which is subtitled Hotel. Lady Gaga will be making her TV starring role debut on the series and The Normal Heart's Matt Bomer and Glee's Cheyenne Jackson will be joining her. It's expected that some members of the AHS wheelhouse will be returning to Season 5, but specifics haven't yet been revealed.
Deadline said the PaleyFest panel showed much deference to Lange, with her coming onstage last to screams and applause from both her castmates and the audience of super-fans. At one point the cast "extended their hand toward her, gesturing in silence the great creative collaboration she had with Murphy and Falchuk on AHS," the publication said. The show will certainly be very different without that creative collaboration at its core.
While Lady Gaga is a very flashy (and appropriate) addition to AHS, there is the question as to whether the singer can act well enough to carry a starring role on the show. AHS has staked its reputation on being creepy and campy as well as having great performances from its ensemble cast of character actors. Just throwing a kooky pop star on the show isn't going to cut it with fans if she can't actually act. This is especially concerning given that Gaga is expected to, in a sense, replace the inimitable Lange.
Those casting changes and the hotel setting are all that's known about Season 5 for now. The show will have to find a new identity sans Lange. Her presence granted the show a lot of credibility, definitely something that Lady Gaga isn't going to bring, so it remains to be seen how the series will fare creatively and with critics, without the legendary actress.
Follow Jacqueline on Twitter @Jacqui_WSCS
More from Entertainment Cheat Sheet:
Want more great content like this? Sign up here to receive the best of Cheat Sheet delivered daily. No spam; just tailored content straight to your inbox.