Can Lionsgate Do Justice to Boston Marathon Bombing Survivor's Story?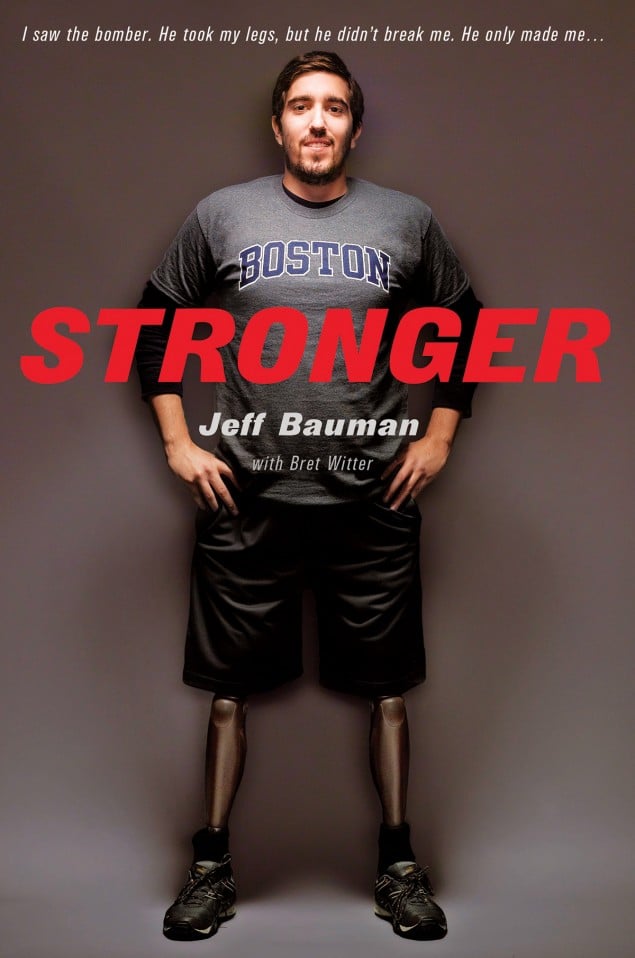 The story of Boston Marathon bombing survivor Jeff Bauman will soon be hitting the big screen. Lionsgate has begun development on a film based on Bauman's book, Stronger, which was released back in April.
Stronger recounts Bauman's experience at the marathon's finish line, where he waiting for his girlfriend during the April 2013 attack that killed three people and injured hundreds of others. Bauman lost both of his legs in the blasts. The book, co-written with Bret Whitter, gives an in-depth look into the aftermath of the horrific attack, including specific details of his long recovery, his attempts to walk again, and eventually, his determination to move on and start a new life with his now-fiancé Erin Hurley. "I saw the bomber. He took my legs, but he didn't break me. He only made me stronger," the book's tagline reads.
According to The Hollywood Reporter, the film adaptation has already started assembling a team. Mandeville Films' Todd Lieberman and David Hoberman (executive producers of Lionsgate's Insurgent, the second installment in the Divergent franchise) are producing the movie along with Scott Silver, who wrote 8 Mile. The trio previously worked on David O Russell's Oscar-nominated movie The Fighter, which was also set in Boston. Peter McGuigan is set to executive produce while John Pollono, who wrote and co-starred in the off-Broadway play Small Engine Repair, will pen the script, his first ever for a full-length feature film. No director is on board just yet and casting for the film has not yet started.
Bauman has been one of the most recognized faces of the tragedy ever since a photo of him, taken just moments after the blast, became one of the most widely circulated and well-known images from the attack. The picture shows Bauman getting wheeled away from the finish line by emergency responders and other volunteers. Since then, details of his moving story have continued to make headlines. The day after the attack, Bauman is believed to have helped identify one of the bombers from his hospital bed, using a pen and paper to detail what he saw as he still couldn't speak at the time.
He has continued to share his happy personal milestones with all of his supporters, first announcing his engagement in March and then the birth of his first child, daughter Nora, on Monday, just a day before the movie adaptation was publicly confirmed.
While some might think it's too soon for studios to start work on a movie about an attack that's still so fresh in the public's mind, no timeline for the film has been laid out just yet and it's very possible (and even likely) that it could be a good long while before the adaptation is actually ready to hit theaters. Regardless of whether you think it's too early or not, one issue that most agree is much more pressing than the release date is making sure the story is told the right way. Hopefully, producers and the still undetermined director will take the responsibility of bringing Bauman's incredible journey to life on screen very seriously and give the project the time it deserves.
More From Wall St. Cheat Sheet:
Want more great content like this? Sign up here to receive the best of Cheat Sheet delivered daily. No spam; just tailored content straight to your inbox.