Can 'Marry Me' Survive This Fall's TV Rom-Com Curse?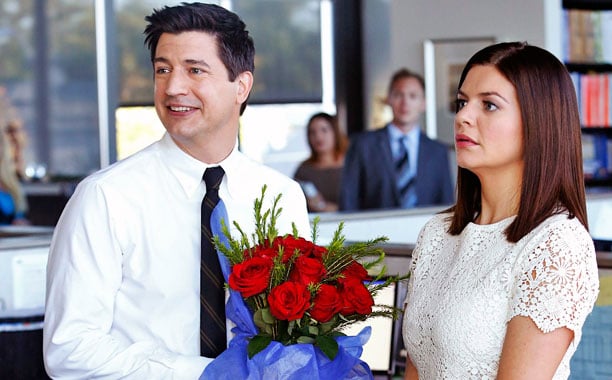 NBC is sticking with its freshman comedy Marry Me — at least, for now. The network has just issued an order for five additional episodes of the sitcom, extending its run to a total of 18 episodes. It's a hopeful sign for the show, especially considering that several of the other new television rom-coms of the season have already been axed.
Marry Me is still early on in its debut season, having gotten a later start during the fall season with a mid-October premiere. Created by Happy Endings' David Caspe, the show stars Casey Wilson and Ken Marino as longtime couple Annie and Jake, whose deeply committed relationship turns bumpy after several botched marriage proposals. After six years together, the couple begins to wonder if a series of big fights, messed up proposals and complex wedding planning means that their relationship is actually doomed or if it's just a matter of getting it together.
So far, the comedy has earned relatively solid ratings. Per The Hollywood Reporter, the series got off to a promising start, bringing in 7.54 million viewers and a 2.3 rating among the 18-49 crowd. Since then though, the show has seen a notable decline. The most recent episode garnered 5 million total viewers and a 1.5 rating—likely due to a lower lead-in from a Voice repeat episode this week. Though it's a significant drop, those ratings still make Marry Me the best performing show of NBC's new comedy slate and the No. 2 new broadcast comedy of the fall season overall in the key 18-49 demo (behind ABC's hit, Black-ish).
The dip in ratings may have been why NBC decided against giving the show a full season order (which typically consist of a total of 22 episodes), instead choosing to add only a handful of episodes. Even so, it's clearly a sign that the network sees potential. With the biggest new shows having already gotten picked up for a full season, it's now time for each channel to decide whether to move forward with the rest of the shows on their fall line-up. Other new shows in the same genre as Marry Me have already met their doom. ABC's Manhattan Love Story was the first new show of the season to get canceled, with NBC's other rom-com A to Z following quickly after. The peacock network also already decided to call it quits on Bad Judge, the freshman comedy starring Kate Walsh that received blistering reviews. In contrast, it decided to extend a full-season order to the Debra Messing drama, The Mysteries of Laura, despite its poor critical reception.
It seems Marry Me falls somewhere in the middle — it's not performing fantastically, but it is doing well enough that the network is willing to give it a shot with a slightly extended season. Based on the reviews we've already seen, it's a move that many critics would likely agree with. The show has garnered a fairly positive reaction, earning particular praise for its fast-paced verbal comedy and language that the New York Times described as "inventively and diversely funny." But though the show's funny moments is enough to show potential, some critics also suggested that the plot, particularly with so much screen time involving only the two leading stars, could get repetitive and drawn-out.
Now, both NBC and viewers at home will be waiting to see if the show can continue to improve over its newly extended run and possibly become the first real success story of this fall's rom-com slate.
Marry Me airs on Tuesdays at 9 p.m. ET.
More from Entertainment Cheat Sheet:
Want more great content like this? Sign up here to receive the best of Cheat Sheet delivered daily. No spam; just tailored content straight to your inbox.