Can Miles Teller Really Do Everything?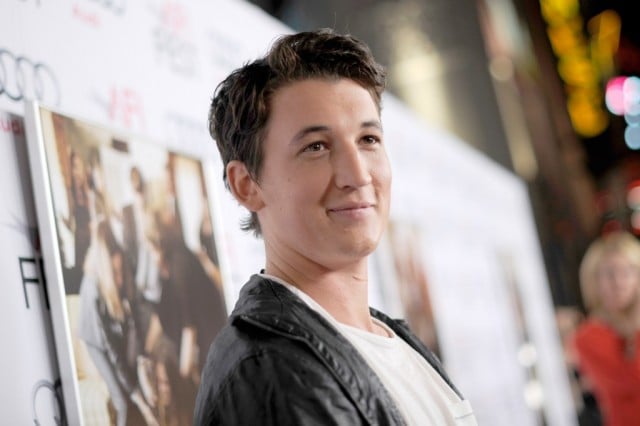 2014 was certainly a breakout year for young actor Miles Teller, and he shows no signs of slowing down. Teller has just signed on to the highly sought-after adaptation of the true bank robber story The Life and Times of the Stopwatch Gang, Variety reports. That's just the latest of a plethora of projects from almost every genre coming up from the actor. The question now with Teller is whether he will be able to achieve the difficult task of making movies in a variety of genres throughout his career, or if he will eventually turn his focus toward either big-budget commercial franchises or more critically acclaimed, serious films.
The Life and Times of the Stopwatch Gang will be based on the article of the same title from Atavist about a gang of Canadian bank robbers during the 1980s who gained infamy for being extremely quick about their robberies and getting away with huge amounts of cash without ever having to fire a single bullet. Variety said the film adaptation of the article will have a similar feel to other adult crime dramas like The Town, Point Break, and Heat. Gangster Squad director Ruben Fleischer has been tapped to direct. There were three members of the Stopwatch Gang, so expect announcements about who else will fill the ensemble cast soon. The big-budget, gritty adult drama genre is probably the only category that Teller hasn't yet tapped between the movies he's done or signed up to do during his short career, so with his current philosophy of trying everything, it makes sense he'd sign up for this project.
This news comes as Teller returns to the lackluster teen dystopia franchise Divergent, with the second movie based on Veronica Roth's young adult book Insurgent. It's kind of an awkward moment for Teller's career: A year ago, when Divergent came out, the movie was widely buzzed about, with star Shailene Woodley being called the next Jennifer Lawrence and the franchise anticipated as being the next Hunger Games. Neither the actress nor the film has lived up to those expectations. Being in Divergent boosted Teller's star power last year, but now he's returning to Insurgent a year later, having far outgrown the franchise and arguably having become a bigger star than Woodley.
Insurgent doesn't come out until later this month, but the critics who have seen it haven't had very good things to say. "[I]t all comes across feeling like a tempest in a teapot: a glorified rehash of what came before, garnished with the promise of what lies in store," said Variety, which also accused the movie of all but wasting Teller's role. While young adult franchises can sometimes be the most lucrative career path a young actor can follow, neither this particular franchise nor the genre seems like the direction Teller will take his career after completing the obligations he has with the final two Divergent films.
The movie that Teller has gotten the most attention for over the last year is Whiplash. The little indie that could was hugely successful during awards season and really cemented Teller's reputation as a capable actor. The movie sees Teller playing a young jazz drummer who has an abusive relationship with his teacher at the elite music academy he attends in New York City. Teller trained hard for the part. Though he was already a drummer, he took additional lessons in jazz drumming to perform the music himself. J.D. Simmons played the obsessive, controlling, and maniacal teacher who would stop it nothing to realize his student's potential and won an Oscar for the role. Whiplash boosted Teller's career into a candidate for the biggest breakout young actor of last year.
Whiplash wasn't the first time going indie has paid off well for Teller. His breakout role was in the independent film The Spectacular Now, which he again co-starred in with Shailene Woodley. He shared the Dramatic Special Jury Award for Acting at the 2013 Sundance Film Festival with Woodley for the that film, which served as both of their first roles to get serious attention. Since Teller has proven himself as a very capable actor and has the star power necessary to get independent projects off the ground, it's easy to see him possibly pursuing a career in indie film that could be creatively satisfying and awards-garnering.
But considering the next project Teller signed on for, it does not seem like an indie career is what the actor wants. Teller wants in on the Marvel action and will star alongside Kate Mara, Michael B. Jordan, and Jamie Bell in the rebooted Fantastic Four franchise as Mr. Fantastic. That movie is set to come out this summer and, as is typical with Marvel movies, a sequel is already planned.
It can be easy to forget with all the attention on Whiplash and Fantastic Four that Teller has actually had a history, albeit a spotty one, in comedy. Last year's Two Night Stand and That Awkward Moment were the weak points of Teller's 2014 that he's probably glad most people forgot about. Still, he has two more comedies on his plate for the upcoming year, and it's possible that the previous two flops were the fault of bad movies, rather than Teller not being funny.
Get a Job will co-star Anna Kendrick and Bryan Cranston, and is about recent college graduates attempting to find employment. Teller is also set to co-star with Jonah Hill in Arms and the Dudes, a comedy based on a Rolling Stone article about a pair of unlikely arms dealers contracted by the U.S. government to sell weapons to American allies in Iraq.
All this is on top of some awards season bait Teller has made sure to pile on his plate. Later this year he'll star in Bleed for This, the inspirational true story of world champion Boxer Vinny Pazienza, who returned to boxing after nearly dying in a car accident in what's considered to be one of the most incredible comebacks in sports. Given the inspirational biopic subject matter, plus Teller's growing reputation, Bleed for This will surely be targeted at awards shows.
Now the real question is: Can Teller do everything? With the slew of films he's done, he has shown that he can pull off appealing to a huge variety of audiences and giving solid performances in very different movies. With the even more diverse number of movies he has coming out in the next year, the actor will have to show that he really can do everything. Or perhaps he will use this year as one in which he uses successes and failures to make some choices about how his career will proceed from here. The young star certainly has time on his side.
Follow Jacqueline on Twitter @Jacqui_WSCS
More from Entertainment Cheat Sheet:
Want more great content like this? Sign up here to receive the best of Cheat Sheet delivered daily. No spam; just tailored content straight to your inbox.