Can Starz's 'Evil Dead' TV Sequel Draw Back Cult Following?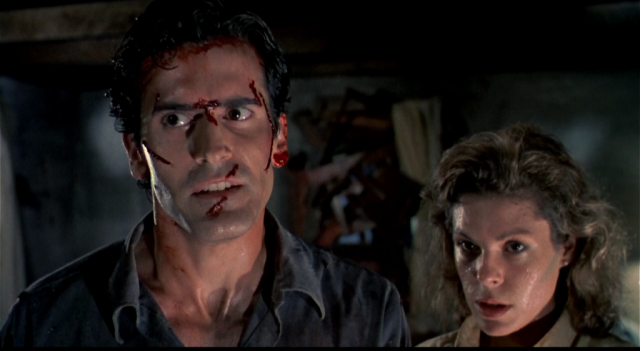 The Evil Dead is officially coming back to life — this time, as a television series. Starz has just ordered a new original series called Ash vs. Evil Dead that will serve as a small-screen sequel to the 1981 cult horror classic.
Per the network's official announcement early this week, the show will be comprised of 10 half-hour episodes. According to The Hollywood Reporter, the film's star, Bruce Campbell, will reprise his role as title character Ash, a monster hunter (complete with a chainsaw hand) who spent three decades avoiding responsibility and the terrors of the Evil Dead. The series will find Ash facing off against a plague of "Deadites," the horrific creatures from the movies that threaten to destroy all of mankind. During this battle, Ash is finally "forced to face his demons — personal and literal."
Campbell isn't the only one from the original film on board. Evil Dead fans will be happy to learn that several members from the movie's creative team have signed on to participate in the new project. Sam Raimi first revealed plans to make a television sequel back at Comic-Con in July.
Raimi will reportedly helm the pilot episode, which he will also co-write with brother Ivan (Darkman, Army of Darkness, Drag Me to Hell), and Tom Spezialy (Chuck, Reaper, Desperate Housewives). Producer Rob Tapert, who also initially worked on Evil Dead, will also return to executive produce alongside the Raimi brothers, Tapert, and Campbell. This is Raimi and Tapert's first return to Starz following their work on the network's historical drama Spartacus, which concluded in 2013.
It's not surprising that Starz would want to bring the series to the small screen, given its history of success. The original low-budget horror film grossed $2.4 million worldwide against a $90,000 budget and earned an overwhelmingly positive critical reception. It also spawned two sequels and a 2013 remake of the same, all of which Raimi either directed or produced. Last year's reboot earned $97.5 million at the box office against a $17 million budget.
With the returning team on board, it seems fans can expect to see plenty more of what initially made the series so popular. "With Sam writing and directing and Bruce Campbell returning to the screen, we are certain the show will give Evil Dead fans around the world the fix they've been craving," Carmi Zlotnik, managing director of Starz, said.
Campbell seems equally certain that the forthcoming Ash vs. Evil Dead show will draw back its initial audience. "I'm really excited to bring this series to the Evil Dead fans worldwide," he said. "It's going to be everything they have been clamoring for: serious deadite ass-kicking and plenty of outrageous humor."
The new Evil Dead series is the latest in Starz's line-up, which also features shows like Outlander, Da Vinci's Demons, Power, and the upcoming Flesh and Bone. Evil Dead isn't the only popular film in the process of getting a TV sequel. CBS is reportedly developing a small-screen followup to Bradley Cooper's 2011 film Limitless. Fox also has a Minority Report sequel in the works.
Ash vs. Evil Dead is slated to premiere in 2015.
More from Entertainment Cheat Sheet:
Want more great content like this? Sign up here to receive the best of Cheat Sheet delivered daily. No spam; just tailored content straight to your inbox.