Can 'Witches of East End' Book Spin-Off Give Fans Closure?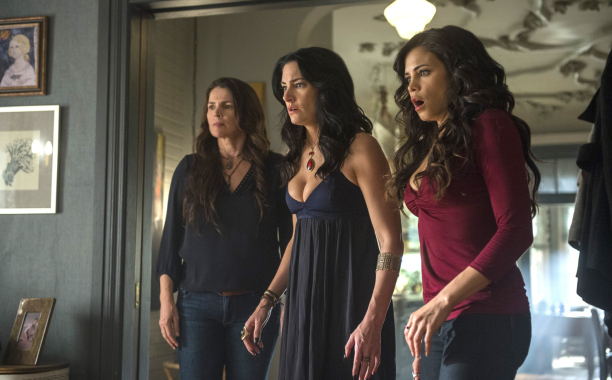 Lifetime officially canceled fantasy drama Witches of East End earlier this month, much to the disappointment of the show's devoted fanbase. Based on the book series by Melissa de la Cruz, the series only ran for two seasons — the last of which of culminated in several big cliffhangers. But while viewers are still fighting to get the show back on the air, it looks like there might soon be another way to get closure, should their campaigning tactics fail: through de la Cruz's upcoming YA novel spin-off series.
During its run, the Lifetime series (which starred Jenna Dewan Tatum, Rachel Boston, and Madchen Amick) cultivated a pretty die-hard fanbase that was taken aback by the show's abrupt cancellation. Adding insult to the injury? The second season finale left a lot of loose ends in the story of the Beauchamp women, including a shocking pregnancy, a body swap and a face-to-face reunion between two estranged sisters. Left with all those lingering questions, viewers have been to working hard to resurrect the series since the announcement of its cancellation, launching multiple online petitions and even assigning the effort its own Twitter hashtag, #RenewWitchesOfEastEnd.
The reaction has been strong enough that de la Cruz took notice and decided to try and ease the pain of those still looking for answers. According to Entertainment Weekly, the author has collaborated with the Lifetime show producers to see if she can incorporate the season 2 storylines into her upcoming book series, which will take place within the same East End universe but focus on new younger characters.
Triple Moon: Summer on East End, the first of the forthcoming YA spin-off novels, is set 10 years after the third Witches of East End book, Winds of Salem. Per EW, the book will introduce two new characters: teen witches, Mardi and Molly Overbrook, the twin daughters of Troy Overbrook. The book will chronicle as the young characters are sent to live with their "Aunt" Ingrid Beauchamp (Boston's character in the TV show) in North Hampton, after they cause a terrible accident at their old high school. Ingrid will try to teach them to control their magical impulses so they're not exiled. As they learn the right way to deal with their powers, the teens will also meet the younger Gardiner boys and learn "how to grow up, how to love, and how to be a family."
Ingrid isn't the only character from the Witches of East End book and TV series that will make an appearance in Triple Moon. Freya (Dewan Tatum), Killian Gardiner (Daniel Di Tomasso), and others will also be featured in the story. Given this, de la Cruz saw an opportunity to provide the show's fans with some answers. "I have asked producers if there is no hope for the show, if I can weave in some of the cliffhangers from season two so I can resolve them and bring closure," she told EW.
It's an option that the show's viewers would likely appreciate and the author maintains that she already has an idea on how to blend the stories. Still, fans shouldn't get their hopes up too high yet. "It's a legal issue so it might not be able to fly," she explained.
If the possibility does come into play, viewers will be able to get resolutions to at least some of those unsolved cliffhangers. But even if de la Cruz isn't able to incorporate the show's season two plot, at least audience members will get more stories from the East End characters – if they're willing to switch from the small screen to print, that is.
More from Entertainment Cheat Sheet:
Want more great content like this? Sign up here to receive the best of Cheat Sheet delivered daily. No spam; just tailored content straight to your inbox.