Candiace Dillard Responded To Gizelle Bryant's Shady Comments About Her Dream House
In Real Housewives of Potomac Season 4 Episode 13, Candiace Dillard decided she wanted to find a house and move out of the townhouse where her mother currently pays the bills. She found a home out of her price range but tried to convince her husband to buy it anyways.
Bravo posted an after-show clip on their website, where other Housewives Gizelle Bryant and Robyn Dixon laughed at Dillard's aspirations. Bryant went too far when she claimed that Dillard's mother told her that Dillard asked her to pay for the new home.
Dillard then took to Instagram to respond to Bryant's claims. What did she say? Keep reading to find out.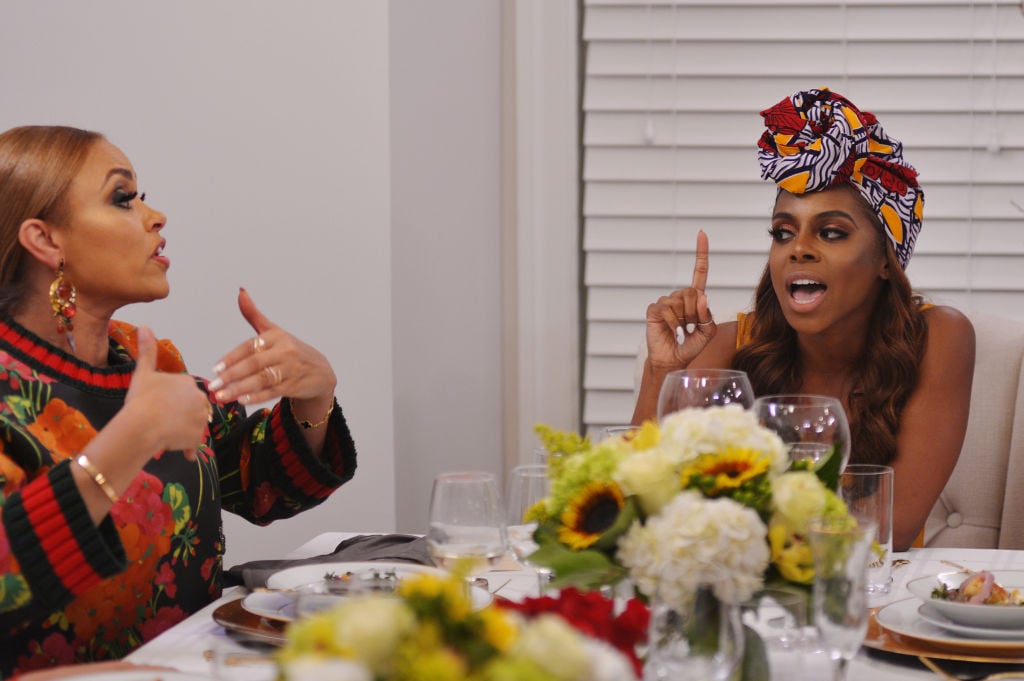 Candiace Dillard found a $2.5 million home
On Real Housewives of Potomac Season 4 Episode 13, Dillard and her husband, Chris Bassett went house shopping. Dillard wants to move out of the townhouse her mother, Dorothy, pays for, and have something of her own.
Her original price range was $1-$1.5 million. However, they found a $2.5 million house that she loved. Even though Bassett was not fond of the price tag, Dillard guaranteed him they could afford it if they continue working.
She also suggested asking her mother for her trust fund and using some of that money towards the house, but she said she didn't want to ask Dorothy for cash anymore.
Gizelle Bryant and Robyn Dixon laughed at Candiace Dillard
The two Housewives cackled at Dillard's desire to buy the expensive house on an after-show clip posted on Bravo.com. The clip started with Dillard talking to Karen Huger about her initial price tag; however, being okay with it if the house exceeded that.
It then cut to Dixon and Bryant cracking up at her, and then back to Huger telling Dillard she reminded her of herself when she first got married. The former pageant queen went on to explain her dream house: on the water, a certain amount of square feet, a two-story foyer, a Mediterranean theme, and so on.
Dixon then explained how Dillard wants to move out of a $600,000 townhouse her mom pays for into a $2.5 million house on her own and questioned if her mother was moving in as well. Bryant backed up Dixon's concerns and claimed that Dorothy told her Dillard had asked her mother to pay for the $2.5 million home.
Dorothy also allegedly told Bryant she continues to pay for the townhouse where Dillard currently resides. Even though Dixon was also shady, Dillard did not take kindly to Bryant's comments; presumably, because she brought up her mother.
Candiace Dillard responded to Gizelle Bryant
In an Instagram post, Dillard tagged Bryant in her caption and wrote, "Now… Gizelle… as you attempt to rub your coins together to make a tear down look like a home… let's not. And these lies Dorothy ain't say s**t to you. Stay in your struggle and worry about where you gon live when your $900,000 cabin caves in."
Dillard commented on the status of Bryant's new home shown in Episode 13, which is under construction, and made fun of it, saying it would cave in one day. She also denied her mother ever spoke to Bryant, but did not clarify if she asked her mother for financial help with her dream home.
Watch Real Housewives of Potomac Sundays at 8 P.M. EST on Bravo!