'Pose' Season 2 Episode 4: And the Category is… Candy's Sweet Refrain
"Never Knew Love Like This Before" written by Janet Mock and Ryan Murphy, drove viewers to tears in this powerful but heavy episode. No one has ever really understood the co-mother of House of Ferocity and former House of Abundance member, Candy Ferocity. She threatened her previous house mother, Elektra, with a hammer and boldly argued with Pray Tell when he read her for messing up the rules of the Ball category. Aside from helping Elektra with her "situation," Pose watchers have never seen a soft side of Candy or knew anything about her background, which is why her unexpected death hit so hard.
Since season one, Pose has had a great way of portraying the characters involved with the ballroom scene as well as sending messages to the LGBTQ+ community. In "Never Knew Love Like This Before" Pose hits the nail on the head again by combining Candy's celebration of life with the grim reality that trans women, especially those of color, are continually getting killed. The episode ended with a straightforward statement: More than 1,000 trans and gender non-conforming people have been murdered globally since 2016.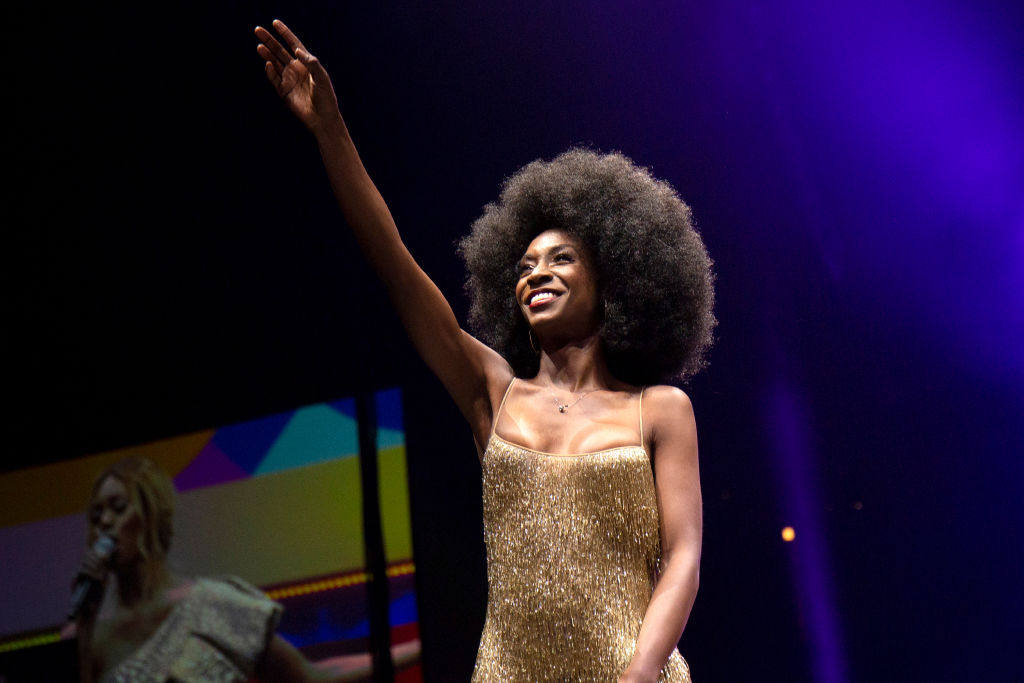 Candy Ferocity wants to add a lip sync category
During a ball, while the guys competed in a category titled Lofting, Candy walked in wearing a suit and corset. She then began voguing and paying respect to Madonna; however, emcee Pray Tell stopped her and read her like usual. After the two exchanged verbal jabs, Candy told Pray Tell that she, like Madonna, is a star.
The next day, Pray Tell joined the rest of the ball council at a local diner for their usual meeting. Their agenda consisted of discussing new category topics, cutting the moment of silences before the balls begin, and figuring out how to get everyone to pay their dues because the trophies are getting expensive. Then, Candy came over to their table and asked to include a lip sync category.
Pray Tell, who considered lip syncing "ventriloquism" immediately shut her idea down. Therefore, Candy grabbed his coat and threatened to stab him with a butter knife. She eventually left the diner, but not before hurling several pastries at the emcee.
Candy Ferocity dead
Lulu has not seen Candy in a couple of days but knows she has been prostituting herself at a local motel. She went with Blanca in hopes of finding their friend but left their phone number with the manager instead. That night, Blanca received the call that they found Candy in the closet, brutally murdered. The mother of the House of Evangelista then broke the unexpected news to a devasted Lulu and Elektra. With the help of nurse Judy Kubrak, they received Candy's body to give her the homegoing service she deserved.
Candy Ferocity gives her loved one's closure
Pray Tell gave an honest eulogy about Candy, admitting they didn't get along but were still in the same family. After he sat down, Candy's presence came to him and asked why he never gave her a break at the balls. Pray Tell emotionally explained to Candy that she embodied everything he hides about himself, boldness and feminity, and he wanted to protect them both. Her spirit also told Pray Tell that she forgave him, alleviating the guilt he felt.
Candy's spirit then went to a heartbroken and angry Angel, who wept over her friend's body. The presence told Angel to stop prostituting and that she would crack the door open for other transgirls. She also thanked Angel for reaching out to her parents, even though they said they had no desire to attend their child's funeral. When Angel ran out of the church, she saw Lulu sitting by herself. Lulu admitted that she didn't want her best friend lying in a coffin as her last memory. However, Angel told her to say goodbye so she wouldn't regret it.
Lulu leaned over her friend's casket initially confused and lost, not knowing how to lead House of Ferocity alone. But that feeling turned to anger as she started snatching things off Candy's body that she believed Candy stole from her. Lulu ran outside to smoke a cigarette, and Candy's spirit joined her. Candy reminded her of their good times, and Lulu put her head on her invisible best friend's shoulder, while she cried.
Then, Candy's parents showed up and first spoke to Blanca. Initially taken aback by the name she chose for herself, her parents made the difficult walk down to aisle, to officially say goodbye to their child. Her presence visited them both, allowing her parents to see her for the first time truly.
The episode ended with a posthumous Candy as the first performance for the new lip syncing category Pray Tell introduced, Candy's Sweet Refrain. As she danced and skipped to "Never Knew Love Like This Before" by Stephanie Mills, Candy finally received the two things she always wanted: 10s across the board and recognition as the star she always knew she was.
To see how everyone continues to deal with Candy's unexpected passing, continue watching Pose Tuesdays at 10 P.M. EST on FX!