'Captain America: Civil War': Everything We Know (and Don't Know)
Now that Ant-Man has closed out Phase Two of the Marvel Cinematic Universe, it's time to start looking ahead to the first film of Phase Three: Captain America: Civil War. With a jam-packed roster of both new and returning characters, the upcoming movie is quickly shaping up to be one of the studio's biggest titles yet. As more details on the film continue to surface, here's a look at everything we know (and don't know) about the next Captain America sequel:
1. Almost all of the Avengers are back
Though we've long since known that Robert Downey Jr.'s Iron Man would be joining Chris Evan's Steve Rogers in the upcoming flick, they're not the only Avengers that will be back. As announced in May (and captured above in the just-released trailer), the film's official lineup also includes Scarlett Johansson's Black Widow, Jeremy Renner's Hawkeye, Anthony Mackie's Falcon, and Don Cheadle's War Machine. Paul Bettany's Vision and Elizabeth Olsen's Scarlet Witch, both of whom were just introduced in Age of Ultron, will also make an appearance. So basically, this is an Avengers sequel in disguise. Update, 2/8/16: More footage was revealed in a TV spot (see below) that aired during Super Bowl 50.
2. Captain America and Iron Man will face off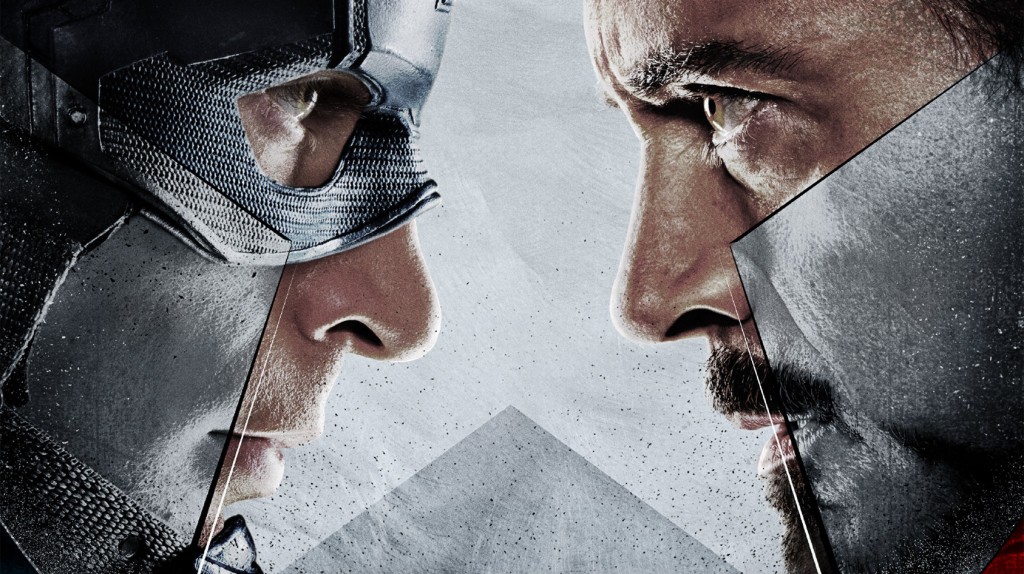 As confirmed in May, Civil War picks up right after Avengers: Age of Ultron. It will follow Steve Rogers as he leads the new team of Avengers in their continued efforts to safeguard humanity. With the world still reeling from the collateral damage left by the last international incident involving the Avengers, political pressure begins mounting to install a system of accountability and a governing body that determines when to enlist help from the team of heroes. The new status quo ends up fracturing the Avengers while they try to protect the world from a new and nefarious villain.
Evans and Downey Jr. both expanded on their characters' battle in a recent cover story for EW."In most of the movies, there's no question who we should be siding with," Evans told the publication. "But this movie's the first time where you really have two points of view. There's really no wrong answer here and it's just a matter of who we are as men: Tony Stark and myself. Which side of the aisle do we come down on?"
For Evans' Captain America, their feud will become his biggest struggle with the issue of morality to date. "I don't think he's ever been so uncertain with what right and wrong is," Evans said of his character's state of mind in the film.
Meanwhile, Downey's Iron Man won't necessarily be the film's villain, but he'll certainly take on an antagonist-type role in the film — something the actor said he's perfectly fine with. "It didn't bother me at all," Downey told EW. "I've always thought of it in some ways that Tony is the antagonist to himself in his own story, so this isn't a problem. This guy understands problems 'cause he is a problem. And he tends to create problems."
Fans will also get to see a darker side of Downey's character, as co-director Joe Russo recently explained to IGN. "Downey has been doing an amazing job in this film. He's got a very complex arc, and I think it's really, some of the more interesting stuff he's done in a long time," he said. "He is fantastic in the movie. … I think you're going to see a side of Tony Stark that you haven't seen in any of the other films and he is just crushing it. Like, he's fantastic. It's a very, very complex, dark arc that he has in this film."
3. Other familiar faces will return
Aside from the Avengers, several other Marvel characters are expected to show up in Civil War. Sebastian Stan will also reprise his role as Bucky Barnes in Civil War. Other familiar faces will include Emily VanCamp, who returns to her Winter Soldier role as Sharon Carter, Frank Grillo as corrupt S.H.I.E.L.D. operative Brock Rumlow and perhaps most surprisingly, William Hurt as General Thaddeus "Thunderbolt" Ross, father of Hulk love-interest Betty Ross, a role originated in 2008's The Incredible Hulk.
Update 2/23/15: Marvel has released their first look at Grillo's Rumlow aka Crossbones, seen below. When we last saw Rumlow in Winter Soldier, he had only barely survived the final battle with major burns all over his body. Now, he's back and causing more trouble than ever.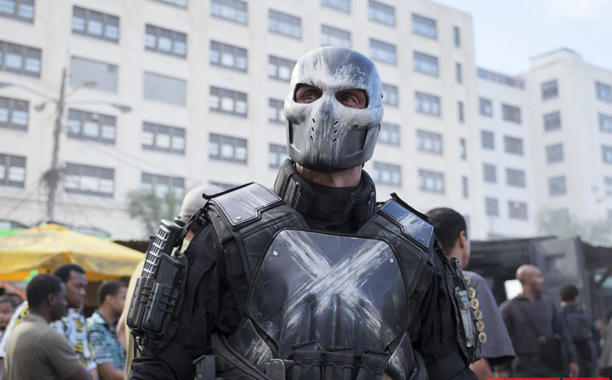 4. New characters will come on board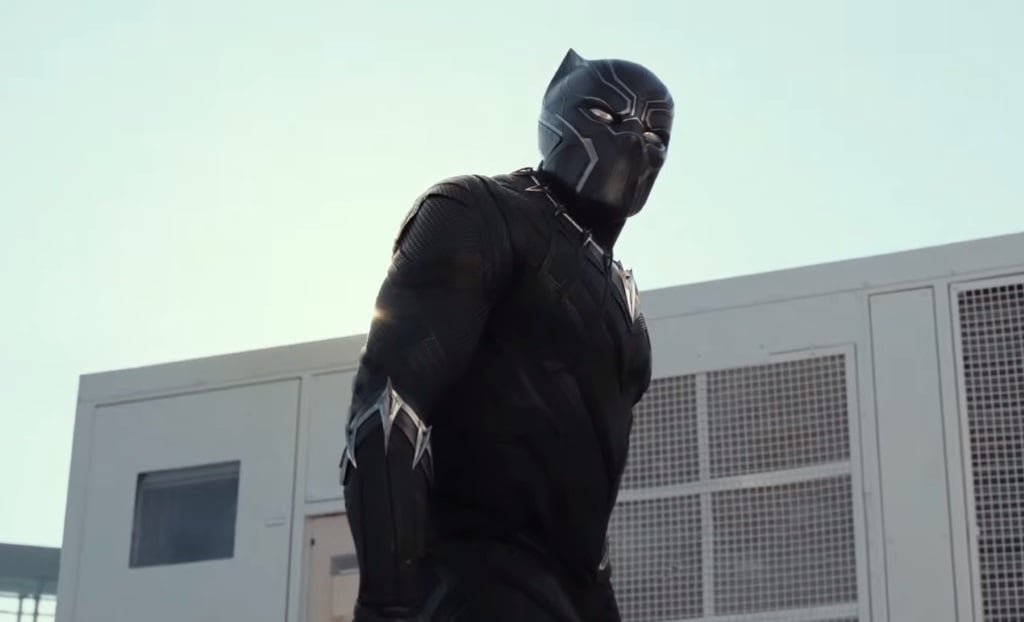 Just in case the cast wasn't jam-packed enough, several new actors are becoming part of the Marvel family. Chadwick Boseman will be introduced as T'Challa a.k.a the Black Panther, who will reportedly play a key role in the conflict between Cap and Iron Man (more on that later). Daniel Bruhl will also take on a character in the movie, reportedly as the villainous HYDRA scion Baron Zemo, who is a longtime opponent of Captain America.
Meanwhile, Martin Freeman will also hold a spot among the new cast (more on that later)
Update 4/7/2016: Alfre Woodward will reportedly be making an appearance in Civil War — not as the character she was cast for in Luke Cage, but as the mother of an American citizen who was killed during the Battle of Sokovia in Age of Ultron. The role will reportedly a small but pivotal one in the beginning of the film. 
 5. Martin Freeman: hero or villain?
Last year, Freeman dropped some hints about whom he'll be playing — specifically that he'll work for the American government in conjunction with both the heroes and "certain agencies that help to tame the superheroes' power."
So does that mean he's a good guy or bad? As Freeman put it, "You're not quite sure which side he's on. It looks a little bit like he's playing one game when actually he's playing another. It's the kind of character I like because it's ambiguous and because you don't know whether he's good or bad."
Update 2/22/16: Per Empire, Martin Freeman will be playing Everett Ross, a U.S. government agent who specializes in Black Panther's homeland of Wakanda.
6. Black Panther
Speaking of somewhat ambiguous new characters, that brings us back to Black Panther. EW recently revealed more details about the hero's part in the movie, specifically whether he sides with Cap or Ironman. Turns out, the answer isn't all that cut and dry. [Update, 4/4/16: Added a new 'Captain America: Civil War' TV spot that features new footage of Black Panther (see above).]
"He's someone who hasn't necessarily made up his mind about either side and whose agenda isn't exactly what Cap's agenda or what Tony's agenda is," executive producer Nate Moore said of the role. "And I think that brings him into conflict weirdly with both characters at different times in the film. He is the prince of an African nation that has so far stayed very much sort of in the shadows. And eventually the film will draw him and his father out of the shadows."
While his allegiance might be in flux, EW reports that Panther has some serious issues with Bucky Barnes, a.k.a. the Winter Soldier. Those issues seem to push further on the side of Iron Man. Ultimately some sides are taken, but I think the trick of the movie is for no one to be blindly following," Boseman says of his character. "Everybody is actually on their own side, in truth."
Boseman also recently discussed the key abilities that his character holds. "He's not necessarily the fastest, but he is strong, and he's fast, and he is… he has a wit, he has a wisdom and a plan, an overarching plan that a lot of times you don't necessarily see," he said, per CinemaBlend. "So it's his strategy during a fight or during a battle, and it's not just him — as far as the comic book goes. I think that's the difference."
7.  Civil War will lead into Thor: Ragnarok
Chris Hemsworth may not be appearing in the film, but that doesn't mean that all things Asgard will be off the table. Jaimie Alexander, who plays Sif in the superhero franchise, says moviegoers can expect clues about Thor: Ragnarok (due out in 2017) in next year's Civil War.
"There's a lot of great stuff they've peppered in through Agents of SHIELD, [Avengers: Age of Ultron], Captain [America: Civil War] will have some stuff. There's just all kind of Easter eggs and hunts, if you're really paying attention. They're so good at interweaving everything throughout those films," she recently told the Los Angeles Times.
8. Wasp won't be appearing
The post-credits scene of this month's Ant-Man initially led fans to wonder whether Evangeline Lilly's Hope Van Dyne is going to suit up and get into the action as the new Wasp in Civil War. But as Marvel Studios head Kevin Feige recently explained, that won't be the case. "It's a good question, and it will certainly be in phase three. Where exactly in phase three I'm not sure, but it won't be in Civil War," he told Slash Film, later adding, "She was included in early versions of Civil War but there are so many characters in Civil War that we didn't want to do her a disservice."
9. Ant-Man will show up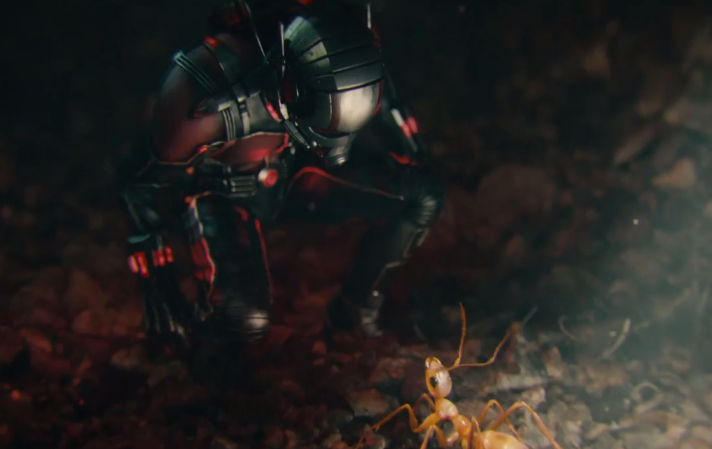 While Wasp won't be making an appearance in Civil War, Paul Rudd's Ant-Man will. The tiny superhero already collided with the world of Captain America in his solo movie, in which he crosses paths with Anthony Mackie's Falcon. In the post-credits scene, Falcon later brings up the name of Rudd's hero up in conversation with Captain America. You know what that means — Ant-Man will likely be siding with the Cap and some of the Avengers against Iron Man.
10. Spider-Man will make a cameo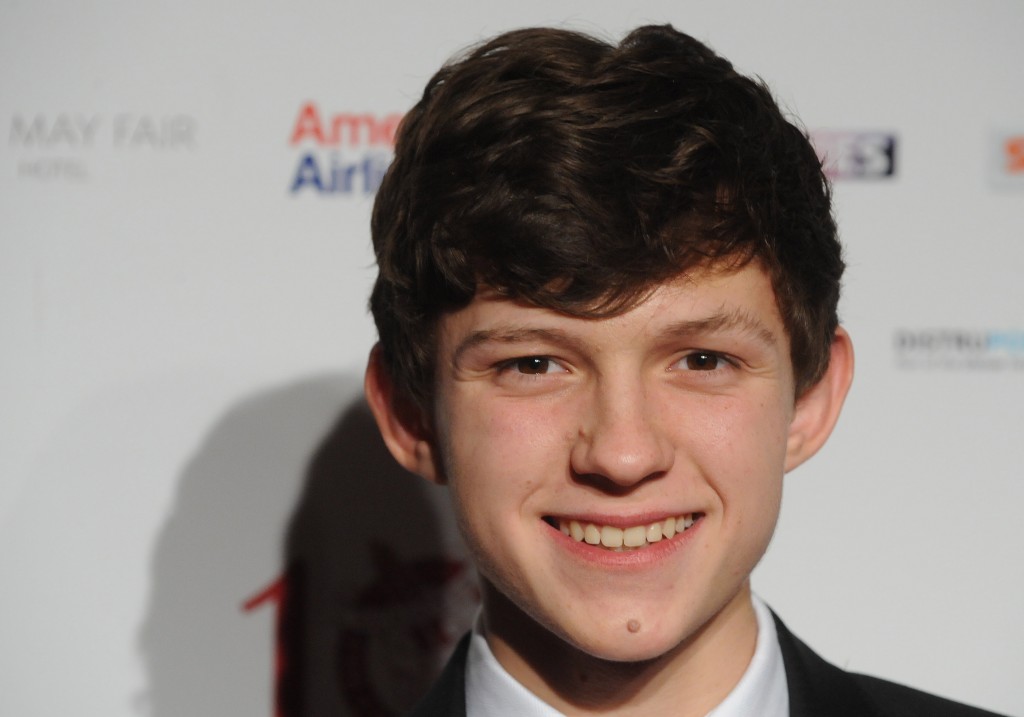 As if the next Captain America movie didn't already feature enough names, Spidey is also going to make an appearance. British actor Tom Holland recently nabbed the role of the new and younger version of Peter Parker and the character is set to make his official debut in Civil War. According to THR, the 19-year-old actor had to head to set immediately to start shooting his scenes. Looks like we can add yet another superhero to Civil War's jam-packed lineup.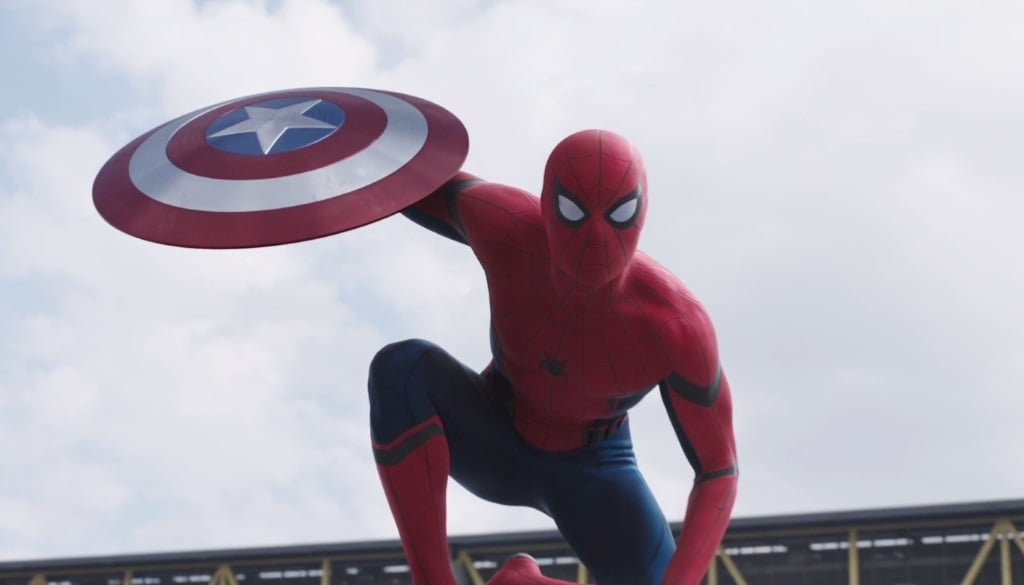 [Update, 4/26/16: Added new TV spot featuring more footage of Spider-Man (see below).]
A new TV spot released by Marvel shows more footage of the web-slinger as he battles Bucky Barnes.
[Update, 4/28/16: Added another new TV spot with footage of Spider-Man saluting the Cap (see below).]


11. MTV Movie Awards exclusive clip shows Avengers in action
[Update, 4/11/16: A new clip of Captain America and several other Avengers in action was debuted at the 2016 MTV Movie Awards (see below).]

12. The post-credit scenes (spoilers ahead!)
First, we should note that there are at least two scenes embedded in the credits for Civil War. The first so-called "mid-credits" scene has already been widely leaked online and shows Bucky Barnes (the Winter Soldier) being voluntarily put into stasis in a facility in Wakanda while Captain America and Black Panther look on. This scene basically functions as a tease for the upcoming Black Panther movie.
The second scene is a "post-credits" sequence that features Spider-Man trying out a new high-tech suit that Tony Stark designed for him, according to Birth.Movies.Death. via SlashFilm. That scene ends with the tag "Spider-Man will return" — basically a teaser for the upcoming Spider-Man: Homecoming movie that will also include an appearance from Iron Man.
Captain America: Civil War will hit theaters on May 6, 2016.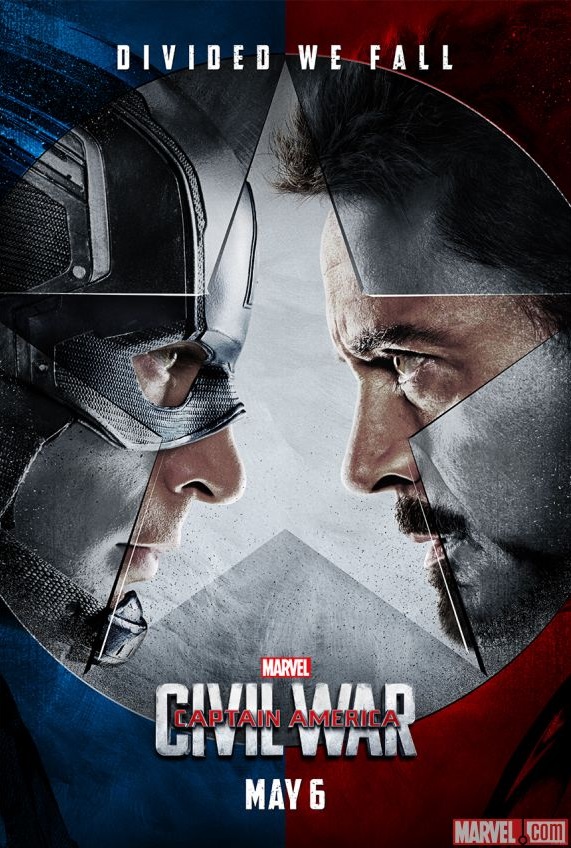 More from Entertainment Cheat Sheet: