'Captain America: Civil War' Is an 'Avengers' Sequel in Disguise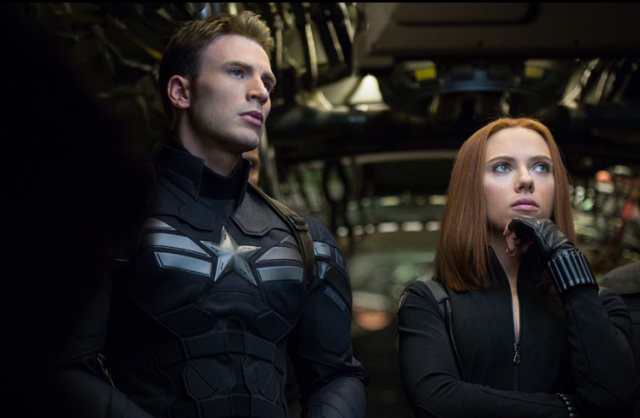 If you watched Age of Ultron and left the theater saddened to think it'd be another three years before the Avengers team up on the big screen again, you're in luck. As Marvel just confirmed, most of the heroes will assemble again in next year's Captain America: Civil War.
Audiences already knew that Chris Evan's Steve Rogers would be facing off against Robert Downey Jr.'s Iron Man in the upcoming sequel. But it turns out Tony Stark isn't the only Avenger making an appearance in Civil War. Per Marvel, the film's official lineup also includes Scarlett Johansson's Black Widow, Jeremy Renner's Hawkeye, Anthony Mackie's Falcon, and Don Cheadle's War Machine. Paul Bettany's Vision and Elizabeth Olsen's Scarlet Witch, both of whom were just introduced in Age of Ultron, will also make an appearance.
As if that's not enough of a star-studded cast, Sebastian Stan will also reprise his role as Bucky Barnes in Civil War. Other familiar faces will include Emily VanCamp, who returns to her Winter Soldier role as Sharon Carter, Frank Grillo as corrupt S.H.I.E.L.D. operative Brock Rumlow and perhaps most surprisingly, William Hurt as General Thaddeus "Thunderbolt" Ross, father of Hulk love-interest Betty Ross, a role originated in 2008's The Incredible Hulk.
And there's still more. Moviegoers will also get to meet a few entirely new characters in the forthcoming sequel. As expected, Paul Rudd will make his Ant-Man debut in the film and Chadwick Boseman will be introduced as T'Challa a.k.a the Black Panther. Daniel Bruhl will also take on a role in the film, reportedly as the villainous HYDRA scion Baron Zemo, who is a longtime opponent of Captain America. As announced earlier this month, Martin Freeman will also hold a spot among the new cast, although his character has yet to be revealed.
With so many names on the roster, it's clear that viewers can expect Civil War to basically be another Avengers-sized films. In fact, the only official Avengers seemingly not in the movie are Chris Hemsworth's Thor (who will presumably be back in Asgard) and Mark Ruffalo's The Hulk (who won't be around for a while, following the end of Ultron). Samuel L. Jackson's Nick Fury and Cobie Smulders's Maria Hill are also absent from the studio's announcement, although there's a chance they'll pop later. So far, there's also no word on the possible inclusion of Spider-Man, who has long since been rumored to be in the movie.
In addition to getting a cast confirmation, Marvel also revealed some new plot details about the film, which picks up right after Age of Ultron. Per the synopsis, Civil War will follow Steve Rogers as he leads the new team of Avengers in their continued efforts to safeguard humanity. With the world still reeling from the collateral damage left by the last international incident involving the Avengers, political pressure begins mounting to install a system of accountability and a governing body that determines when to enlist help from the team of heroes. The new status quo ends up fracturing the Avengers while they try to protect the world from a new and nefarious villain.
As fans will know, this description seemingly marks a departure from the original comic, which primarily focused on the conflict between Captain America and Iron Man and didn't introduce a new villain. Still, even with a bad guy thrown in there, audiences can likely expect the battle between Cap and Stark to eventually come to the fore of the movie. Viewers have already gotten a taste of the friction between them in Age of Ultron, with the two disagreeing over Stark's involvement in the creation of the eponymous antihero. With new heroes getting introduced into the picture and old favorites battling each other, in addition to the villains, it looks like Civil War might shape up to be even bigger than any Marvel movie yet.
Captain America: Civil War will hit theaters on May 6, 2016.
More from Entertainment Cheat Sheet:
Want more great content like this? Sign up here to receive the best of Cheat Sheet delivered daily. No spam; just tailored content straight to your inbox.