Captain Lee From 'Below Deck' Clarifies His Comment About Simone Mashile After Being Called out on Twitter
Stew Simone Mashile from Below Deck was filmed being sexually harassed by a charter guest. The guest made inappropriate remarks nearly his entire time on Valor. She was clearly uncomfortable while in his presence.
Chief stew Kate Chastain eventually had enough of the guest's behavior and moved Mashile away from the guest to another area of service. Fans and the crew were tweeting during the episode, with a number of people aghast at the guest's behavior. However, a few people made remarks about what Mashile was wearing. It was "pirate day" and Mashile wore a pirate hat and added a garter to her uniform.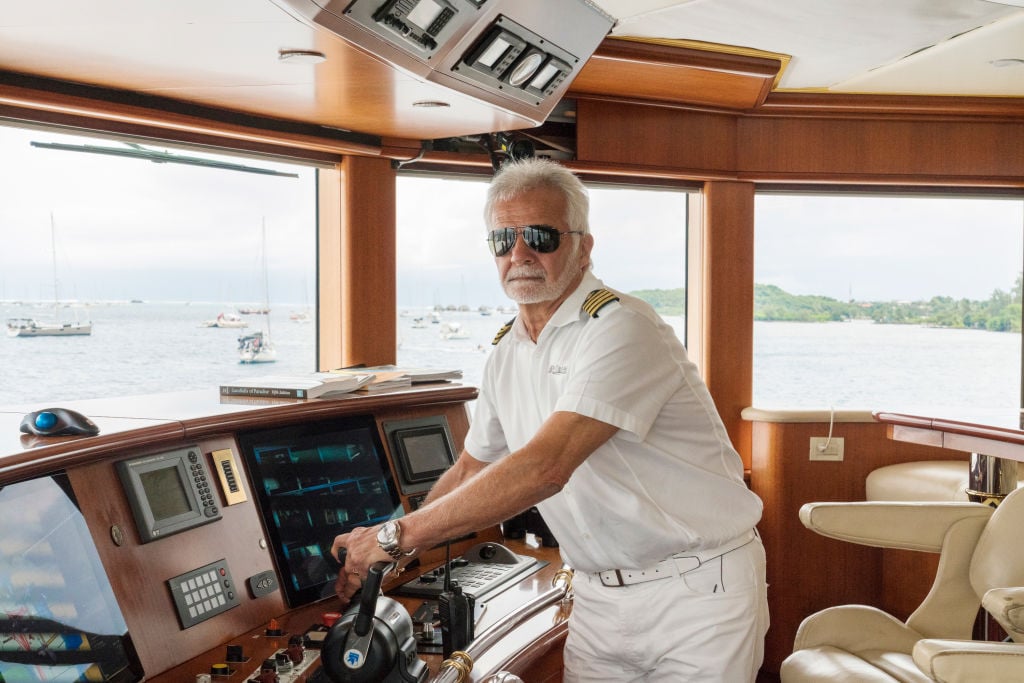 Captain Lee Rosbach tweeted, "Simone, I would lose the garter around the primary, just saying. That to him is a green light. He's still in his sophmore year." This remark set off a firestorm of comments with most people calling Rosbach out for making the comment.
Rosbach spent the rest of the night playing defense
Fans were upset because the comment appeared to be laying the blame on Mashile. "This seems to be a common theme amongst this boat. The men, crew & guests, are able to speak and touch the women as they please. But we never see any consequences This speaks volumes to what women deal with in the workplace. Theres no green lights other tham consent," one person responded.
Mashile too had a response to the comment. "No no. The greenlight here is the normalization of victim blaming when it comes to sexual harassment. Instead of calling the perpetrators out on their bad behaviour. All this says is men dont need to behave better,women need to make it easier for them to behave….," she wrote.
Rosbach then issued a number of explanations for his comment. "Its a sad comentary I fear for some of my gender who cannot or are not willing to control themselves when they over indulge. I do not condone that behavior ever. Nor will I," he tweeted. However, when someone suggested Mashile should be able to wear whatever she wants and not be harassed, Rosbach didn't agree. "Sorry,I don't agree, in a perfect world yes, but he's drunk, and we both know there is no reasoning with a drunk so why antagonize them. Kate handled it properly , as did Simone when she removed it. Removing the garter was no different than removing Simone. Just diffusing."
He addressed the incident in his blog
After dealing with significant back and forth on Twitter, Rosbach shared his feeling about the incident in his blog. "Overall, the guests were pretty good, but the primary did pose some issues, especially with Simone to which he seemed to take a liking to," Rosbach began. "That is the polite version. He was rude and not very nice at all, but being in the service industry we all have to deal with poor behavior at some point."
He then addressed his tweet. "My comment about removing the garter was because he seemed to have not only focused on her but on it, and I thought it was in her best interest to remove it so as to switch his focus. But as is usual with drunken guests, that wasn't the case and Kate in her infinite wisdom removed Simone all together which was a good call. I would never condone his actions towards Simone and was not saying that she in any way caused his abhorrent behavior, just was trying to give her some advice on how to maybe alleviate it without a huge scene. She in no way encouraged his behavior nor wanted it as was obvious."