Captain Lee From 'Below Deck' Gets Emotional in a Cameo Video for a Special Fan
Captain Lee Rosbach from Below Deck was eager to meet a unique request made by fans from the social media group Bravo Junkies. A member sent Rosbach a heartbreaking tweet about another member who is dealing with a terminal illness. She hoped a message from Rosbach might lift the member's spirits.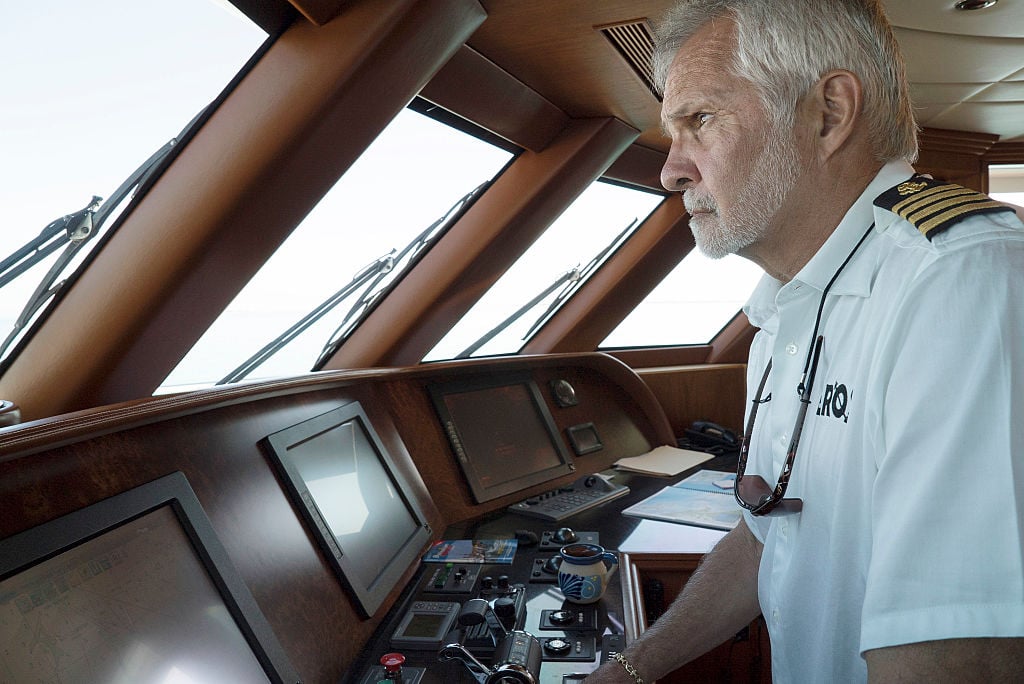 The fan tweeted, "@capthlr & @Kate_Chastain can I ask a social media favor? A friend from @BravoJunkies_FB is dying of cancer, she has been given a short amount of time left. Would you send a Tweet of encouragement to her to lift her spirits? Her name is Kathryn Wright & she's a huge BD fan." Without hesitation, Rosbach quickly replied, "I'm sending her a video tomorrow. Its the least I can do."
Chief stew Kate Chastain also said she would find Wright in the Facebook group. Later, Rosbach posted a 10 minute long Cameo to Wright. The video is raw and heartfelt as Rosbach is visibly shaken and overwhelmed with emotion.
He's never done a video like this
Rosbach begins by greeting Wright but his voice quickly begins to quiver as he knows what Wright is facing. He admits that he's never done a video like this. "I've never been in this situation before," he says taking a deep breath. "I feel so badly for you." He shares that he read Wright's website and blog, adding that he can see the talent shining from her writing.
"I can't tell you how terribly sorry I am that you had this extremely bad turn of luck," he continues. Rosbach removes his glasses as he seems overwhelmed. "My son passed away this year. If it taught me anything, it taught me to appreciate not what's going to happen in the future, but what's happening in the past and what's happening right now. Because the future isn't promised to anyone."
He takes a breath. "How do I cheer you up kiddo? I wish there was something I could do, something I could say. Because it's not fair, is it?" He continues by saying he admires how Wright is dealing with her prognosis. "I'm not sure I would have your strength and your courage. So very admirable of you."
He wants to keep in touch with Wright
Rosbach shared that his wife, Mary Anne is a cancer survivor. He says he almost feels guilty because he doesn't know exactly how to talk to someone who "knows what is happening" so it was a new experience for him. "One I'll never forget," he adds. "You will be etched indelibly in my mind. Forever."
He wishes Wright gets to experience Christmas and have a warm celebration, surrounded by loved ones. "I'd also be appreciative if you let me know how you are doing," he adds. "Drop me a note." He suggests a direct message and also gives Wright his email address too.
As he continues, he admits finding the right words are difficult. He jokes if he was in her position he'd be "screwing the pooch every day." Rosbach also says he would love to know more about Wright and hopes her time left is easy and pain-free. He adds, "I don't know if you believe in the hereafter. I don't know if I do or not. But if there is one, I trust you'll be there because just from what I've read about you from your blogs and stuff, you are one of the good ones."
He concludes by telling her to keep her chin up. "I know it's difficult. Take each day as it comes. " He wishes her the very best and hopes she is living each day to the fullest for the time she has remaining.