Captain Lee From 'Below Deck' Spills Some Tea About Season 7 (And If He Gives Someone a Plane Ticket)
Captain Lee Rosbach from Below Deck recently treated the Fort Lauderdale, Florida Watch What Crappens audience with a surprise appearance. The crowd went wild when the stud of the sea walked on stage and hosts Ben Mandelker and Ronnie Karam took him to task.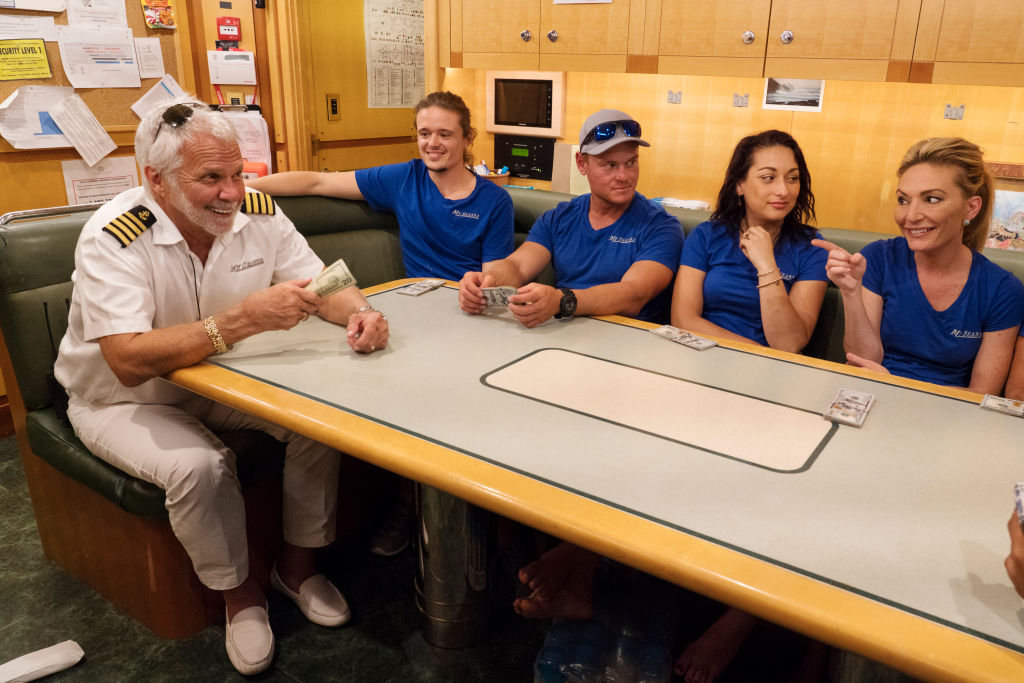 Rosbach spilled the tea about not only the new crew this season, but he also dished about how he and Patricia Altschul from Southern Charm became friends. He and wife Mary Anne recently visited Altschul in Charleston, South Carolina and had dinner with the cast. Rosbach joked about how Altschul's butler and assistant Michael Kelcourse is the one in town with all the dirt.
"Michael is like an encyclopedia of who's who in Charleston," Rosbach shared. "He can dish the dirt." But then Rosbach dives into what is happening on the show, especially after the crowd went wild when Below Deck is mentioned.
Rosbach loves this crew
Karam and Mandelker first want to know which crew is Rosbach's favorite. When someone yells the name Rocky [Dakota], Rosbach snarks with his signature humor. "Yeah, somebody is delusional."
But he says, "I think this crew is in the top, if not the top. They are in the top two without a doubt. They are, by far the most attractive crew. And they seem to possess intelligence." However, "It is early," Rosbach continues. "So the jury is still out on that," he laughs.
First, the hosts want to know about how the crew handled the heat in Thailand. Rosbach has commented in his blog about how the heat impacted even the laundry on the boat. "I can see right off that we probably didn't order enough uniforms because Thailand is really hot and we are going thru uniforms at a rapid rate, the laundry will be working OT to keep up."
But the crowd wanted dirt on this charter guest
Although the Watch What Crappens hosts want insight into the heat in Thailand, the crowd wanted to know more about charter guest Brandy. So the conversation quickly pivoted to what was happening with the guest. Brandy was a charter guest who required medical attention after she was so disoriented on a beach picnic, she passed out.
Rosbach says he still doesn't know what was happening with Brandy. "I have no idea," he said about why she was so ill. The hosts comment that while Rosbach always says he doesn't babysit his crew, he was certainly babysitting Brandy. "That was the longest three hours of my life that I can recall," Rosbach said.
Then Rosbach told fans the situation was much worse than what was filmed. "What you saw on camera of Brandy was much better than what it actually was," he said. "It was very trying and exasperating. And my worst nightmare."
He also wondered how the other guests continued with their beach picnic as their friend is carried off for medical attention. "How do you have a beach picnic with somebody and they get carted off in a kayak in a comatose condition," Rosbach wondered. "And then everybody goes, 'Can I get a selfie?'"
Yes, someone gets a plane ticket too
Like good hosts, Karam and Mandelker want some tea on the current season and cast. So they ask point-blank: who gets fired or quits. They agree that while Rosbach can't tell them, they want to know if someone leaves. "There is a plane ticket," Rosbach reveals.
The guys then want to know if deckhand Abbi Murphy gets her hair torn or caught in something. "How Abbi managed to keep all of her hair through all of this is beyond me," Rosbach said. "Because she worked overtime at getting that sh*t ripped out." He adds that watching her hair coming close to machinery was unnerving.
Finally, the guys also want to know if Rosbach ever watches Below Deck Mediterranean and longs for one of those crew members to join his team? "No," he says dryly.