'Captain Marvel': How Did Brie Larson Really Feel the First Time Wearing the Suit?
Are you ready for the Captain Marvel movie starring Brie Larson? This highly anticipated addition to the Marvel pantheon is scheduled for release on March 8, 2019. It's already creating quite a buzz among die-hard Marvel fans eager for any new release. The movie marks Marvel's first ever female-centered action hero movie.
Lights, camera, action … bathroom break?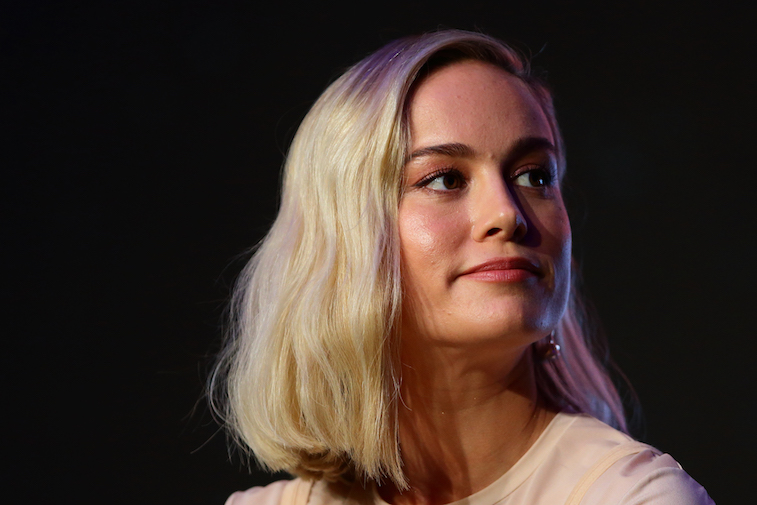 Picture yourself wriggling into a skin-tight suit followed by layers of harnesses and safety gear. Then you start your long, exhausting day of "punching the air" during grueling fight sequences. And then… nature calls. You have to stop everything, get unstrapped from the harnesses, and have half a dozen people help you get undressed for a quick trip to the nearest bathroom. Welcome to Larson's stressful first day on the set of the new Captain Marvel movie!
In fact, Larson's first three days were that complicated and stressful. That's how long it took to shoot the exciting action scenes that took place on a real, moving train. It's a good thing the toned star is in such great shape! Hopefully, Larson didn't work up too much of a thirst during those action scenes. Otherwise, we'd have to wonder how much of that time was spent managing bathroom breaks!
Brie Larson's 'Captain Marvel' has a new look
Carol Danvers (AKA Captain Marvel) has a complicated backstory. In one version, her DNA merged with that of the Kree Mar-Vell during an explosion. As a result, she is no longer fully human but rather half human and half Kree. That explosion is also where she gained her impressive set of superpowers.
Her super powers include flying faster than the speed of sound, an ability to shoot blasts of energy, and super strength. Oh, and precognition so she knows when trouble is headed her way. Her powers are so impressive, Marvel Studios president Kevin Feige described Captain Marvel as "… by far the strongest character we've ever had." All while wearing a suit that requires six people to peel her in and out of!
That costume has changed over the years, too. Red and blue with gold accents is probably the best known version of Captain Marvel's costume. However, Larson will don a costume that's black or dark blue and teal green with silver accents. Many fans were shocked and disappointed when they saw the new colors. However, don't despair fans! There are hints that the iconic costume colors will be back by the end of this movie or possibly the next.
Why Brie Larson was the perfect choice
We think Larson is perfect to play the Marvel Comics superhero. As she demonstrated during her Academy Award-winning role in 2015's Room, she can balance strength with vulnerability. That's important, since it's that kind of complex personality and inner turmoil that makes Marvel's heroes so relatable to mere mortals like the rest of us.
Feige explained: "All of the Marvel characters have flaws to them, all of them have a deep humanity to them. With Captain Marvel, she is as powerful a character as we've ever put in a movie." He went on to say, "It's important, then, to counterbalance that with someone who feels real. She needs to have a humanity to tap into, and Brie can do that."
Since this is Marvel's first superhero film that features a solo female lead, they needed to cast an actress who was charismatic and versatile. And it wouldn't hurt if she already had a blockbuster or two under her belt. Does Kong: Skull Island count, we wonder?
What's next for the Marvel Cinematic Universe?
Larson is set to appear in the upcoming fourth Avengers movie. Avengers: Endgame is scheduled for release on April 26, 2019. That won't be the last you'll see of Larson's Captain Marvel, either. She reportedly received a $5 million paycheck for Captain Marvel by signing a deal for seven movies. That means MCU fans can look forward to seeing a lot more of Captain Marvel!
Check out The Cheat Sheet on Facebook!