Captain Sandy from 'Below Deck Med' Addresses the Rumor That Chef Was a Plant
After Chef Mila Kolomeitseva from Below Deck Mediterranean prepared what can only be described as a "controversial" dinner, fans started buzzing that she was not a real chef.
Many asserted that perhaps Kolomeitseva was planted by producers to drum up drama. One source asserted that Kolomeitseva may not truly be a professional chef. And that there may be a conspiracy going on behind the scenes. The site noted that the video of Kolomeitseva appearing to lick a raw steak she was preparing for guests could have come from an account created by producers.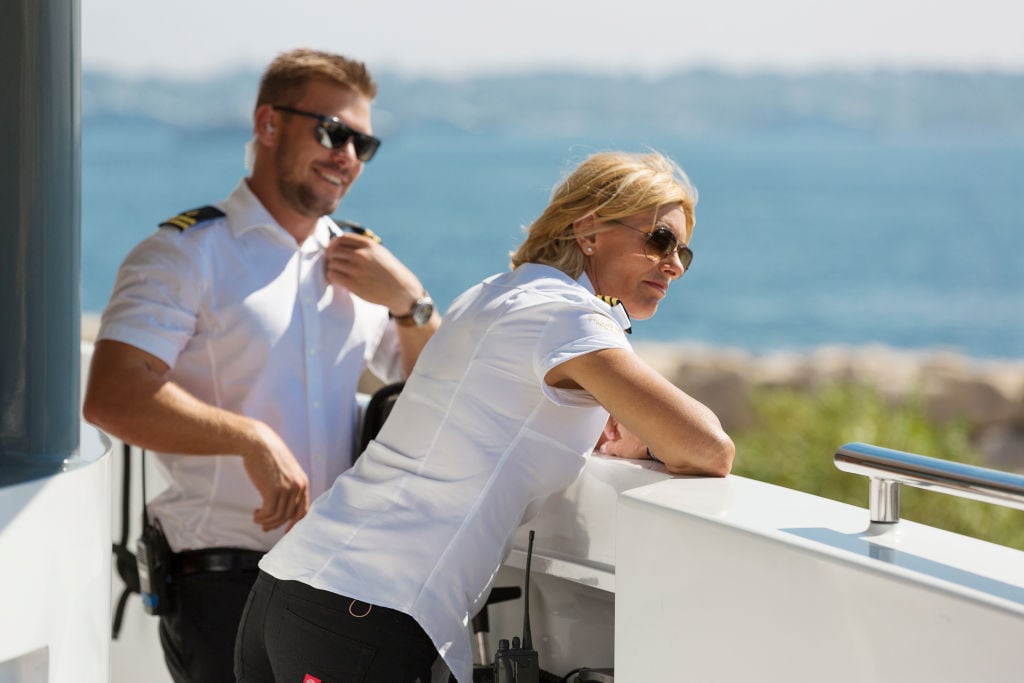 The site also implied that the tweet was posted by someone who created his account the day of the show's premiere. Plus production quickly started sharing the video too. While Kolomeitseva's behavior is certainly unsettling, Captain Sandy Yawn addressed the rumors that her chef is a plant on the show.
She didn't 'make it nice'
The behavior that had fans talking included not only what Kolomeitseva prepared but how she prepared it. Charter guests were given burgers and fries for lunch. And then later Mexican food as an appetizer. Cameras flashed at the boxes of Old El Paso food preparation kits strewn across the kitchen.
Yawn seemed pretty concerned about the Mexican fare. First she assumed the fiesta was for the crew. But when Kolomeitseva said the food was for the guests, Yawn's face was awash with concern.
But the final straw came when Kolomeitseva prepared steaks for the guests. She appears to be her licking a raw steak in a video. She ultimately throws the meat in the microwave.
Fans can't believe it
The reaction was pretty swift following the episode and video. Below Deck deckhand Rhylee Gerber joked about how she would have "pulled a Laura and had Chef Mila 'check herself' on those nachos/tacos," she tweeted.
Another person wrote, "After watching chef Mila I concluded I have a bright future working as a 'chef' on a luxury charter yacht. Tacos from the box! microwaved steaks! limp asparagus. Guests are paying top $$ for crap food I wouldn't want to eat anything she cooked (or licked)."
Plus rumors that Kolomeitseva isn't a real chef mounted. "I don't think Mila is a chef. She's an actor. Seems to be a #BelowDeckMed stunt to make us crazy," one person tweeted. Chief stew Hannah Ferrier added, "I have a feeling the same person who worked on Kasey's CV may have worked on Chef Mila's."
Captain Sandy says to wait and watch
Yawn posted a video of the upcoming episode where she helps out in the kitchen. Although the thread started with a comment about Yawn's culinary skills, it quickly turned to remarks about Kolomeitseva.
One person commented, "Did you not see the article that alleged this was staged…I know it's reality t.v., but I am a bit disappointed." Yawn said that indeed rumors were flying. "Lots of crazy speculation out there. We're only on EP1 with a long, hot summer to come. Stay Tuned! You won't be disappointed!"
But another fan added that she would be let down if the storyline was a setup. Yawn replied, "Not a setup. No spoilers, just stay tuned!"