Captain Sandy from 'Below Deck Med' Answers the Same Questions About Chef Mila (Again)
Even though the cast and crew from Below Deck Mediterranean have addressed rumors that Chef Mila Kolomeitseva is a production plant, fans continue to be suspicious.
Fans can't understand how someone clearly unqualified was hired to cook for millionaire clients. Others continue to insist the network is pulling a fast one on viewers and beat the drum that fans are being hoodwinked.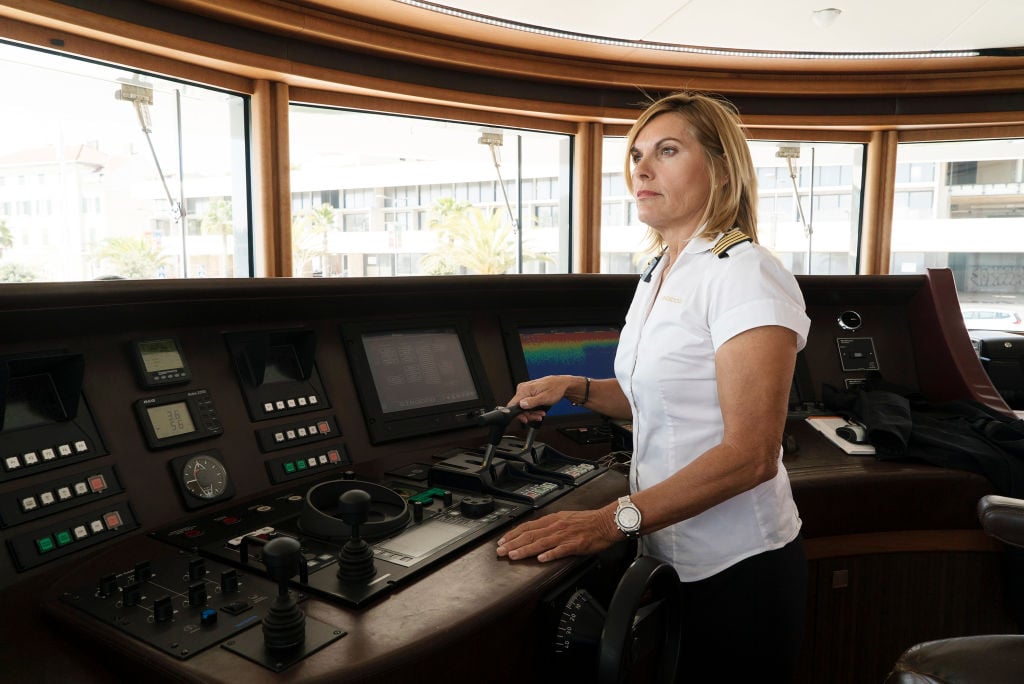 Captain Sandy Yawn appears to be fielding many of the questions and generously tries to address every tweet and comment sent her way. She has exhaustively answered the same questions about Kolomeitseva. And clearly hopes viewers understand she and the crew are just as surprised as fans.
Chef Mila is not a plant (and Captain Sandy didn't hire her)
She's addressed it in the past and Yawn continues to answer this question (again and again) on Twitter. One fan wrote, "Hannah love you and captain but she does hire and fire that's what charter captains do right? Just would love clarification is she was a staged prop for some extra charm this season. Still tuning in I love the show!"
Even though she's addressed this before, Yawn responded, "#ICYMI I DO NOT hire the crew for show. AGAIN, Mila is NOT a staged prop."
Even Captain Lee Rosbach from Below Deck jumped in to lend his insight. He also reminded fans that everyone is real, including the charter guests. "No, @CaptSandyYawn doesn't get to hire, she can fire and Malia [Mila] was not a plant. And no Sandy's friends were not comped at all. No one gets comped on the charters. They have to have some skin in the game. Hope that covers it for you."
Speaking of hiring…
Fans have also wondered how Bravo vetted someone who seems to be so incompetent. Bravo producers addressed the hiring process in a recent Washington Post story. Noah Samton, Bravo's senior vice president of current production said the production team doesn't have time to fully evaluate the chef's talents through tastings. Usually, the cast and crew learn about the chef's skill level is once the season is underway.
Yawn echoed how quickly the process goes in a tweet to a fan too. "The Capts meet their crew and have their first charter 24 hrs later. We deal with the cards dealt to us. All positions are cast. Anyone wanting to apply is welcome to! Bring your A game." In another tweet, Yawn added, "There is a lot that viewers don't see BTS of @BelowDeckMed. Fun Fact: the Capts don't hire their crew for the shows. We meet & have our first charter 24 hrs later!"
But a fan asserted that maybe the chef snowed producers, which could be dangerous to the guests. But Yawn assured the fan no one would allow guest safety to be compromised. "We are real crew w real charter guests who pay for their charters," she wrote. "No way would we compromise their experience and safety or the integrity of the industry. Stay tuned!"
Why not just replace Chef Mila?
Below Deck fans have seen crew members get fired or quit on several occasions. When that happens, it seems like replacement crew members quickly join the crew and are easily brought up to speed.
Replacing the chef has occurred once in the past. When Chef Leon Walker was fired, he left mid-charter. Even though third stew Raquel "Rocky" Dakota filled in briefly, Chef Ben Robinson swooped in to save the day.
While fans believe replacing a crew member is easy, Yawn said it isn't. "It's not easy to find replacement crew in a busy charter season," she wrote in response to a question about hiring the crew. "Add to the fact that they also need to be screened & pass security clearances for filming can make it more difficult. You can't just pull anyone off the dock to work on a yacht & film."