Captain Sandy from 'Below Deck Med' Drops Some Juicy Hints About Upcoming Season
Fans were teased with a wild Below Deck Mediterranean trailer. But now Captain Sandy Yawn, who is at the helm starting June 3 just spilled a little tea about what fans can expect from the crew.
Some crew members seem like old friends to Below Deck Med fans. This will be Yawn's third season navigating the drama-filled waters. Also, chief stew, Hannah Ferrier returns for her fourth season. Viewers were thrilled to learn that deckhand Colin Macy-O'Toole is back again. Plus João Franco is leading the deck crew as the bosun.
While fans only had that dramatic trailer to chew on, Yawn just posted a few hints about the crew (also found on their Bravo bios) and what they may face during the upcoming season. Yawn doesn't give away any spoilers but probably just heated up fan anticipation.
Drama goes down with the yacht
The Cheat Sheet spoke with Macy-O'Toole and Franco who mentioned there would be some serious drama with the superyacht. They weren't kidding. Bravo released a video of what only looks like a harrowing situation.
Viewers gasped last season when deckhand Ashton Pienaar nearly died. Pienaar was dragged from the swim platform by a rope that became entangled around his leg. He escaped without serious injury.
The few minutes of video footage Yawn shared on Instagram shows the boat taking on water. Yawn looks on appearing extremely serious. One of the crew members investigates a situation occurring under the boat and screams.
Yawn hints at what fans can expect with the crew
Each crew member will have his or her own set of challenges this season, Yawn teased on Twitter. Yawn posted an amazing thread that gives viewers a glimpse of what they can anticipate with each crew member.
First, she confirms she will be navigating the Sirocco again. "@CaptSandyYawn may be navigating the 'Sirocco' mega yacht again, but she brings a new level of leadership in season four. With high expectations, she has no tolerance for anything short of perfection and will take drastic measures if the crew can't deliver."
After a rocky season last year, Ferrier is bringing her "A" game to work too. "@hannahferrier_, looking to right her wrongs from last season, is hoping for smooth sailing with a strong interior crew. But will choppy waters threaten her redemption?"
There is drama with the deck team
Meanwhile, Yawn confirms that Franco is back and putting his best foot forward. "@joaograntfranco is looking for a fresh start and is laser focused on being the best Bosun for the crew, but not everyone is on board."
But adds that Macy-O'Toole has some problems adjusting this season. "@ColinMacyOToole, feeling homesick, quickly finds himself on the outs after trying to connect with the new deck crew."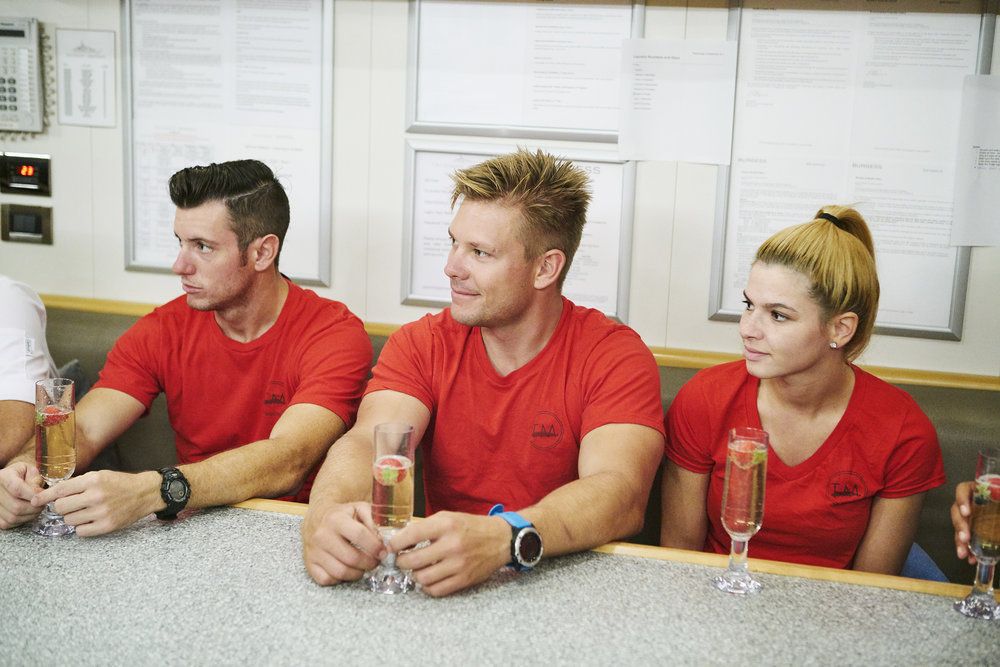 The new crew members definitely turn up the heat
Ferrier's interior team include two new cast members. Aesha Scott, who is "coping with a difficult past and using humor to get through tough times, is ready to hit the high seas and get another charter under her belt." Fans are also introduced to Anastasia Surmava too. "Anastasia, as a child of an immigrant mother, has a strong sense of pride in her work ethic which takes her on an unexpected journey."
Franco and Macy-O'Toole meet two new deckhands too: Travis Michalzik and Jack Stirrup. "Travis after a few mishaps begins to question leadership, however, it's his 'work hard, play hard' mentality that comes into question by the rest of the crew."
As for Stirrup, "Jack ruffles feathers when the crew notices he's putting more effort into pursuing a crew member than his actual job."
Finally, a woman is the chef for the first time on the Below Deck franchise. Mila Kolomeitseva is a "classically trained in French culinary cuisine, becomes the first female chef in franchise history, but after a bout with food poisoning right as the first charter guests are set to arrive, she'll have her work cut out for her."
Check out The Cheat Sheet on Facebook!