Cara Delevingne Has A Few Hidden Talents You May Not Know About
Most actors and musicians are at least a bit multi-talented. After all, there's a lot of overlap there. But Cara Delevingne — who many still know only as a model and sometimes-actress — has so many skills, it's hard to keep track of them all. Here's a look at a few of her hidden talents.
Cara Delevingne was first known as a model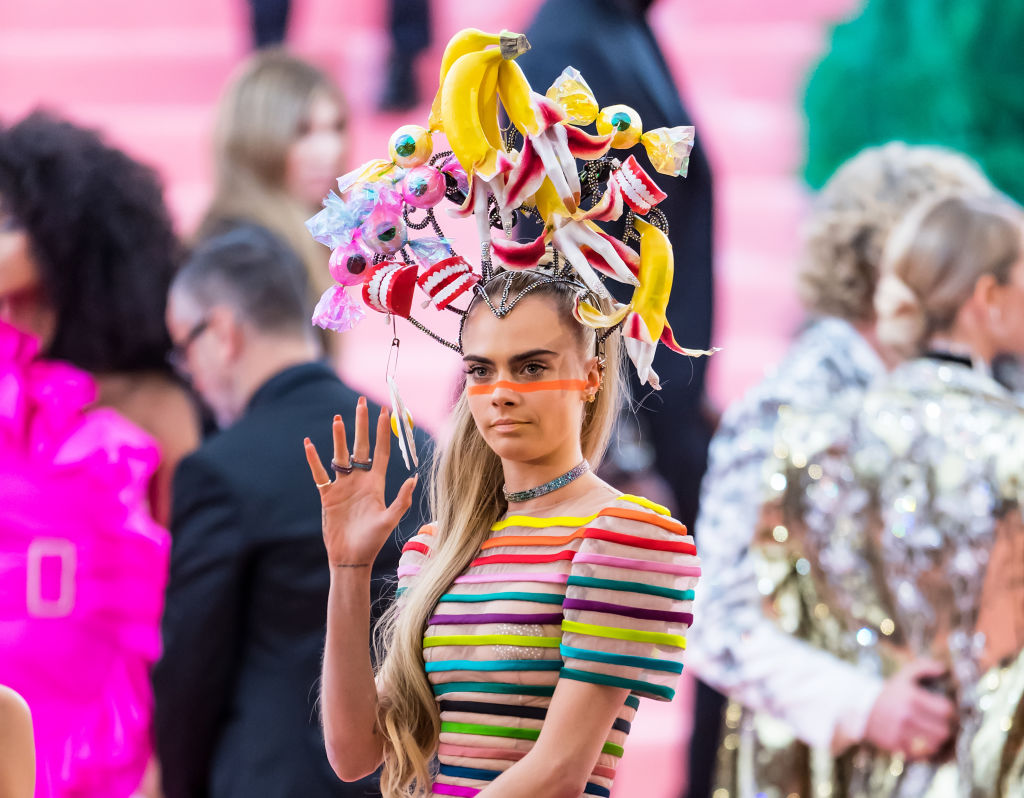 Delevingne started off in the public eye as a model. She began booking gigs at a young age in the U.K., specifically for Burberry, and later, Chanel. Not long after, she began to appear in Victoria's Secret's annual show, as well as at Fashion Week in London, Paris, and Milan.
After a few years, Delevingne began to transition out of modeling. She has since said that she finds modeling to be "easy," a statement that she reiterated in a recent Vanity Fair polygraph interview with Orlando Bloom.
Now, she's taking the world by storm as an actress
While continuing to model, Delevingne began to break out in Hollywood. She appeared in a couple of films, as well as pal Taylor Swift's star-studded, girl-power music video "Bad Blood," but it wasn't until her starring turn in the movie Paper Towns that she began to get a lot of attention as an actress.
Since then, Delevingne has acted in films such as Pan, Suicide Squad, and Her Smell. She now stars in the new Amazon Original Series Carnival Row opposite Bloom. 
The movie 'Her Smell' exhibits other talents
Delevingne had the chance to combine her acting skills with her generally untapped musical ability in the film Her Smell. The movie, which is where she met and began dating actress Ashley Benson, stars Delevingne as the member of a punk band, the Akergirls, who upstage Elizabeth Moss's Becky Something.
Though the film isn't available for free on any of the usual streaming platforms, you can catch a glimpse of Delevingne in character as Crassie Cassie in the above music video.
Delevingne is very musically talented
Despite playing a drummer in Her Smell, her talents to beyond that (see the video above). In the Vanity Fair interview, Bloom asked her, "Have you ever thought of becoming a one-woman band?" to which Delevingne replied, "Yes," adding, "I consider it every day."
What's more, she's not afraid to say that she's put her talent on display for friends. Bloom also asked in the interview, "Have you ever brought out a guitar at a party and played 'Wonderwall,'" referencing the popular song by the band Oasis. Her response? "Yes. Of course."
And don't doubt her rap skills
In the Vanity Fair interview, Delevingne showed off her beatboxing skills. Clearly, this woman is made of rhythm. But that's not all.
As it turns out, she can also rap. Check out the clip above, in which she nearly perfectly takes on Eminem's "The Way I Am." And trust us, this isn't a one-off — there are even more videos across the internet of her myriad abilities.