Cara Delevingne Made An Instagram Account for Ashley Benson's Dogs
Popular celebrity couple Cara Delevingne and Ashley Benson have only been public with their relationship for a couple of months, but they seem to be well settled into their lives together. The proof of this? Delevingne is close with Benson's dogs. Read on to learn more.
Cara Delevingne and Ashley Benson are a couple
Delevingne and Benson were first linked after starring in the indie film Her Smell together. The movie was filmed in Spring 2018 and was released on VOD in April 2019.
Rumors began of their possible relationship around the time filming came to a close. The paparazzi kept the rumors flying for months as the two were spotted all over the world together, and it became increasingly more obvious that something was up with them.
The actors made it official in June 2019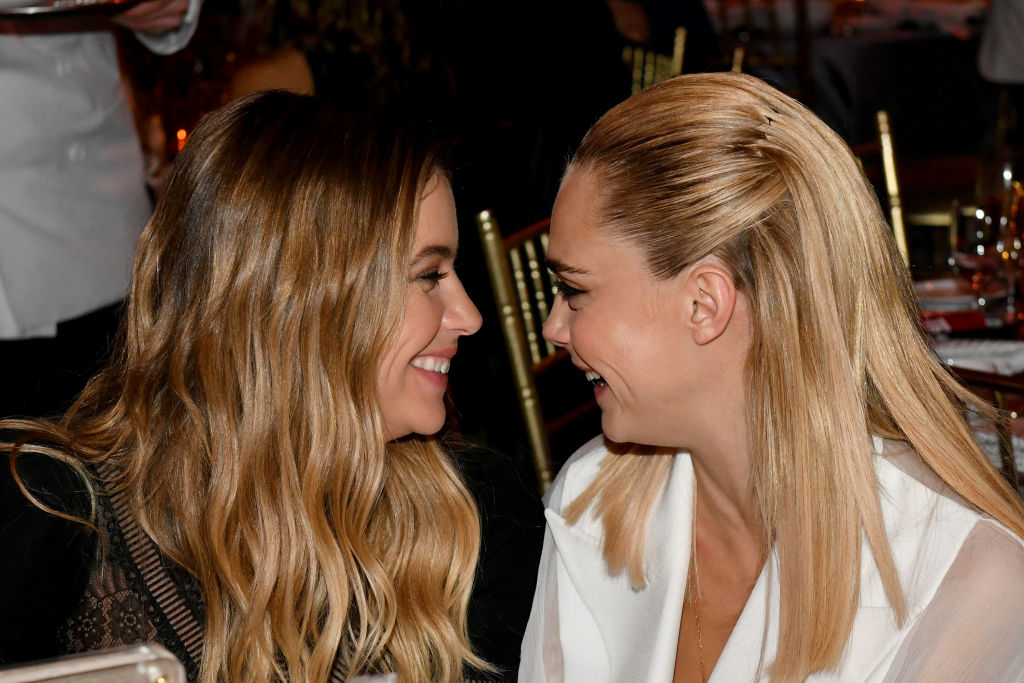 Benson and Delevingne have both spoken about wanting privacy. While the former had never been in a public celebrity relationship before, Delevingne is well-versed, having dated musician St. Vincent.
However, fans finally got the confirmation they desire, as did the media, in June 2019. Not long after the sex bench uproar, they took things public, in honor of Pride Month. Delevingne thanked Benson at the TrevorLIVE gala, and the rest was history.
Delevingne shared a photo with Benson's dogs
According to Delevingne, she and Benson began dating a little over a year ago. They're comfortable with one another, and there were even rumors that they're married (mostly debunked) and living together (definitely possible).
So when Delevingne shared this photo of herself with Walter and Olive, Benson's two little dogs, few were surprised (though many delighted). She captioned in "Night in with my faves." Where was Benson you may ask? Possibly taking the photo, though the angle of her arm makes it look like this was Delevingne's handiwork.
She even made them their own Instagram account
In the aforementioned caption, Delevingne tagged an Instagram account: @waltergeneolivianewtonjohn. These appear to be the full names of the dogs in question, and when you follow the link, you'll see that they now have their own very own social media profile.
Who made the account? Our money's on Delevingne, who is known to silly like that. Then again, Benson has been keeping things very professional on her own Instagram, so maybe she wanted a place to let loose? It's worth noting that Delevingne's own dogs, Leo and Peewee, do not seem to have an Instagram of their own, though maybe they'll make future appearances.
What are Delevingne and Benson doing now?
Both actors have been very busy recently. Delevingne is currently promoting her new TV series, Carnival Row, which is coming to Amazon on Aug. 31, 2019. Benson accompanied her girl to San Diego Comic-Con in July 2019 where she spoke about the show.
Benson herself will be working on the film The Birthday Cake opposite Val Kilmer in the near future. For now, she's promoting her new sunglasses line, Privé Revaux X Benzo. And, ostensibly, hanging with her pups and Delevingne.