Cardi B. Goes On Rant and Deletes Instagram After Internet Trolls Say She Didn't Deserve Her Grammy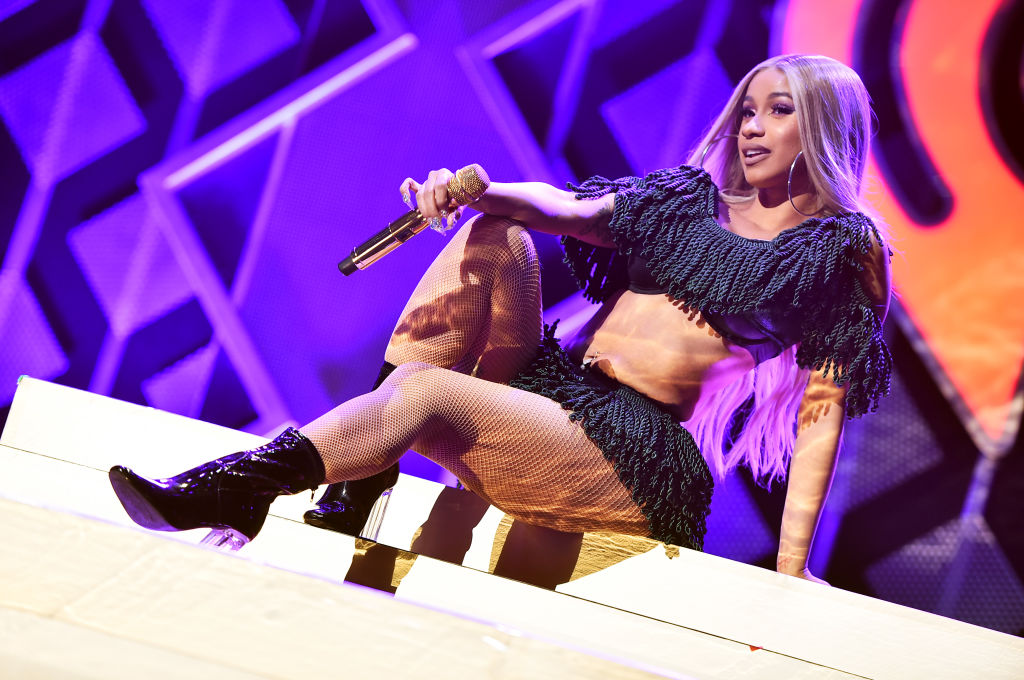 Cardi B. has left Instagram once again.
The "Money" rapper recently called out haters who have said she is underserving of her Grammy Award.
Cardi B. took to Instagram to share her disdain in a video then deactivated her account soon after.
Cardi B. defended her win
On February 10, Cardi B. made history as the first solo female to take home the Grammy Award for Best Rap Album.
While on stage, the rapper couldn't nonce words and was smiling bright as she accepted her award alongside her team.
Many viewers took to social media to share how happy they were for Cardi B.
However, there were internet trolls who believed the rapper did not deserve to win.
One day after the Grammy Awards aired, Cardi B. posted a video to Instagram defending herself and explaining how hard she worked on her Invasion of Privacy album.
"I've been taking a lot of s**t today, I'm seeing a lot of bulls**t today and I saw a lot of s**t last night and I'm sick of this s**t," Cardi B explained in the video. "I worked hard for my motherf**king album."
The rapper continued, "I f**king worked my *ss off, locked myself in the studio for three months… didn't go to sleep in my own bed, sometimes for four days straight, [while] pregnant, everybody was harassing me like 'You can't do it…'"
As the video continued, Cardi. B reflected on the 2018 Grammy Awards and how she did not win either of the two awards her song "Bodak Yellow" was nominated for.
"I remember last year when I didn't win for 'Bodak Yellow' and everybody was like, 'Cardi got snubbed,'" she explained. "Now this year's a f— problem?! My album went two-time platinum, my n—, and every chart that there was, my album was always Top 10. Number one album, as well."
Invasion of Privacy went double platinum
Since the release of Invasion of Privacy in April 2018, the album has since gone double platinum.
Cardi B. is also the first artist to have all of the songs off of the album rank high on the music charts.
Cardi's rant does not come as a surprise as someone who has constantly defended her work over the years.
Even though the rapper has been dealing with trolls, she does have supportive fans in her corner and took to Twitter to thank those people for standing by her.
Fellow celebrities are supporting her
As Cardi B. is enduring the hate from internet trolls, celebrities have been coming to the rapper's defense sharing how proud they are of her win.
In a screenshot of a comment posted by Cardi B. on Twitter, Chance the Rapper congratulated Cardi on making history.
He wrote, "This is overly deserved, the album was front-to-back hits. It would be inconceivable not to honor u last night," Chance said in his comment. "So happy for you, u made history and u brought ur husband onstage who i saw literally making phone calls and trips to make sure n***** did right by u and turned they verses in on time."
Chance continued, Look man u need to live in this moment for awhile! Straight up bask in it YOU deserve it. Its a feeling very few will ever know, but YOU do. God bless see yall soon."
Chance the Rapper wasn't the only musician how came to Cardi B.'s defense.
J.Cole also shared his support for the rapper by tweeted how her win made him feel as though everyone in the rap community has won.
"I don't ever wanna be propped up by tearing somebody else down. Seeing Cardi b win a Grammy make me feel like I won," J. Cole tweeted. "Same with jay rock and Anderson. I feel for Travis cuz he really deserved that acknowledgment as well, but his moment is way bigger than the awards could say."