Are Cardi B & Jennifer Lopez Friends? Their Relationship Timeline & New Project Together
A brand new project featuring Cardi B, Jennifer Lopez, and many more has been announced, but it's not what you think it is. Fans of the two well-known musical acts may be wondering if they are friends in real life, given their history together. Here's a timeline of their friendship, as well as more information about the exciting new development.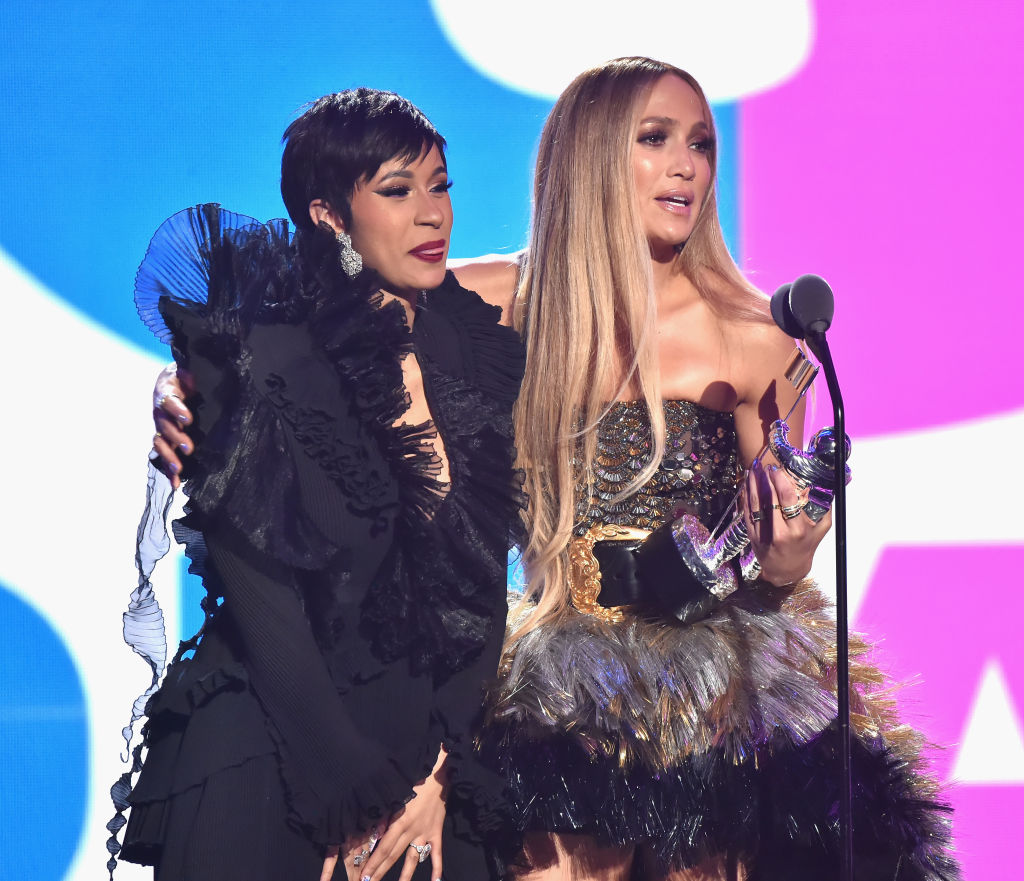 January 2018: A big surprise

Though Cardi B is a popular artist at the moment, she has only risen to fame over the last couple of years. Meanwhile, Lopez (known as JLo to most) began as an R&B singer and actress in the '90s, and has remained a pop culture icon ever since.

In Jan. 2018, Cardi B attended the 11th annual Calibash concert in Los Angeles. Lopez was a performer there, and shocked the young rapper with by performing her hit song "Bodak Yellow." In a since-deleted clip on Instagram, Cardi B shared her excitement, calling it "a Bronx girl dream," as both women hail from that part of New York City.

May 2018: "Dinero" drops

After the stunt, rumors of a collaboration spread. They were confirmed in May 2018 when Lopez's single "Dinero" dropped, featuring DJ Khaled and Cardi B on the track. Lopez shared the music video to the song on her Instagram account, as well as plenty of behind-the-scenes content.

When the song came out, Cardi B was on an Instagram hiatus, but she returned just a few days later with her hit song, "Be Careful." She promoted "Dineo" in a video, where she talked about how she used to say she was "Jenny From the Block," adding "it's so crazy that I've got a song with JLo."
During the same week, Lopez attended the Billboard Music Awards. On the red carpet, she was asked about working with the artist. Though the host insinuated that Cardi B was brand new on the scene, Lopez was quick to argue with this, calling her collaborator "a hard worker" and praising her "authenticity."
August 2018: The VMAs

In August 2018, Lopez and Cardi B were among the artists in attendance at the MTV Video Music Awards. They, along with Khaled, won for Best Collaboration for "Dinero." In photos from their acceptance speech, they appear to be happy to be together.

While Lopez shared images from the ceremony, including one of her and Cardi B, the latter only posted photos from the red carpet and after the award ceremony, eating McDonald's. But this isn't exactly cause for concern.

Sept. 2018: Unfollow rumors

Cardi B has been the subject of much controversy, especially when it comes to her interactions with other artists. In Sept. 2018, the rumor mill was in full swing, alleging that numerous artists, including Lopez, had unfollowed Cardi B on Instagram. But the rapper denied that this was the case, seemingly stating that there was no ill will between the women.

March 2019: They're co-starring in a movie together

A lot has happened for Cardi B and Lopez individually since they performed together — between the former's pregnancy, record-breaking music, and romantic drama and the former's seemingly never-ending stream of new projects and recent engagement, they're very busy women. But it looks like they've made time to work together once again.

The film, "Hustlers," was previously announced in Feb. 2019, with Lopez and Constance Wu (Crazy Rich Asians) set to star. Now, more have joined the cast. In addition to Cardi B, Lili Reinhart (Riverdale), Keke Palmer (Scream Queens), and Julia Stiles (Riviera) are confirmed. The script, which is based on a New York magazine article, follows a group of strippers who change the game.