Cardi B Fans React to Risqué Photo of Her and Offset
Cardi B and Offset are one of the hottest couples in the hip-hop world. The "Bodak Yellow" singer and her man love sharing their love with fans and the world. During red carpet appearances, the romantic pair have been spotted kissing and playing up to the cameras around them.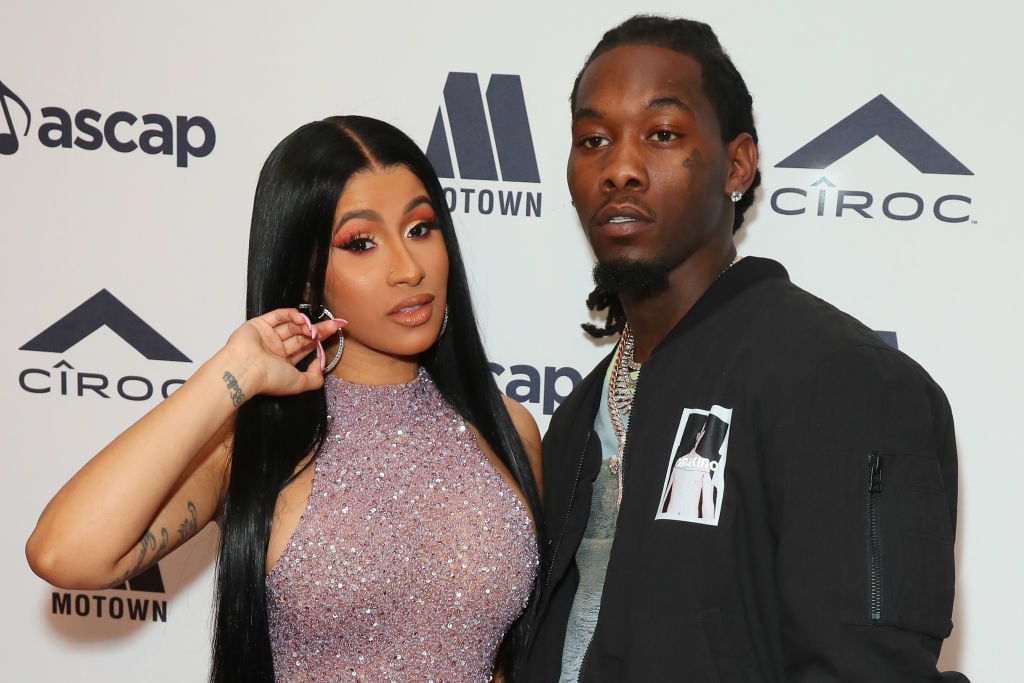 In a recent Instagram post, the Bronx-rapper shared a photo where she is seen atop a jet ski with Offset. She has a bikini and is raising her legs while the "Red Room" hitmaker sticks his tongue out and admires her.
"Treat", Cardi B captioned the picture.
The Latin rapper is celebrating her beau's birthday in Turks and Caicos. Both seem to be having the time of their lives and enjoying each other's company to the max.
Fans react to the steamy photo
Fans of the rappers did not take long to react to the steamy photo. The comments came pouring in complimenting how excited they were to see this type of content in their feeds.
"What an iconic photo," a fan on Instagram wrote.
"Picture of the year," another social media user added.
"[You're] feeding and treating us well today, I see," read another comment.
"You guys [are] about to make another baby I see," one of Cardi's followers commented.
Not all of the replies to the Instagram post were positive, but Cardi B's fans came through to defend her from the insults.
"Stop hating on somebody because you don't [have] it," a loyal fan wrote. "Don't look at the post if [you're] tired of it. This is what social media is about. [They're] happy."
Cardi B gets political
Cardi B has expressed interest in politics and even had a sit-down with Democratic presidential hopeful Bernie Sanders recently. The rapper has been an outspoken Donald Trump detractor and is ready to create conscience in support of Sanders. However, the "Press" hitmaker is not so sure a Democrat would win the election.
"I really hate to say it, but sometimes I do believe that Trump will be winning," she said during the "expediTIously" podcast. "Just because due to the fact that every single time I don't see nobody saying they love a Democratic candidate. There's no candidate that people are saying like we love, we want them to win."
The remarks that Cardi B made were during an interview to promote the Netflix reality series, "Rhythm + Flow." The 27-year-old also addressed the way people in the U.S. vote.
"Some people don't give a f**k about the best ideas. They really vote with feelings," she added.
The Grammy Award recipient also raised the issue of racism as a factor for how the way people are voting. She put an example of how Trump has threatened to take away Medicare that would affect a lot of citizens across the country.
"A poor white man that's getting Medicare is not even caring that he's saying that, he just cares that he hates Mexicans and he wants to get rid of them," she explained. "A lot of people vote with feelings in America and a lot of their feelings [are] racism and religion."
Cardi B takes on Access Hollywood
The Hustlers actress is one tough cookie and extremely outspoken. Cardi B recently exploded after reading an Access Hollywood headline for an interview she gave to the entertainment news show.
"Cardi B Admits Baby Kulture Calls Someone Else 'Mommy' Because She Works So Much: It 'Feels Wack,'" read the headline for the video.
What made the rapper upset was that the show's producers edited the video interview so much that they twisted her words along the process.
"They asked me a question about me doing different ventures and how have things changed when it comes to motherhood," she said during a rant on Instagram.
Cardi goes on to explain that she said that she could have a babysitter for her daughter, but she chooses not to because they would end up not recognizing her due to her heavy work schedule.
"Don't f***ing cut s**t off trying to make me look like I'm a f*** ass mom cuz that's something that I'm not. I don't play that s**t," she added.
Cardi B is not someone you want to mess around with, but to be fair, she keeps it real all the time. That might be the reason why people gravitate to her because, despite all her fame and money, she's still relatable to all of her followers.