Cardi B's Divorce: How Much The Migos Rapper Offset Worth?
Cardi B and Offset are calling it quits after just over a year of marriage. The "Bodak Yellow" rapper announced the split in a video posted to her Instagram in early December. In the video, Cardi assures fans the two will remain good friends and business partners.
It is unknown whether the pair had a prenuptial agreement when they secretly wed in their Atlanta home in September 2017. Without a prenup, the rappers will be required to evenly split all assets they acquired during their marriage. Cardi may have hinted at a drawn out divorce when she told fans, "it might take time to get a divorce."
Why are Cardi B and Offset getting divorced?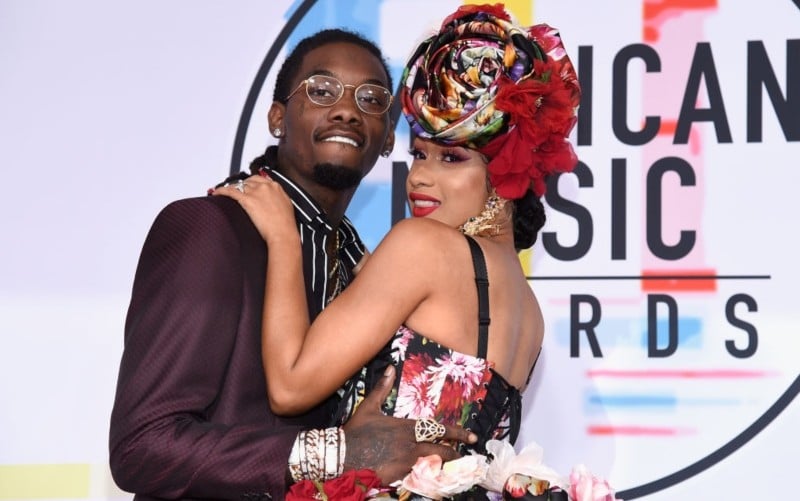 Although Cardi tells fans that she and Offset "grew out of love" and the split is nobody's fault, the timing of her announcement is suspect. New cheating rumors began to circulate just before Cardi made her shocking announcement.
The rumors started when text messages were leaked that allegedly show Offset asking a woman named Summer Bunni to arrange a threesome with rapper Cuban Doll. The text messages are dated June 28, meaning Cardi would have been heavily pregnant with their daughter, Kulture Kiari Cephus, who was born in July 2018.
Why does the reason for divorce matter?
The reason for the couple's divorce matters, especially if the couple has a prenup. Many celebrities, like Jessica Biel and Catherine Zeta-Jones, are including infidelity clauses in their prenuptial agreements these days. An infidelity clause could protect Cardi's earnings and even force Offset to pay her a penalty if he cheated.
Summer Bunni appeared to confirm the rumors in a written statement posted to her Instagram on Thursday. "I've always been woman enough to admit when I'm wrong, and in this situation I was," a portion of the statement read. The woman also posted a tearful apology video to her Instagram account.
Cuban Doll denied her part in the scandal on Twitter. "I never went to new or lean leave me alone !" the 20-year-old rapper tweeted on Thursday. A picture of a woman, alleged to be Cuban Doll, FaceTiming with Offset was also leaked. The leaks are reportedly the result of a falling out another woman had with Cuban Doll.
What is Offset's net worth?
According to Wealthy Gorilla, Offset is worth $16 million. Offset has earned most of his money as one-third of the rap group Migos. Their hit song "Bad and Boujee" catapulted the rap trio into superstardom, reaching #1 on the Billboard Hot 200 in 2017.
Capitalizing on the success of their viral hit, the group launched a grueling tour that saw 93 shows in just 12 months. The rap group earned $50 million between September 2017 and September 2018. Offset's share of those earnings is $8 million.
What is Cardi B's net worth?
According to Celebrity Net Worth, Cardi's net worth is $8 million. Although Cardi had a successful career as both an exotic dancer and reality television star, most of her earnings are a result of her successful rap career. "Bodak Yellow" reached #1 on the Billboard Hot 200, making Cardi the first woman since Lauryn Hill in 1998 to have a #1 hit without another artist being featured on the song.
The impact of "Bodak Yellow" on Cardi's net worth is staggering; the rapper earned $6.5 million between February 2017 and August 2018. No wonder she was able to pay cash for that Lamborghini.
What's next for the rappers?
Neither of the rappers is going to let news of their split derail their plans for the future. Both artists have upcoming projects in the works.
Cardi has taken a self-imposed break after giving birth to Kulture earlier this year, but she teased in October that fans will see some new music soon. Cardi appeared on the Beats 1 radio show in October and told host Ebro Darden that a bonus version of Invasion of Privacy will be released in December 2018 or January 2019.
Offset fans will be excited to learn that the rapper has confirmed the release date of his solo album, which has yet to be named. The album will be released on December 14, which is also Offset's birthday.