Carrie Fisher's Books Reveal the Heartbreaking Reality of an Iconic Hollywood Star
This coming December, it'll be three years since the passing of the iconic Carrie Fisher. Since that time, there's been numerous tributes, but little talk about the great memoirs she wrote over the years. One she released just prior to death was The Princess Diarist that was fearless on revealing her time making movies, both before Star Wars and after.
She wrote other autobiographies, of course, with the most famous being Postcards from the Edge. There are also two others called Wishful Drinking and Shockaholic, both released in 2008 and 2011, respectively.
All of these are worth picking up to read (or re-read) because they provide some of the most transparent looks at showbiz available. With so many celebrity autobiographies creating their own reality to make a good story, Carrie Fisher's life was already an interesting story to tell without embellishments.
Was 'Postcards from the Edge' embellished or exactly like her real life?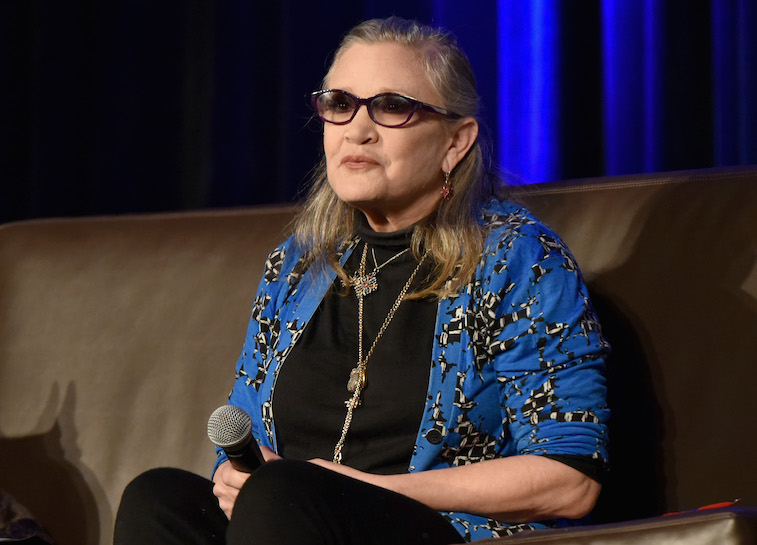 Let's all remember that Postcards from the Edge was deemed a "semi-autobiographical novel." There are a lot of moments in there which fans hoped were made up, even if most of it wasn't.
Parts of it chronicle Fisher's relationship with her mom, Debbie Reynolds, through the guise of actress Suzanne Vale. As you might remember, it's primarily about coming out of the pit of drug addiction and finding sanity again. At the time, many thought it was one of the bravest attempts at depicting addiction and recovery while living in Hollywood.
The movie version is uncomfortable to watch at times due to its brutal honesty. Nevertheless, that set the tone for what Carrie Fisher became after years of battling the stereotype of playing Princess Leia.
Yes, she addressed those feelings about Leia in her last autobiography.
'Wishful Drinking' brought more comedy to her memoirs
When Wishful Drinking released, Fisher was doing a one-woman play based on the material in this book. Critics were a little mixed on this one, yet it was basically set up like a joke book where every situation had a punchline.
This was the beginning of the more acerbic and hilarious Fisher we knew from later years who almost worked like a standup comedian in her approach to life. We didn't see this one turned into a fictional movie and instead become a documentary capturing the one-woman play under the same name.
As uncomfortable as some of the material was, it delved into the sometimes screwed up world of Hollywood families. Having Debbie Reynolds and Eddie Fisher as her parents made for plenty of psychological drama, making Fisher turn to drugs at a young age.
Many would find this more sobering now. Regardless, she still made everyone laugh hard at the often absurdity of her Hollywood life.
'Shockaholic' showed everybody how great of a writer she was
It was all about witty barbs in Shockaholic, something her fans ate up by making it a bestseller. Not every critic loved it, however. What the book did show was her awesome writing ability at crafting a funny phrase. At the same time, it looked into her mental treatments, including electroconvulsive therapy.
She was able to stand alone on this one and prove to everyone why she also became one of the top script doctors in Hollywood starting in the '80s. Her ability to punch up a comedic script likely helped dozens of popular movies become better.
In the end, though, we learned a lot more about Fisher through her last book.
'The Princess Diarist' revealed things we never thought she'd say
Fisher revealed in this book she kept a diary all the way back to her youngest days when she started acting in movies. We all found out she had a brief affair with Harrison Ford while filming Star Wars (much to Ford's chagrin), not including facing sexual harassment from the movie's production staff and being forced to lose weight.
Warts and all, this book told us what 1970s Hollywood was really like. Plus, we learned Fisher had to learn to embrace the Leia role without letting it consume her.
By the time the new Star Wars trilogy began, she seemed to find peace with (now General) Leia and gave her an added new dimension in older age.
With The Rise of Skywalker, we're going to see this again thanks to added footage she shot in The Last Jedi, reminding us Fisher can still bring a compelling presence several years after her passing.