How Did 'Claws' Star Carrie Preston and 'Evil' Actor Michael Emerson Meet?
Emmy-Award winning acting couple, Carrie Preston and Michael Emerson have been happily married for over 20 years now. Preston, recognized from her portrayal of quirky lawyer Elsbeth Tascioni on The Good Wife, currently stars in TNT drama series, Claws, as Desna's loyal best friend and con artist, Polly Marks.
Her husband is best known for several iconic roles including serial killer William Hinks on The Practice, leader of the Others Ben Linus on Lost, and reclusive software engineer Harold Finch on Person of Interest. He currently stars in drama miniseries The Name of the Rose as The Abbot and upcoming supernatural drama series, Evil as Leland Townsend.
The acting couple also teamed up a few times, and Preston guest-starred in an episode of Lost and portrayed Emerson's character's ex-fiance in Person of Interest. However, the couple met long before they played these characters back in 1994 in Alabama.
What's the full story behind the couple's romance, and who has the most awards? Keep reading to find out.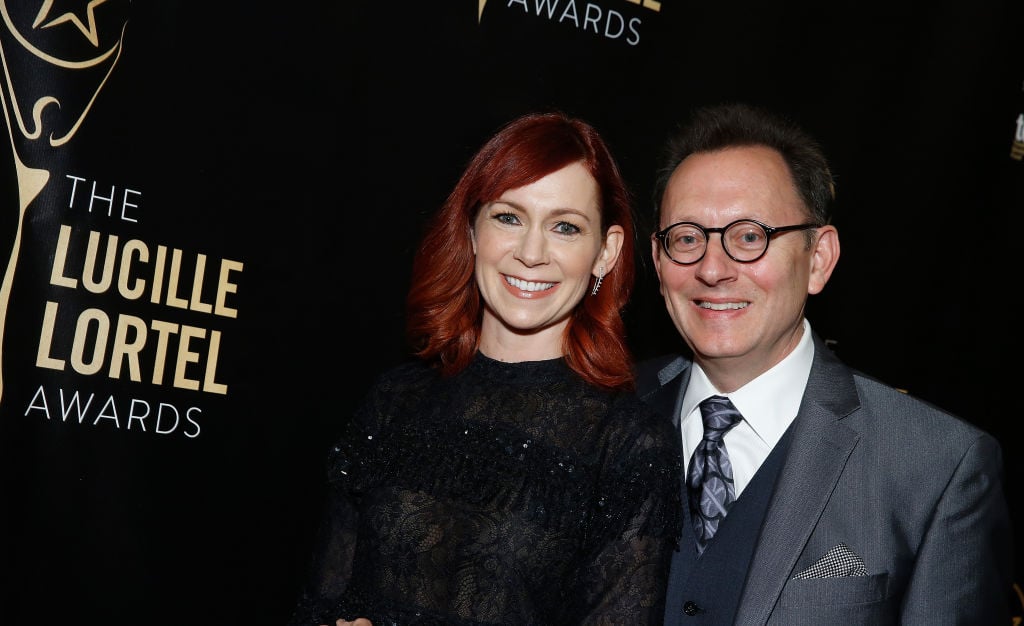 How did Carrie Preston and Michael Emerson meet?
In a 2012 joint interview with Entertainment Weekly, the acting couple described how they first met in 1994. The two met on the set of Hamlet at the Alabama Shakespeare Festival where he studied at the conservatory and played Guildenstern.
His soon-to-be wife portrayed Ophelia, and he sent her a vase of fresh flowers and a basket of peaches from his peach tree. She had a "talent crush" on him and told her mother a month later that she was going to marry Emerson.
Preston, based in New York, and Emerson, living in Alabama, dated long-distance before marrying in 1998. They then officially settled in New York, and adopted a poodle-Maltese mix, Chumley, in 2010, who serves as their only "child."
The talented couple has acted together several times in productions including comedy Straight-Jacket (2004), drama series Lost, comedy Ready? Ok! (2008), Person of Interest, and Claws (2018). They recognize each other as talented actors, and Preston admitted he's so good she gets "caught in his stories" and Emerson called his wife a "comic genius."
Even so, Emerson has given Preston acting advice before. When she auditioned for Antony and Cleopatra, she couldn't find any "good women's monologues" from the play, so he suggested she did Octavius. Preston channeled her husband's advice by cutting off her hair and played the part in drag, resulting in her landing the role.
Which actor has the most awards?
64-year-old Emerson has received several accolades including five Primetime Emmy Award nominations winning two of them, a Golden Globe Award nomination, and five Saturn Award nominations winning one. The actor has been recognized for his work on The Practice and Lost.
52-year-old Preston has been honored with 13 nominations in total. She won five awards for her work in Ready? OK!, That Evening Sun, True Blood, and The Good Wife. Like her husband, she also holds a prestigious Emmy Award for 2013 Outstanding Guest Actress in a Drama Series.
The acting couple is tied as they both hold five awards each.