Carrie Underwood Said She Plans to Rely on This 1 Person to Help Care For Her Newborn Son
Carrie Underwood recently gave birth to a baby boy named Jacob Bryan Fisher. While Underwood has been busy caring for her little one, she's also been in the process of gearing up for her upcoming Cry Pretty 360 Tour. Although she's thrilled to be getting back on the road, she'll have an infant in tow — and she's leaning on one person (besides her husband) to help care for him.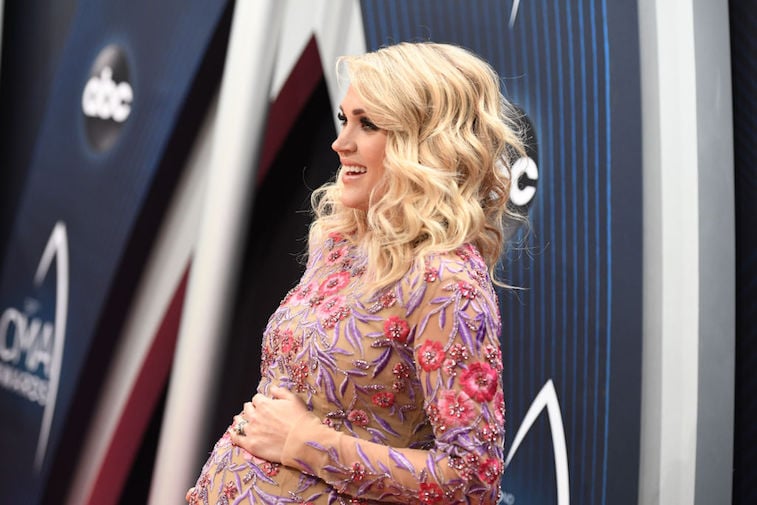 Underwood announced in August that she'd be having both a tour and a baby in 2019
After Underwood went on her Storyteller tour a few years ago, fans already couldn't wait to see her back on the stage for a new tour. However, Underwood took a couple years to focus on her life and her family, so she didn't head back on tour right away. Back in 2018, she revealed she had been through three miscarriages before getting pregnant with her younger son, Jacob. And after what felt like forever, Underwood finally informed fans that she would be heading back on tour in 2019 — just four months after giving birth.
Underwood has said that preparing for her new tour has been a little harder than it was after her first pregnancy
A lot goes into preparing for a new tour, including getting back in shape. Underwood moves around a lot on stage in order to keep the crowd engaged, which means she needs to build up that stamina to both sing and dance for a few hours straight. However, she has said that bouncing back to her old self hasn't been as easy after her second baby as it was after her first. She posted a lengthy caption on Instagram reminding women to appreciate their bodies and the life they've helped create. But now that she's headed back on the road, she'll also need some extra help caring for her newborn.
Underwood's husband retired last year, so he'll be a big help in caring for her two boys — but he isn't the only help
It goes without saying that Underwood's husband, former NHL star Mike Fisher, will undoubtedly be a huge help in caring for the new baby. The couple has been through this before, so they're starting to get the hang of parenting. And Fisher will most likely join Underwood on tour to help care for the couple's little ones. But despite his help, Underwood is actually looking toward someone else to step up and help out with the newborn.
Underwood said she's leaning on older son Isaiah to help take care of Jacob  
In addition to Fisher, Underwood is also relying on her older son Isaiah to step up to the plate and help care for his baby brother. She told the Tennessean in an interview that she is leaning on Isaiah as a source of support during the tour. "I think he'll be a really good big brother," she said. "I think he'll be helpful." Isaiah turned four in February, so he's well into his toddler stages now and will hopefully be his mother's helper while she's putting on shows for thousands of excited fans.
Check out The Cheat Sheet on Facebook!