Carrie Underwood Reveals the Sweetest Thing About Her Cry Pretty Tour
Country superstar Carrie Underwood is currently on her Cry Pretty 360 tour, which started in March and will end in October. Underwood is obviously no stranger to touring. After all, she has been performing on the road and selling out shows since she won American Idol in 2005.
However, her current tour is a bit different from the previous ones that she went on, and there is a very special reason for that.
Carrie Underwood has her family on tour with her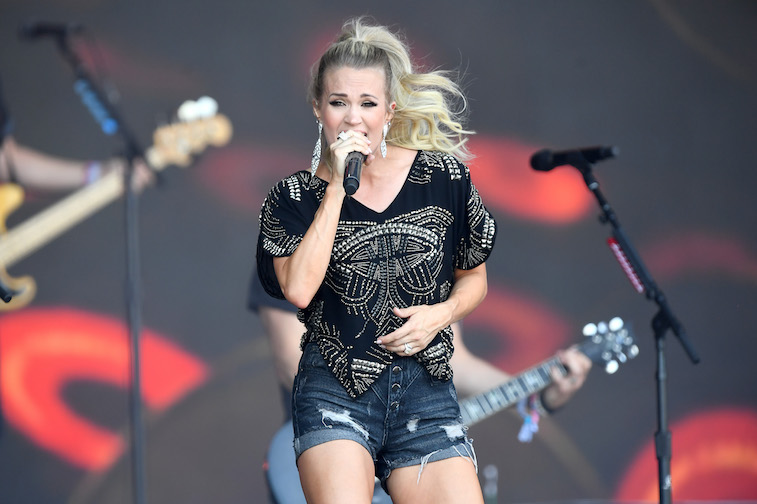 For Underwood, her Cry Pretty 360 tour would not be complete without her husband and two children. Underwood is currently married to former NHL player Mike Fisher. The couple has two sons: Isaiah (b. 2015) and Jacob (b. 2019).
In 2016, Underwood went on a tour with Isaiah in tow, but this year has been her first time being on the road with two young kids.
She told PopCulture.com: "It's definitely a different ballgame because [Jacob's] so much younger than Isaiah was when I took him on the road. There's a huge difference between four months and 11 months… It's great that I have the kind of job where I can bring my kids with me."
Underwood also shared with her followers on Instagram that she loves having her children on tour. "One of my favorite things about the #CryPrettyTour360 is having my family out on the road with me," she wrote. "I just hope I'm making my boys proud of their mama."
Carrie Underwood's son Isaiah really loves being on tour
Fortunately for Underwood, it's not that hard to go on tour with her children because her oldest, Isaiah, really enjoys it. She shared with Jenny McCarthy on SiriusXM that before they even started the Cry Pretty 360 tour, Isaiah was already asking her about when he could go on the road again.
While on the Cry Pretty 360 tour, Isaiah often praises his mother after she performs. However, according to Underwood, Isaiah is more "in love with Maddie," referring to Maddie Marlow from Underwood's support act, Maddie and Tae. "He more is concerned with, like, 'when is she gonna be on stage?'" Underwood said.
Carrie Underwood's family life has been full of ups and downs
While Underwood seems like she has it all right now, the truth is that her family life was not always full of rainbows and sunshine.
After Isaiah was born, Underwood suffered from three miscarriages in less than two years. She has since opened up about the experience and sharing that it was truly an emotional rollercoaster.
In a tearful interview with Sunday Morning, Underwood shared that one night, she snuggled with Isaiah while he was asleep and started crying about her miscarriages.
She asked God: "Why on Earth do I keep getting pregnant if I can't have a kid? Like, what is this? Shut the door. Like, do something. Either shut the door or let me have a kid."
Fortunately, Underwood was able to give birth to her son Jacob in 2019.
Will Underwood have more children in the future?
Right now, Underwood seems to be satisfied with her two kids, but the singer has expressed that she wouldn't mind having more children in the future. However, she does not want to think about that until her tour is over.
Underwood has even shared in an interview with Redbook that adoption is not off the table for her and her family. She said: "I'm 35, so we may have missed our chance to have a big family. We always talk about adoption and about doing it when our child or children are a little older. In the meantime, we're lucky to be a part of organizations that help kids, because our focus right now in our lives is helping as many kids as possible."