Shockingly, These Cast Members Of 'The Office' Are BFF's In Real Life
The cast of The Office has always been a tight one, openly showing love for each other. But, you'll never guess which two cast members are real life BFF's.
Really, is there anything better than The Office? Amazing writing, an outstanding cast, the cutest romances, and of course the laugh out loud moments make this show one of the best of its kind. But in the words of Jim Halpert, one of the greatest things about Dunder Mifflin Scranton, and the show, are the friendships. While we love to see the friendships between the characters (Michael and Dwight, Dwight and Jim, Oscar and Angela to name a few) it's also great that the cast of the show developed amazing relationships off-screen.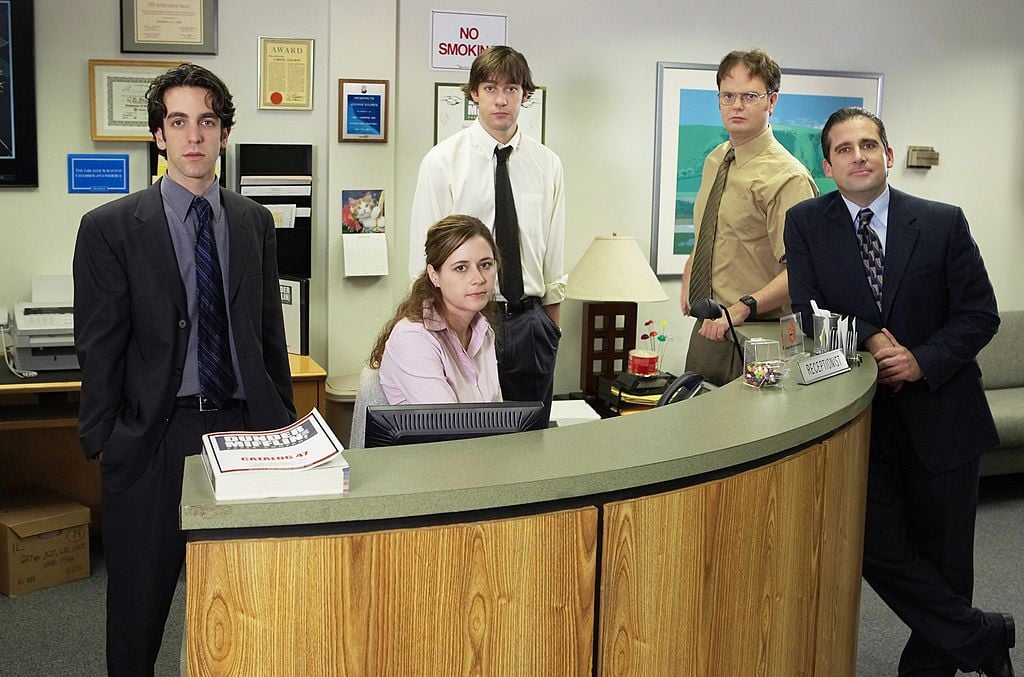 The cast
Though The Office ended over six years ago, the cast is still super tight with one another. John Krasinski and Jenna Fischer (Jim and Pam) recently got into a friendly troll war on Twitter over the Stanley Cup. B.J. Novak and Mindy Kaling (Ryan and Kelly) hang out nearly every week and Novak is the godfather to Kaling's daughter. Several members of the cast recently came out to celebrate Novak's 40th birthday, and the actors that play some of our favorite characters are planning to reunite at comic-con in October.
Two of our favorite characters
But despite how close the cast of The Office remains to this day, there are two cast members who are actually real-life besties. You might be shocked to learn that Jenna Fischer (Pam) and Angela Kinsey (Angela) are best friends and have been since the show first aired back in 2005. Though Angela did occasionally lean on Pam to help guide her through her complicated relationship with Dwight, the two certainly didn't get along on-screen. Angela often judged Pam for her romantic relationships calling her the "office mattress" and a "hussy." Meanwhile, Pam often resented Angela for her judgemental nature.
Pam and Angela
But despite the drama that these two castmates had on screen, their relationship off-screen couldn't be more different. The pair openly show their love and support for one another, spend tons of time together, and even have never-ending phone calls. In fact, the besties have even acted together since The Office ended, as Kinsey was a guest star of Fischer's TV show, Splitting Up Together. The pair is no stranger to letting fans in on their adorable yet dorky relationship. The two actresses recently used Woman Crush Wednesday as an opportunity to show their love for each other.
Jenna Fischer shows her love
"My #wcw goes out to my BFF @angelakinsey We met on the set of The Office and we've been best friends ever since. She's been my rock navigating Hollywood, Motherhood, and Life together. I knew she was my spirit animal when I told her I thought the best way to meet new people was just to walk up to them laughing and that's how we awkwardly met Meryl Streep. We all need a best friend who'll walk up to strangers fake laughing with us. 😉 (And a special thanks to Amy Adams for being so cool in this moment and introducing us to Meryl Streep even though I'm sure she thought we were tipsy. But no… just dorks.)," Fischer wrote sweetly in an Instagram post, giving thanks to another office alum in the process.
Angela Kinsey responds
Not to be outdone, Kinsey took to her Instagram shortly after to give her BFF at shoutout also. "Okay Jenna, I saw your BFF post and I'll raise you one… when I wanted to dance at the NBC party in NYC but there was NO ONE on the dance floor… you said, "Come on. I'll dance with you!" Everybody needs a BFF who will take over an empty dance floor this passionately with you… 😉💃 my #wcw is @msjennafischer! (BJ, I hope we didn't scare you. And I can't believe we have this moment in a photo!)," the former cast member of The Office wrote.
The office is leaving Netflix, but what about a reunion
Though we're still in mourning that The Office is leaving Netflix, knowing that the cast of the show is still as thick as thieves brings us some solace. And hey, if they ever want to film some scenes in character and put them out as a TV special, we certainly won't complain.